REGISTRATION SIGN UP - PLITZS NEW YORK CITY FASHION WEEK SHOW

Thursday, February 14, 2019 from 9:00 AM to 11:30 PM (EST)
Event Details
Feature International and USA Domestic Fashion Design Brands.
Each Fashion Week season only 40 position opportunities will be available for emerging and seasoned Fashion Designer brand collections to apply to be featured in the PLITZS New York City Fashion Week "Designer Showcase Presentation".

PLEASE NOTE: DRESS CODE ATTIRE FOR ALL GUEST - FASHION WEEK FASHIONABLE & STYLISH *WE RESERVE THE RIGHT TO BE SELECTIVE*
SHOW SCHEDULE FOR PNYCFW
http://plitzs.com/nycfashionweek
=============================================
Our Designer Showcases will take place in the heart of Midtown Manhattan during the Fashion Week seasons in New York City. Fashion Designers can capitalize on their one-day presentation which will afford them the opportunity to present their brand collection to potential clients, retail fashion store/boutique owners, buyers, general managers, potential investors, trade organizations, editors, bloggers, public, media and press. Designers will talk to audience attendees first hand directly after their showcase via our media/press junket – Fashion Designers should get ready to showcase and invest in their fashion brand and show why they're a hot Emerging fashion brand.
Our mission is to continue to maintain PLITZS New York City Fashion Week "Designer Showcase Presentation" as the premier fashion event in New York City that offers designers an opportunity to broaden their fan base through multi-channel marketing and exposure to consumers, the general public, retailers, buyers, and the media.
PLITZS New York City Fashion Week "Designer Showcase Presentation" offers a select few talented emerging designers an opportunity to affordably showcase their collections in a professionally produced presentation during the week of New York Fashion Week without breaking their annual budget.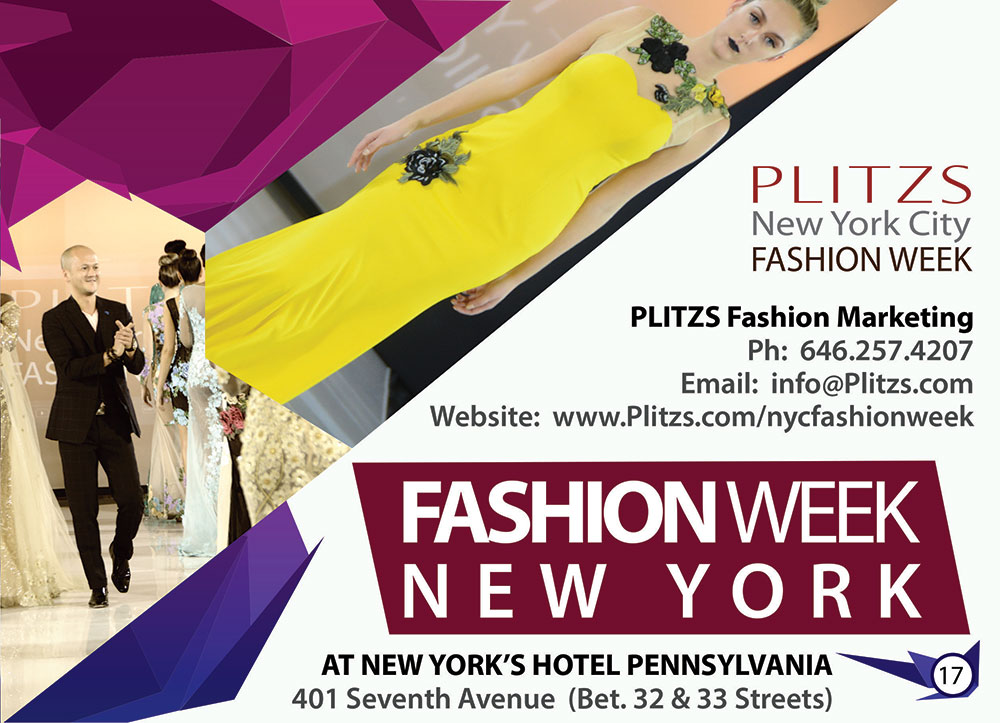 Save This Event
When & Where

New York's Hotel Pennsylvania
401 Seventh Avenue
33 AND 32 STREETS
NEW YORK, NY 10001


Thursday, February 14, 2019 from 9:00 AM to 11:30 PM (EST)
Add to my calendar
Organizer
About Us:
PLITZS Fashion Marketing specialize in fashion design, fashion marketing, fashion training, fashion production, commercialization and event marketing, with the aim to create a close collaboration between our clients and the fashion world. We'll work hand-in-hand with Emerging Designers prior to the PLITZS New York City Fashion Week to ensure we have a full understanding of the fashion design brand you need to launch; and then provide you with the platform and production team that will help bring your emerging fashion design brand to life with a memorable showing. You've got the emerging fashion brand's new collection, and now you need to launch it in a way that's going to make a lasting impression on your clients, public, media/press and prospects - and most importantly, make them want to contact you to media cover or buy your product.
PLITZS Fashion Marketing manages every aspect of a fashion event, from artistic design through to casting and technical support, to create an affordable and profesional runway show solution with a tailored edge.
Shared Opportunities are better at PLITZS New York City Fashion Week
Creating an affordable and professional showcase platform
PLITZS Fashion Marketing founded the "PLITZS New York City Fashion Week" in 2004. Working with international and domestic emerging fashion designers - we provide showcasing opportunities, brand exposure and networking.
PLITZS New York City Fashion Week has created an independent network of international and United States domestic Fashion Week show productions not affiliated with any other industry association.
PLITZS Fashion Marketing
Direct Phone: 646.257.4207
Email: Info@Plitzs.com
Web: www.Plitzs.com
Instagram: http://www.instagram.com/plitzsfashionmarketing  
Facebook: http://www.facebook.com/PLITZS
Twitter: http://twitter.com/#!/plitzsfashionpr
<A STYLE="color: #1155cc; font-family: arial, sans-serif; font-size: small;" HREF="http://www.plitzs.com/nycfashionweek" TARGET="_blank" DATA-SAFEREDIRECTURL="https://www.google.com/url?hl=en&q=http://www.Plitzs.com/nycfashionweek&source=gmail&ust=1507382420365000&usg=AFQjCNGy28LYwUawYZ_8RZAeECag32N5Rg" REL="noreferrer noopener noopener noopener noopener noopener noreferrer noopener nofollow noopener noreferrer nofollow noreferrer noopener noopener noopener noopener noopener noreferrer noopener nofollow noopener noreferrer nofollow noreferrer noopener noopener noopener noopener noopener noreferrer noopener nofollow noopener noreferrer nofollow noreferrer noopener noopener noopener noopener noopener noreferrer noopener nofollow noopener noreferrer nofollow noreferrer noopener noopener noopener noopener noopener noreferrer noopener nofollow noopener noreferrer nofollow noreferrer noopener noopener noopener noopener noopener noreferrer noopener nofollow noopener noreferrer nofollow noreferrer noopener noopener noopener noopener noopener noreferrer noopener nofollow noopener noreferrer nofollow noreferrer noopener noopener noopener noopener noopener noreferrer noopener nofollow noopener noreferrer nofollow noreferrer noopener noopener noopener noopener noopener noreferrer noopener nofollow noopener noreferrer nofollow noreferrer noopener noopener noopener noopener noopener noreferrer noopener nofollow noopener noreferrer nofollow noreferrer noopener noopener noopener noopener noopener noreferrer noopener nofollow noopener noreferrer nofollow noreferrer noopener noopener noopener noopener noopener noreferrer noopener nofollow noopener noreferrer nofollow noreferrer noopener noopener noopener noopener noopener noreferrer noopener nofollow noopener noreferrer nofollow noreferrer noopener noopener noopener noopener noopener noreferrer noopener nofollow noopener noreferrer nofollow noreferrer noopener noopener noopener noopener noopener noreferrer noopener nofollow noopener noreferrer nofollow noreferrer noopener noopener noopener noopener noopener noreferrer noopener nofollow noopener noreferrer nofollow noreferrer noopener noopener noopener noopener noopener noreferrer noopener nofollow noopener noreferrer nofollow noreferrer noopener noopener noopener noopener noopener noreferrer noopener nofollow noopener noreferrer nofollow noreferrer noopener noopener noopener noopener noopener noreferrer noopener nofollow noopener noreferrer nofollow noreferrer noopener noopener noopener noopener noopener noreferrer noopener nofollow noopener noreferrer nofollow noreferrer noopener noopener noopener noopener noopener noreferrer noopener nofollow noopener noreferrer nofollow noreferrer noopener noopener noopener noopener noopener noreferrer noopener nofollow noopener noreferrer nofollow noreferrer noopener noopener noopener noopener noopener noreferrer noopener nofollow noopener noreferrer nofollow noreferrer noopener noopener noopener noopener noopener noreferrer noopener nofollow noopener noreferrer nofollow noreferrer noopener noopener noopener noopener noopener noreferrer noopener nofollow noopener noreferrer nofollow noreferrer noopener noopener noopener noopener noopener noreferrer noopener nofollow noopener noreferrer nofollow noreferrer noopener noopener noopener noopener noopener noreferrer noopener nofollow noopener noreferrer nofollow noreferrer noopener noopener noopener noopener noopener noreferrer noopener nofollow noopener noreferrer nofollow noreferrer noopener noopener noopener noopener noopener noreferrer noopener nofollow noopener noreferrer nofollow noreferrer noopener noopener noopener noopener noopener noreferrer noopener nofollow noopener noreferrer nofollow noreferrer noopener noopener noopener noopener noopener noreferrer noopener nofollow noopener noreferrer nofollow noreferrer noopener noopener noopener noopener noopener noreferrer noopener nofollow noopener noreferrer nofollow noreferrer noopener noopener noopener noopener noopener noreferrer noopener nofollow noopener noreferrer nofollow noreferrer noopener noopener noopener noopener noopener noreferrer noopener nofollow noopener noreferrer nofollow noreferrer noopener noopener noopener noopener noopener noreferrer noopener nofollow noopener noreferrer nofollow noreferrer noopener noopener noopener noopener noopener noreferrer noopener nofollow noopener noreferrer nofollow noreferrer noopener noopener noopener noopener noopener noreferrer noopener nofollow noopener noreferrer nofollow noreferrer noopener noopener noopener noopener noopener noreferrer noopener nofollow noopener noreferrer nofollow noreferrer noopener noopener noopener noopener noopener noreferrer noopener nofollow noopener noreferrer nofollow noreferrer noopener noopener noopener noopener noopener noreferrer noopener nofollow noopener noreferrer nofollow noreferrer noopener noopener noopener noopener noopener noreferrer noopener nofollow noopener noreferrer nofollow noreferrer noopener noopener noopener noopener noopener noreferrer noopener nofollow noopener noreferrer nofollow noreferrer noopener noopener noopener noopener noopener noreferrer noopener nofollow noopener noreferrer nofollow noreferrer noopener noopener noopener noopener noopener noreferrer noopener nofollow noopener noreferrer nofollow noreferrer noopener noopener noopener noopener noopener noreferrer noopener nofollow noopener noreferrer nofollow noreferrer noopener noopener noopener noopener noopener noreferrer noopener nofollow noopener noreferrer nofollow noreferrer noopener noopener noopener noopener noopener noreferrer noopener nofollow noopener noreferrer nofollow noreferrer noopener noopener noopener noopener noopener noreferrer noopener nofollow noopener noreferrer nofollow noreferrer noopener noopener noopener noopener noopener noreferrer noopener nofollow noopener noreferrer nofollow noreferrer noopener noopener noopener noopener nofollow nofollow nofollow nofollow nofollow nofollow nofollow nofollow nofollow nofollow nofollow nofollow nofollow nofollow nofollow nofollow nofollow nofollow nofollow nofollow nofollow nofollow nofollow nofollow nofollow nofollow nofollow nofollow nofollow nofollow nofollow nofollow nofollow nofollow nofollow nofollow nofollow nofollow nofollow nofollow nofollow nofollow nofollow nofollow nofollow nofollow nofollow nofollow nofollow nofollow nofollow noopener noreferrer nofollow nofollow nofollow nofollow nofollow nofollow nofollow nofollow nofollow nofollow nofollow nofollow nofollow nofollow nofollow nofollow nofollow nofollow nofollow nofollow nofollow nofollow nofollow nofollow nofollow nofollow nofollow nofollow nofollow nofollow nofollow nofollow nofollow nofollow nofollow nofollow nofollow nofollow nofollow nofollow nofollow nofollow nofollow nofollow nofollow nofollow nofollow nofollow nofollow nofollow nofollow nofollow nofollow nofollow nofollow nofollow nofollow nofollow nofollow nofollow nofollow nofollow nofollow nofollow nofollow nofollow nofollow nofollow nofollow nofollow nofollow nofollow nofollow nofollow nofollow nofollow nofollow nofollow nofollow nofollow nofollow nofollow nofollow nofollow nofollow nofollow nofollow nofollow nofollow nofollow nofollow nofollow nofollow nofollow nofollow nofollow nofollow nofollow nofollow nofollow nofollow nofollow nofollow nofollow nofollow nofollow nofollow nofollow nofollow nofollow nofollow nofollow nofollow nofollow nofollow nofollow nofollow nofollow nofollow nofollow nofollow nofollow nofollow nofollow nofollow nofollow nofollow nofollow nofollow nofollow nofollow nofollow nofollow nofollow nofollow nofollow nofollow nofollow nofollow nofollow nofollow nofollow nofollow nofollow nofollow nofollow nofollow nofollow nofollow nofollow nofollow nofollow noreferrer nofollow noreferrer nofollow noreferrer nofollow nofollow noopener noreferrer nofollow noreferrer nofollow noreferrer nofollow noreferrer nofollow noreferrer nofollow nofollow noopener noreferrer nofollow noreferrer nofollow noreferrer nofollow noreferrer nofollow noreferrer nofollow nofollow noopener noreferrer nofollow noreferrer nofollow noreferrer nofollow noreferrer nofol