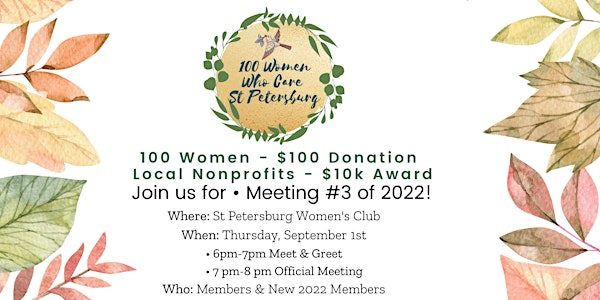 Registration For The 100 Women Who Care St Petersburg September 1st Meeting
Location
St Petersburg Women's Club
40 Snell Isle Boulevard Northeast
St. Petersburg, FL 33704
Refund policy
Contact the organizer to request a refund.
Eventbrite's fee is nonrefundable.
Register Now for Meeting #3 of 2022 with 100 Women Who Care Meeting St Petersburg September 1st, 2022!
About this event
Welcome Back Current and New Members!
100 Women Who Care St Petersburg is for Women to Learn and Give Back to the Community
We are back with the Registration for the 3rd Giving Circle meeting of 2022! We welcome new members and are joyful to see all returning members once again as we gather to collectively provide nonprofit awards at every meeting. Our 2022 meeting Impact Awards have been bigger than ever thanks to each and every member of this group. The greater number of us that are a part of this equal Giving Circle = the greater the awards that go to our local St Petersburg nonprofits.
Registration today to join the 2022 mission with 100 Women Who Care St Petersburg to continue to learn more about great work in our community, vote and collectively provide a fund award of $10,000 at every meeting as a Giving Circle. Share this and also learn with others!
**Remember all members that contribute to the meetings will be eligible to win the diamond hoop earrings from the International Diamond Center! A winner will be selected at the November meeting.
The Mission: 100 Women - Donate $100 - Learn About 3 Nonprofits That Pitch - Vote for One to Receive the $10,000 Fund Award all in One Hour.
Note: There is a $5 registration fee that goes to the St Petersburg Women's Club for being the our generous host location for our 2022 meetings!
Invite a friend or new member to be a part of what we do! As always, we are 100% volunteer and each meetings Impact Award nonprofit will receive eligibility for a 50% match.
Details:
Where: St Petersburg Women's Club
When: Thursday September 1, 2022
• 6pm-7pm Meet & Greet
• 7 pm-8 pm Official Meeting
Skip the line at the door and Donate in Advance: Join our Chapter of 100 Women Who Care St Petersburg now by signing up on our Grapevine Online platform https://www.grapevine.org/giving-circle/qOzhGe/100-Women-Who-Care-St-Petersburg
Learn more about us on our website at: https://100wwcstpetersburg.com
How it Works:
Your commitment involves attending four, one hour meetings a year, and pledging $100 per meeting.
Three non-profits will be selected by our non-profit selection committee from all nonprofit applicants.
These three non-profits will present a five minute explanation of the local organization or agency they nominated.
Each Nonprofit presentation will be followed by 5 minutes for questions.
A vote is taken and the Impact Award winner is announced along with the projected funding collectively combined by the Giving Circle. The goal of 100 Women is to provide $100 each and reach a minimum of $10,000.
A 50% match will be provided to each meetings 100 Women Giving Circle fund.
Share this information with friends that would like to get involved and/or nonprofit applications with local nonprofits that you care for.
You can also write a check directly to the Award recipient at the end of the meeting.
This group is 100% volunteer based and there are no administration or member fees. The $5 registration fee for this meeting will be provided to the St Petersburg Womens Club as a donation for hosting our event there.
Visit our website for more Information: www.100WWCStPetersburg.com
Save the Date for all four of the 2022 Meeting Dates:
Thursday, September 1, 2022
Thursday, November 3, 2022
2022 Recap: This Giving Circle raised over $22,000 at our March Meeting and again at our May Meeting! In addition, all three nonprofits received an Impact Award Fund at the as follows:
May 2022
Pineapple Projects $17,100
Live Love St Pete $2,500
Remember Me $2,500
March 2022
Alpha House Award: $17,000
360 Eats: $2,500
Door of Hope: $2,500
**We have raised over $150,000 since our Chapter started in March 2020 that goes 100% to local nonprofits.
HISTORY:
The original "100 Women Who Care" was started in November of 2006 by Karen Dunigan of Jackson, Michigan, as a brilliantly simple way to raise money efficiently and quickly for local charities/non-profits/worthy causes. Her group of 100 women, at their first one-hour meeting, each wrote a check for $100.00 directly to the charity, raising $10,000 to buy 300 new baby cribs for an organization in their city. Since then, they have grown to over 200 members, and similar groups are forming all over the country.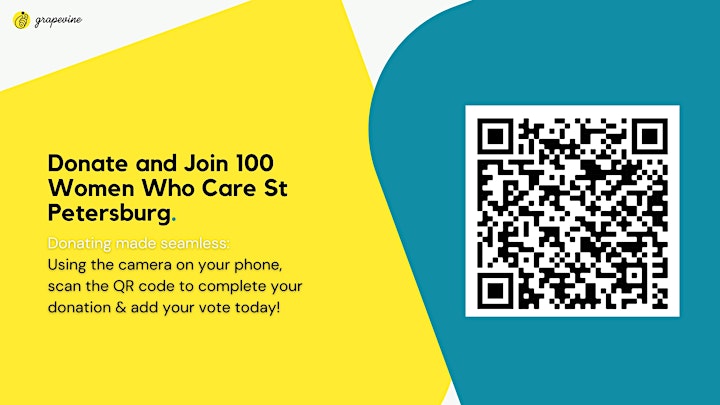 Scan the QR Code to Join Our Online Platform Today! Voting will occur only during the live meeting.