Beschrijving van het evenement
Beschrijving
We have recorded this webinar. To view the recorded webinar please follow this link: https://attendee.gotowebinar.com/recording/4754717441991264258
After you input your name and email you will be able to see the recorded webinar.
Efficient design of prestressed structures requires certain steps above standard non-prestressed design, starting from tendon modelling, equivalent load calculation and finishing by the verification of cross-section capacity. In this process the clarity and potential to navigate are essential attributes of a design tool. The objective of the webinar is to present IDEA software, which enables the designer to perform complete design of prestressed beams, frames, slabs, buildings and bridges according to Eurocode 2.

Speakers profile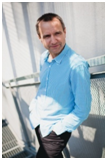 Assoc. Prof. Jaroslav Navrátil, M.Sc., Ph.D. received his Masters in 1986 and PhD degree in 1992 both at Brno University of Technology, where he acquired his experience as a lecturer teaching more than 25 years. He is Chartered Engineer in Statics and Dynamics of Structures and Forensic Expert in Civil Engineering. He published more than 100 research articles, over 50 research reports and expert opinions, and the textbook Prestressed Concrete Structures. Professional focus of Jaroslav Navrátil is the development of computational methods for the design and analysis of structures and their implementation in a form of algorithms and computer programs. His program for Time Dependent Analysis of structures was incorporated into large European software systems and has been used for the analysis of bridges in many European countries. In 2009 he and his former colleague Lubos Sabatka founded new company IDEA RS Ltd, which develops structural engineering software. Jaroslav Navrátil participated in 11 research and development projects at Brno University of Technology and IDEA RS. He participated in the projects that were awarded in the international professional contests.