About this Event
Welcome to our first ever Virtual 5K Walk/Run! Our Regional Suicide Prevention Virtual 5K is a great way to stay healthy and motivated when live racing is not available. Run, walk, jump or skip around the neighborhood, on your favorite trail, on a treadmill, or do laps around the block.
Your entry will benefit the Fayette, Highland, Pickaway, Pike and Ross County Suicide Prevention Coalitions and is the primary source of funding for our Coalitions. All money raised by this 5K is used to provide advocacy, education and training to decrease suicide deaths and attempts in our five counties.
With the health and safety of our participants in mind, we have decided to hold a Virtual 5K race. Register to participate by walking or running from the location of your choice. Participants will have the choice of picking up or being mailed a commemorative shirt and bib. The virtual race can be completed any time between September 6 – September 12, during National Suicide Prevention Week. Registration will be open from July 12 – September 12. Early Bird Registration fee is $20, until August 22nd when it will change to a $25 fee. Register by August 26th to allow time to receive your race materials before the race.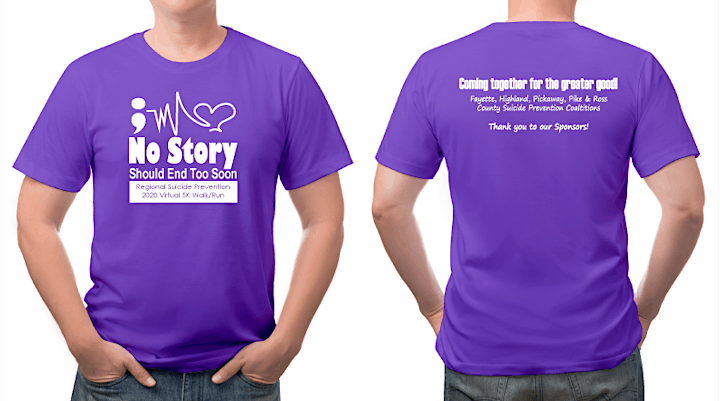 Regional Suicide Prevention 2020 Virtual 5K Walk/Run shirts are included with all Early Bird Registrations!