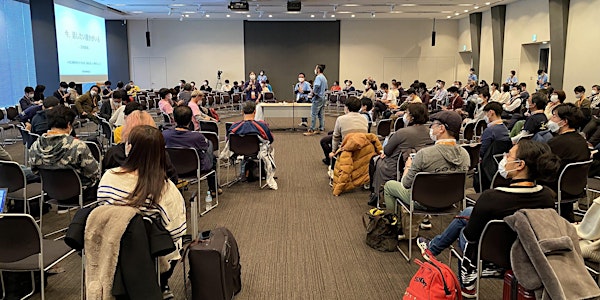 Regional Scrum Gathering Tokyo 2023
東京で開催される12回目のリージョナルスクラムギャザリングです。 Our 12th annual Regional Scrum Gathering in Tokyo!
When and where
Location
sola city Conference 4-6 Kanda-Surugadai Chiyoda-ku, Tōkyō-to 101-0062 Japan
About this event
Scrum Alliance members can get a 10% discount! For detailed information visit our website. Please note that the discount will not be applied after purchase.
Scrum Allianceの会員であれは10%オフ! ディスカウントコードの取得方法は下記をご覧ください。( 購入時に、券種選択の画面で[Enter promo code] のリンクに入力し、10%割引の料金になっていることをご確認ください。購入後に割引の適用はいたしませんのでご了承ください。
Regional Scrum Gathering Tokyoは12回目の開催で、スクラムの初心者からエキスパート、ユーザー企業から開発企業、立場の異なる様々な人々が集まる学びの場です。この3日間を通じ、参加同士でスクラムやアジャイルプラクティスについての知識やパッションをシェアするだけでなく、ここで出会ったエキスパートに困りごとを相談することもできます。お早目のご登録を!
https://www.scrumgatheringtokyo.org
最新の情報はFacebookやTwitterで発信していますので、こちらもフォローしてください。
The event is the 12th gathering in Japan with the expectation of more than 300 Scrum experts and practitioners from Japan and around the world. This three-day event offers you the chance to share knowledge and passion about Scrum and Agile practices, as well as provides golden opportunities to meet the greatest Agile leaders and get free help from them. Grab your ticket now!
https://www.scrumgatheringtokyo.org
To keep up to date with the latest news and announcements, please follow our Facebook page or Twitter.
Scrum Allianceのディスカウントコードの取得方法:
1. Scrum Alliance dashboard にログインします
2. ログインしたら左側メニューの"Benefits"をクリックし、表示された"My Benefit"の中から"Discounts for Gatherings & Event Registration"をクリックしてください
3. Regional Scrum Gathering Tokyoのメンバー専用レジストレーションコードを探して下さい
How to get a Scrum Alliance discount code:
1. Log in to your Scrum Alliance dashboard
2. Once you are logged in, tap on "Benefits" in the left menu, and then "Discounts for Gatherings & Event Registration"

3. Find the special discount code for Regional Scrum Gathering Tokyo
払い戻しについて
対応しておりません。出席者の変更は可能です。
領収書の発行について
領収書の発行は行いません。Eventbrite(クレジットカード/Paypal)の領収書は会計上有効な領収書としてお使いいただけますので、そちらを利用してください。
金額の内訳について
正規料金は、33,000円(税込)+1,977円(Eventbrite決済手数料・非課税)=34,977円です。メンバー割引を利用した場合は、29,700円(税込)+1,779円(Eventbrite決済手数料・非課税)=31,479円です。