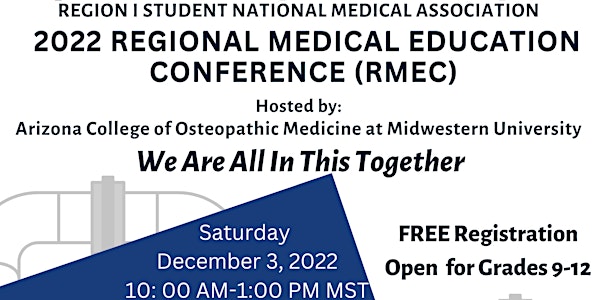 Regional Medical Education Conference (RMEC) 2022 - Pipeline Academy
The Pipeline Academy will engage and prepare underrepresented minority high school students interested in medicine.
When and where
Location
Arizona College of Osteopathic Medicine at Midwestern University 19555 59th Ave Glendale, AZ 85308
About this event
Please join the Student National Medical Association for the Pipeline Academy during our Regional Medical Education Conference (RMEC) 2022. The event will be held both in-person and virtually to accommodate those who live further away. The Pipeline Academy will take place in-person at Glendale, Arizona (and virtually on Zoom) on Saturday, December 3rd, 2022 from 10 AM to 1:00 PM MST, as part of the general RMEC conference which will take place in Glendale, Arizona from December 3-4, 2022.
The Pipeline Academy is a dedicated track during our conference designed to motivate and encourage underrepresented minority (URM) high school students to pursue careers in medicine.
Workshop sessions include:
Introduction to SNMA and MAPS
Preparing for College: A Study Skills Workshop
The Pre-Health Profession Journey: Tips for Success
Premedical and Medical Student Panel and Networking
Lunch will be provided and participants will have an opportunity to network with premedical and medical students during that time. We kindly ask that you register only if you are seriously considering attending as space is limited. There are two ticket options, one for those attending in-person and another for those attending virtually. Registration closes on Monday, November 28th, 2022 at 11:59 PM MST.
Location:
In-person: Arizona College of Osteopathic Medicine at Midwestern University
Virtual: via Zoom.
(The address for the in-person location or zoom link for virtual attendance will be sent out upon registration.)
While this conference is aimed at exposing students that are underrepresented in medicine (Black, Hispanic/Latino, and Native American), it is open to all students of various backgrounds.
For more information, please email region1prl@snma.org. We hope to see you there!
About the SNMA
The Student National Medical Association (SNMA) is committed to supporting current and future underrepresented minority medical students, addressing the needs of underserved communities, and increasing the number of clinically excellent, culturally competent and socially conscious physicians.
SNMA chapters based at allopathic and osteopathic medical schools throughout the nation, and some colleges, implement our programs and activities locally. SNMA programs are designed to serve the health needs of underserved communities and communities of color. In addition, SNMA is dedicated both to ensuring that medical education and services are culturally sensitive to the needs of diverse populations and to increasing the number of African-American, Latino, and other students of color entering and completing medical school.
The goals of SNMA are:
To serve as a credible and accurate source of information relevant to minority issues in the field of medical education.
To encourage and foster the development of minority faculty in order to increase the presence of minority mentors and biomedical researchers in academic health centers.
To evaluate and cultivate the necessary measures to eradicate practices in the field of health profession education that compromises the goal of providing quality education to minorities and women.
Visit https://snma.org to learn more about SNMA.