Regional Forum: 2019 California Energy Code - Changes & Opportunities
About this Event
Sold out! Waiting List is available.
Thank you for your interest! All seats for the Regional Forum have been reserved.
Space is limited to our confirmed RSVPs. However, if you would like to be contacted if additional seats become available, please register for the Waiting List.
Would you like to be notified of our future events? Please join our mailing list.
Event Description
The Tri-County Regional Energy Network (3C-REN) invites you to our upcoming Regional Forum that will demystify the significant changes in 2019 Title 24, Part 6 Energy Code and the rationale behind them, highlight recent trends and pathways for building electrification, and provide attendees an opportunity to learn how various industry groups and leaders are preparing for the changes ahead.
Lunch will be provided.
3C-REN has made every effort to work with our caterer to make this a zero waste event. Please help us achieve this goal by bringing your own utensils and water bottles.
Agenda
12:30 - 1:00 | Sign In, Lunch, and Networking
1:00 – 1:15 | Welcome, Introductions, and Overview of the Day
1:15 –1:45 | 3C-REN Introduction and Program Overview
1:45 – 2:15 | Breakout Session Part 1 – Regional Perspectives, Gaps, and Opportunities
2:15 – 2:45 | 2019 Energy Code Changes – What, Why, and Where Is It Going? Guest Speaker – Brian Selby
2:45 – 3:05 | Networking Break
3:05 – 3:25 | Breakout Session Part 2 – Addressing Myths and Misconceptions
3:25 – 4:25 | Panel Discussion - How Will Energy Code Changes Affect the Building Industry? Moderator - Mindy Craig. Guest Panelists - Paul Poirier, Bronwyn Barry, Andrew Stuffler, Lindy Hatcher, and Russ King
4:25 – 4:30 | Closing Remarks
More Information
This event is part of an innovative day of programming organized in collaboration with the City of San Luis Obispo and the SLO Climate Coalition. To learn more about building decarbonization and building technologies, please attend the Panel Discussion and Building Expo following the Regional Forum.
For more information, contact tricountyren@ventura.org.
For more information on 3C-REN, visit: www.ventura.org/environment/TriCountyREN/
Continuing Education Units (CEUs) / Learning Units (LUs)
This event has new content that has been submitted/pending review from the ICC and AIA. Credits cannot be offered until the event is reviewed and approved. Approval for continuing education/learning units (CEUs/LUs) is at the discretion of the accrediting body. If you are interested in receiving credits please provide your contact information and any applicable membership numbers.
About our Speakers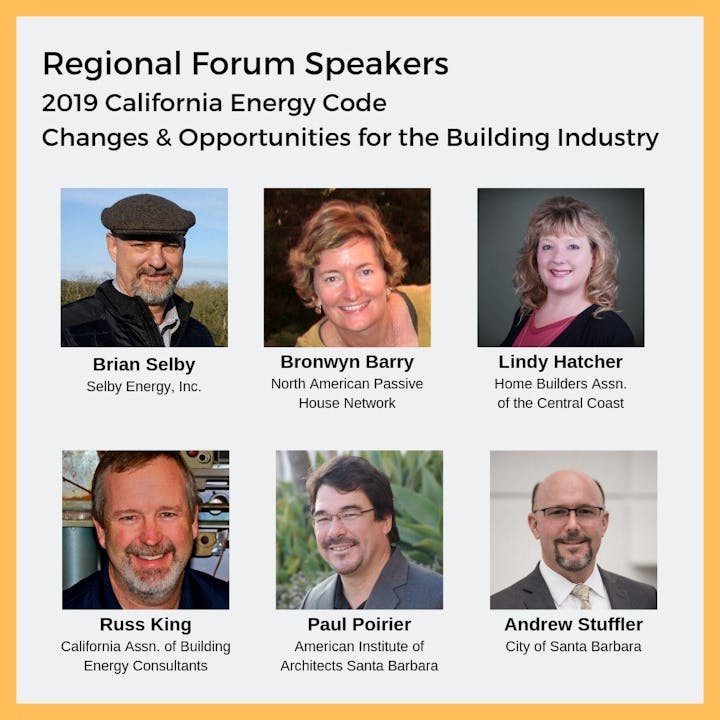 Guest Speaker
Brian Selby, Principal, Selby Energy, Inc.
Brian is a Principal at Selby Energy, Inc., where his primary role is developing and delivering energy code training for the Energy Codes Ace Title 24 Essentials courses. He has over 30 years' experience as an energy consultant. He is an Energy Code subject matter expert and interacts with the California Energy Commission (CEC), Investor Owned Utilities (IOUs), association professionals and other industry stakeholders to foster education, promotion, and compliance with the California Building Energy Standards.
Brian works closely with the Statewide Codes & Standards team, CABEC and other stakeholders to streamline the compliance process, develop and implement the CEA Exam program and serve on the CABEC board of directors. Brian is also a Certified Energy Analyst (CEA) and HERS Rater. Born and raised in Sonora, his background includes owning and operating a successful building design, energy consulting and HERS rating business. Brian is very passionate and committed to helping this industry learn and adapt to the ever changing requirements of the energy code.
Panel Speakers
Bronwyn Barry, CPHD, RA, North American Passive House Network Board President
Ms. Barry is a registered architect based in San Francisco, CA. She was educated in South Africa, the UK and the USA and holds a Bachelor of Arts from the University of Natal-KwaZulu. She attended courses in Architecture at UC Berkeley before apprenticing at various architecture practices throughout the San Francisco Bay Area. She organized and directed California's first all-women construction crew for Habitat for Humanity before founding both Passive House California (PHCA) and the North American Passive House Network (NAPHN), where she currently serves as Board President.
Ms. Barry's advocacy work extends internationally. She is an active contributor to the UNECE's Coalition on Buildings, working to develop a global standard for high performance buildings. Locally, she has focused on direct implementation by designing and building Passive House buildings since 2008, working in collaboration with One Sky Homes and through her own architecture firm, PassiveHouse BB. Ms. Barry has contributed as a subject matter expert on a number of research projects in collaboration with researchers at Lawrence Berkeley National Labs (LBNL.) She is currently working with PHCA and the Codes and Standards team on a Multifamily Passive House Reach Code for California.
Lindy Hatcher, MSA, CGS, Home Builders Association of the Central Coast
Ms. Hatcher is the new executive director of the Home Builders Association of the Central Coast where she works with her board, committees, staff, officials, and partners to advocate for and create quality housing and communities in the Central Coast area. She has a masters degree is in Administration with a Nonprofit Management specialization. She has served on the steering committees of five start up organizations, including the Champlain Valley Real Estate Investors Association where she served as Secretary and an emerging National Heritage Area and served on their board. She worked as Marketing and PR Director for a Kitchen and Bath company for many years in VT and was president of VT Business and Professional Women.
For the past seven years, Lindy was a national trail executive director based in MT and was instrumental in getting national legislation sponsored and introduced. She testified in Congress, and advocated in D.C. getting legislation passed and signed into law extending the terminus of the Lewis and Clark National Historic Trail by 1,200 miles from Wood River, IL to Pittsburgh, PA. Lindy served as Secretary for the Partnership for the National Trails System's Trail Leaders Council and helped plan national meetings and events. She worked closely with federal partners to manage five cooperative agreements. She managed twelve budgets and administered three grant programs as a certified grants specialist.
Russell King, M.E., California Association of Building Energy Consultants
Russell King, M.E. is a professional Mechanical Engineer licensed in California, Nevada and Hawaii. He has over 25 years of experience practicing and teaching in the areas of Residential HVAC design, diagnostics and consulting, as well as energy code compliance and consulting. He is the author of "HVAC 1.0 – Introduction to Residential HVAC Systems". Russ is currently the Senior Director of Technical Services at CalCERTS, Inc., a California HERS Provider. He is currently the Vice Chair of California Association of Building Energy Consultants (CABEC).
Paul Poirier, AIA, LEED AP, American Institute of Architects Santa Barbara
Paul Poirier is a licensed architect in California, Nevada and Alabama and has 35 years of experience designing award winning commercial and residential projects with emphasis on "green" innovation and design excellence. He has provided his leadership to the Central Coast Green Building Council, The Sustainability Project, the Green Building Alliance, the AIA Santa Barbara Chapter, and served as chair and a current member of the AIA California Committee on the Environment. Recently he has been working with the AIA to roll out the 2030 Commitment program to AIA members across the country through the 2030 Workgroup. Paul is a California Office of Emergency Services certified trainer, and has actively trained architects and engineers across California to be able to respond to major disasters through Cal OES deployment. Paul is committed to maintaining the architectural beauty of the central coast of California, while protecting the environmental quality, resilience and sustainability of our community for future generations.
Andrew Stuffler, Chief Building Official, City of Santa Barbara
Mr. Stuffler holds a Bachelor's Degree in Industrial Technology from the California State Polytechnic University at San Luis Obispo. Andrew has 29 years of Building & Safety building codes experience as well as involvement in the post-disaster recovery operations of more than a dozen national disaster events in the Western US. Andrew has worked for the Cities of Ventura and Santa Barbara for 23 years and is currently the manager of Santa Barbara's Building & Safety Division (aka: Building Department). Andrew was a certified Northwest Energy Code specialist in the Pacific Northwest, a Fire Marshal in the Ventura City Fire Department, and has severed on International Building Code technical committees. He is nationally certified in Building, Plumbing, Mechanical, Electrical Inspection, Plans Examining, Fire Protection Systems, Building Official and Floodplain Manager. Andrew currently serves as a Director for the California Building Officials Association.