About this Event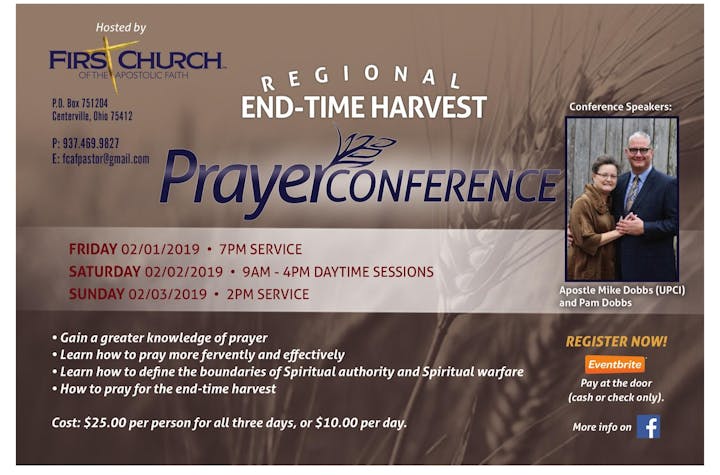 BIOGRAPHY for Dr. Mike Dobbs
Dr. Mike Dobbs and his wife of thirty-six years, Pamela reside in Wiggins, Mississippi and have pastored, Word Alive Revival Center for nearly thirty years. Mike and Pam are founders of the Mississippi Prayer Force, a network of over 200 churches, consisting of prayer warriors and armor-bearers, trained and ready for quick response to emergency prayer needs.
Dr. Dobbs' teaching was heard and appreciated by many on a daily basis as the host teacher of the "Word Alive Radio Broadcast", a systematic verse by verse study of the Bible conducted on WOSM, a gospel radio station that reaches most of South Mississippi.
Pastor Dobbs served as District Coordinator of Purpose Institute, a four campus Bible school that trains young ministers and allows them to earn an Associates or Bachelors diploma in Apostolic ministry.
He is the author of the Word Defined Research Study Bible which attempts to define all the proper nouns of the Bible. The 3 volume KJV Bible also includes personal research that he conducted while traveling to Israel, Egypt, Greece and Russia, as well as the parabolic teaching of the ancient texts. His most recent book is the Word Alive Summary of the New Testament, a survey of the New Testament books in an easy to use outline form.
He is a District Presbyter for the Mississippi District United Pentecostal Church, Int. and travels across the globe, serving as Bishop of several international churches abroad, as well as many churches here in America.
BIOGRAPHY for Sis. Pam Dobbs
Pam Dobbs has served in ministry with her husband, Dr. Mike Dobbs, pastor of Word Alive Revival Center in Wiggins, Mississippi for over 30 years. Before that she helped him as an evangelist and worked in her local church in Alabama. She is dedicated to the call and the work of God not only in word but also in service. Pam served with her husband for a term of 4 years as the Mississippi District Coordinators of World Network of Prayer and co-founded the Mississippi Prayer Force. During that time she taught on the subject of prayer in prayer summits conducted across the state. She understands the true importance of prayer and believes that true Christian leadership must include prayer.
Pam has a passion for Ladies Ministries within the UPC. In 2001, she became part of the Mississippi District Ladies Committee and in 2009 was voted in as Ladies President and presently serves in this position.
Pam and Mike have two children, Ashley and Adrian. She has twin grandsons, Aidan & Jaron and one granddaughter Joycelyn, and most recently Austin and Andrew, which are Adrian's sons. Five grandchildren call her "MyMy". They are the joy of her life. She loves serving and allowing God to touch people through the work of her hands. Her hobbies include working in the yard with her flowers and cooking wonderful meals.
She presently is involved in international ministry as she and her husband travel around the nation and the world mentoring ministry, pastors and pastor's wives.