Multiple Dates
Regional Community Health Forum & Health for a Change Workshop Jul 24, 2019
Description
---

---
Join members of the Foundation for a Healthy Kentucky Community Advisory Council for a free, in-person forum on community health issues in Bowling Green and a coalition building workshop in Scottsville, Kentucky!
This day will be comprised of two sessions – a morning forum and an afternoon workshop. Seating is limited and registration is required to participate. Register for one or both sessions. Both sessions are free of charge.
Lunch is included at the afternoon Workshop.
An Open Invitation: We welcome representatives of local health organizations, health care providers, public health professionals, local elected officials, business and education leaders, local health coalitions and community members interested in improving the health of their community. The forum and workshop are also open to media.
Regional Community Health Forum - including the Kentucky HEALTH 1115 Medicaid Waiver at Community Farmers Market, Bowling Green
July 24 9:30 a.m. - 11:30 a.m. Central Time
Enjoy coffee and networking starting at 9:30 a.m. The program will begin promptly at 10:00 a.m. with a welcome and update on the focus areas and activities of the Foundation for a Healthy Kentucky by Ben Chandler, President/CEO. Veronica Judy Cecil, Vice President for Public Policy, will convey the latest developments regarding the Kentucky HEALTH Medicaid waiver program. The Forum will include an input session on Medicaid and other priority health issues of concern in our Kentucky communities.
This session is open to those interested in learning more about the Foundation for Healthy Kentucky and sharing ideas on reaching our highest level of health.
Workshop – Health for a Change – Coalition Building at Need More Acres Farm, Scottsville
July 24 12:00 p.m. - 4:30 p.m. Workshop Central Time; Lunch included.
Join us as we share ideas on coalition building, food, and community! Lunch and tour of Need More Acres Farm followed by workshop on assets and strategies for health improvement, food access, and community building.
IMPORTANT TO NOTE: The Need More Acres Farm is an active working farm owned and operated by Michelle and Nathan Howell. The lunch and workshop are planned for the outdoor grounds of the farm, to be moved in the farmhouse in the event of rain. If you are planning to attend both the regional community health forum in Bowling Green AND the workshop in Scottsville, it is a 30-minute drive from the Community Farmers Market in Bowling Green to the Need More Acres Farm in Scottsville. Please let me know if you have any questions about the logistics, travel between these two locations or any other types of support or accommodation questions.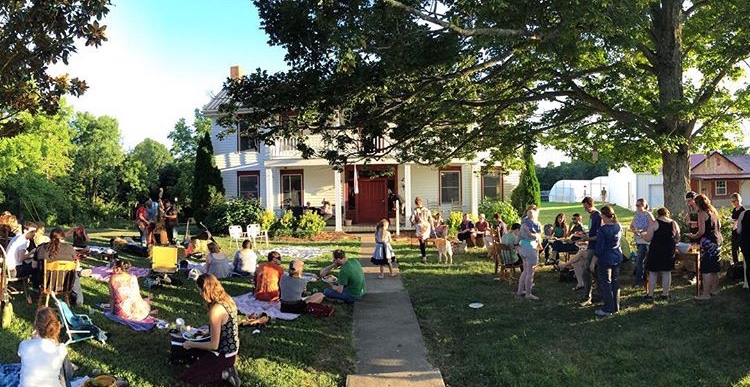 ---
Cancellation Policy Costs associated with the Regional Community Health Forum and Health for a Change Workshop are fully underwritten by the Foundation for a Healthy Kentucky. There is no charge to attend the Forum or the Workshop. Participants who register and do not attend will be charged a $75 cancellation fee. The fee is waived for participants who cancel their registration on or before 12 p.m. CT on July 22. To cancel a registration, please log in to your account or call toll-free 877-326-2583.

Consent to Use Photographic Images Registration and attendance at or participation in Foundation meetings and other activities constitutes an agreement by the registrant to the Foundation's use and distribution (both now and in the future) of the registrant or attendee's image or voice in photographs, video recordings, electronic reproductions and audio recordings of such events and activities.
Organizer of Regional Community Health Forum & Health for a Change Workshop Jul 24, 2019
The Foundation for a Healthy Kentucky is a nonprofit, nonpartisan organization. Since it opened its doors in 2001, the Foundation has invested $28 million in health policy advocacy, research, and demonstration projects across the Commonwealth. The Foundation's mission is to address the unmet health needs of Kentuckians by developing and influencing policy, improving access to care, reducing health risks and disparities, and promoting health equity.