Reggae Latino Fest 2011: Cultura Profetica, Gondwana, Los Cafres & Bayonics

Tuesday, November 29, 2011 at 8:00 PM (PST)
Event Details
TICKETS AVAILABLE AT THE DOOR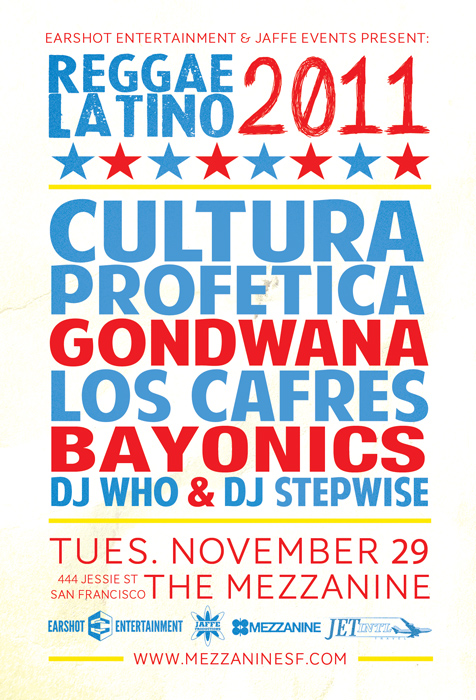 Cultura Profetica
Gondwana
Los Cafres
Bayonics

DJ Who
DJ Stepwise
CULTURA PROFÉTICA has become a powerful musical independent phenomenon, led by four young and talented puertorricans. Crossing the frontiers of more than 15 countries, their artistic proposal attempts to erase ideological barriers, transcending generational values. Cultura's music carries a positive message thru motivational and original songs.  They have accomplished a unique style, rich in rhythms and sounds where a reggae roots base is seasoned with touches of jazz, salsa, hip-hop, ska, funk, "world music", popular Brazilian music and all Afro Caribbean roots in general.
 
Cultura Profética began to make history by recording in Tuff Gong Studios in Kingston, Jamaica, a vow of confidence form Mr. Errol Brown, sound engineer for Bob Marley and his family.  Some of his most distinguished work are the productions: Legend, Confrontation, Uprising and Survival, besides being responsible for the live sound of Bob Marley and The Wailers for 15 years.  Since then, Mr. Brown, joined Cultura Profética as the sound engineer of all its discography.
 
Thousands of loyal fans from South America and Latin communities in the United States have joined Cultura Profética. Songs like Fruto de la tierra, Ideas nuevas, De antes and Ritmo que pesa continue to impact such markets as Europe and Australia, proving the power of music as the universal language.
GONDWANA - Gondwana - While reggae might be generally associated with Jamaica and then Africa, the influence of Bob Marley and roots reggae has traveled the world, even into South America where it inspired the formation of Gondwana, a Chilean band that has slowly made an impact around the globe. Formed in 1987, during the years of the Pinochet dictatorship in their native land, the band had to keep a relatively low profile until the political climate eased, as the government wasn't too keen on a younger generation airing beliefs that didn't mesh with their own, especially if they involved Rastafarianism, with its peaceful approach to life. In some ways, that slow development was good, because it gave them a chance to work out their own sound, which, according to singer Quique Niera, became "very rockish, but we also have the South American traditional rhythms, like the bolero." That mix showed up to some extent on their debut Together in 1996, but really came to fruition four years later on their sophomore effort, Second Coming. In Chile the album was titled Alabanza, and proved to be a breakthrough, rocketing them to the top of the national charts. The extracted single "Antonia" also proved to be a chart-topper. The album didn't shy away from political issues, with "Libertad" dealing frankly with the justice and peace that eluded Chileans during the dictatorship. In the wake of the album's U.S. release on RAS, Gondwana undertook a world tour. ~ Chris Nickson, All Music Guide
———————————————————————————
Tickets: After purchasing a ticket through Eventbrite you may either print out your confirmation email for faster entry, or bring your ID and your name is automatically added to will call.
NO REFUNDS
Mezzanine Ticket Transfer Policy: If you would like to have someone else claim your will-call spot, you MUST provide them with a photo copy of your driver's license or credit card used to purchase the tickets, along with a signed note authorizing them to use your spot (specify quantity).  Without proof and written consent, they will not be admitted inside the venue. 
All events are 21+ | Please bring valid identification. For more information visit mezzaninesf.com
Have questions about Reggae Latino Fest 2011: Cultura Profetica, Gondwana, Los Cafres & Bayonics?
Contact Mezzanine
When & Where
444 Jessie St.
San Francisco, CA 94103


Tuesday, November 29, 2011 at 8:00 PM (PST)
Add to my calendar
Organizer
A richly diverse gathering space, Mezzanine showcases live and electronic music from all genres – rock, dance, hip hop, soul, jazz, salsa, world beat – as well as multimedia art events, fashion shows and video/film installations. The multi-use venue boasts state-of-the-art lighting technologies with custom-built sound systems for both live and electronic music. The club caters to performances of all types; from hot shows with the newest buzz bands to intimate engagements with the world's biggest artists.