Regent Park Community Meeting - November 18th - Community Benefits - RPNA
Join us for a community meeting focused on the advocacy campaigns of your neighbourhood association in Regent Park - Community Benefits
About this event
Regent Park Community Meeting
Brought to you by - Regent Park Neighbourhood Association
Community Benefits
Dear Regent Park resident and stakeholder,
Please join us for an important community meeting on November 18th from 6 - 8 :30 pm.
With plans finally underway for phases 4/5, this is a critical moment for our community.
Please note that for phases 1 - 3 of the redevelopment of Regent Park, over 1 billion was invested that resulted in only 33 residents accessing good jobs and 17 regent park residents became home owners.
In the next few months, important decisions will be made that will affect the future of Regent Park for years and decades to come, including:
- A Rezoning Plan: We have recently learned that TCHC and Tridel will be submitting a rezoning application to the City that will change existing plans for the final phases of the redevelopment. What we know so far is that this new plan will include greater density, higher towers, and delays to construction, as well as possible new amenities, like a library branch and community owned space. There are a number of potential pros and cons to this rezoning application, and it is critical for everyone to get involved so that community voices are heard and duly considered as part of this decision.
- Community Benefits: We have been working hard as a community over the past three years to make sure that substantial community benefits are part of the redevelopment plan for phases 4/5. As a result of that effort, over $26 million was secured for community benefits in the new contract between TCHC and Tridel.
We want to update you on where we are at with our efforts to create a tri-party community benefits agreement that will ensure that residents are a full partner in deciding how this money is spent.
The purpose of this meeting is to provide you with more details about all of the above, answer any questions you might have, hear your thoughts, and make sure that all residents have the information they need to be part of these important decisions.
In the meantime, if you have any questions, please contact us.
We would love to hear from you.
We are stronger together.
Regent Park Neighbourhood Association - Community Benefits Coalition
When: Thursday, November 18th 2021
Time: 6 - 8:30 pm.
For more information, please visit:
RPNA Website: https://www.rpna.info/
RPNA Coalition Website: https://www.regentparkcoalition.ca/
Zoom Meeting Details:
Topic: Regent Park Community Meeting on Community Benefits - RPNA - Regent Park Neighbourhood Association
Time: Nov 18, 2021 06:00 PM Eastern Time (US and Canada)Join Zoom Meeting
https://us02web.zoom.us/j/83643179205?pwd=NlNxU0piRE1BYlBOTzJRaVlZK09EQT09
Meeting ID: 836 4317 9205
Passcode: 316201One tap mobile
+16473744685,,83643179205# Canada
+16475580588,,83643179205# Canada
Dial by your location
+1 647 374 4685 Canada
+1 647 558 0588 Canada
+1 778 907 2071 Canada
+1 204 272 7920 Canada
+1 438 809 7799 Canada
+1 587 328 1099 Canada
Meeting ID: 836 4317 9205
Find your local number: https://us02web.zoom.us/u/kekpSv3g2B
------------------------------------------------------------
#regentcommunitybenefits
Regent Park Neighbourhood Association - RPNA
Contact Us:
F: https://www.facebook.com/groups/RegentParkNA
W: https://www.rpna.info/
https://www.regentparkcoalition.ca/
Email: rpna.info@gmail.com
Phone:437-928-7154 or 416-625-7712
Join our team!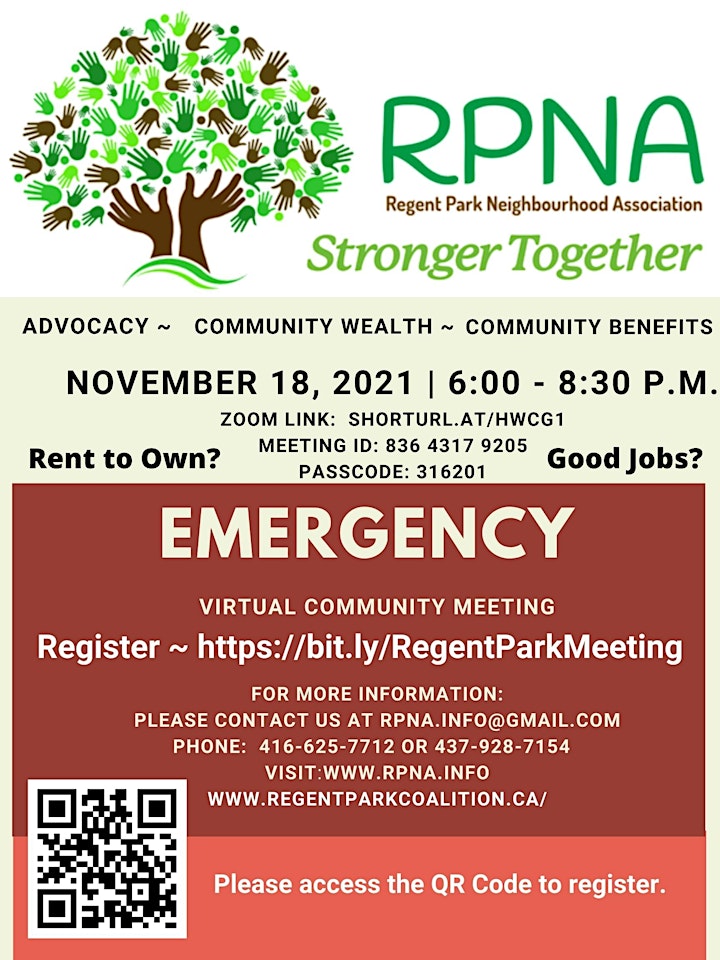 Organizer of Regent Park Community Meeting - November 18th - Community Benefits - RPNA