Description
The Growing Club / Sarvodaya Farms and Seedstock are offering a 3-day Regenerative Urban Farming Intensive workshop for professionals on October 20, 21, 22 (Fri-Sun).
The workshop is aimed at urban farming professionals who are working towards starting a commercial urban farm as a private for-profit or non-profit business. The goal of the workshop will be to provide a base of relevant knowledge, basic skills, and local resources to start and operate a regenerative soil-based small-scale or urban farm. Workshop will include both hands-on and lecture portions on the Sarvodaya Farms property where attendees will be able to see, experience, and participate in a working regenerative urban farm.
What is Regenerative Agriculture? Why Now?
Regenerative Agriculture is an approach to farming which positively contributes to the health of the overall ecosystem that a farm operates in. Unlike organic agricutlure, which is primarily focused on excluding petroleum-based fertliizers and pesticides, regenerative agriculture focuses on increasing soil health through cultivation, creating habitat for beneficial insects and wildlife, and restoring water to the local water shed. Regenerative agriculture actively and continually converts airborne carbon into life-generating soil-based carbon, producing cascades of benefits that may hold the key to reversing climate change.
Workshop participants will learn the key regenerative farming skills that have made Sarvodaya Farms so successful including how to:

- easily and rapidly increase soil health using organic matter and introduced biology
- use less water to grow more food all year
- manage small planting spaces intensively to maximize year-round production
- start and maintain all crops from seed to harvest
- integrate native plants and fruit trees into annual vegetable crops
- create a resilient agro-ecosystem that requires fewer inputs and less management
The workshop is divided into 6 sessions over 3 days: morning and afternoon for Friday, Saturday, and Sunday. The 6 session topics are:
- Urban Farming System Overview
- Composting and Soil Health Management
- Seed Starting and Nursery Stock Management
- Irrigation Design and Water Management
- Crop and Field Management
- CSA Management and Business Models
The workshop will be led primarily by Sarvodaya Farms founding farmer & director of The Growing Club, Rishi Kumar, with additional sessions led by Manju Kumar (Sarvodaya Farm's Field Manager) and Lynn Fang (Sarvodaya Farm's Compost Manager).
Workshop participants will each receive:
a booklet of handouts, 1 for each session

a USB-drive with digital copies of all handouts, material sourcing list, and data collection spreadsheets

Certificate of completion

2 compostable bamboo toothbrushes from our sponsors at Brush with Bamboo
Workshop Hosts

Sarvodaya Farms is the urban farming program of The Growing Club (a 501(c)3 non-profit organization) based in Los Angeles, which aims to train new urban farmers, educate the public on the advantages and benefits of ecological farming, and perform research to advance the science and productivity of small farms.
Seedstock is a mission-driven consulting company that fosters the development of robust urban farming and local food systems through its work with municipal and private sector clients, the news and information blog Seedstock.com, and live events.


Workshop Sponsors

Brush With Bamboo produced the world's most ecological toothbrush. With a handle made from organic bamboo, bristles made from castor bean oil, and 100% biodegradable packaging, now you can keep a healthy and clean mouth while helping the planet.
The Los Angeles Food Policy Council is a collective impact initiative working to build a Good Foodsystem for all Los Angeles residents — where food is healthy, affordable, fair and sustainable.
Kiss The Ground's mission is creating a regenerative human society. Together we can solve the greatest challenge of our time – climate change. The science and technology exist, now it's up to all of us to bring our hearts, our will, and our action.
With the CoolBot from StoreItCold you can build your own walk-in cooler with an air conditioner and save $1,000s compared to traditional cooling systems. CoolBot is perfect for small farms and is the preferred cooling system of Sarvodaya Farms.
Workshop Teachers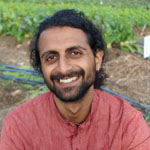 Farmer Rishi Kumar is an urban farming educator, advocate, and promoter. His first taste of farming came in 2009, when he spent 3 months learning traditional Indian organic farming techniques on the farm of reknowned organic farming advocate, Dr. Vandana Shiva. Since then Farmer Rishi has been very active in LA's urban farming scene, promoting sustainable and ecological (sub)urban development. His first project The Growing Home converted a cookie-cutter suburban tract home into a model of suburban ecological living. The Growing Home was featured in several media outlets, including the documentary Urban Fruit (available on Amazon Prime and YouTube).
Since 2014, his focus shifted to Sarvodaya Farms, a small-scale, ecologically-integrated urban farm based in Pomona, CA. After just 3 years, Sarvodaya Farms has become the most well-known and productive urban farm in Los Angeles County, producing over 10,000 lbs of food annually on just over 1/3 acre, while conserving water, increasing biodiversity, and educating the local community.
Farmer Rishi was the keynote speaker at the 2016 Los Angeles Urban Agriculture Summit, and has spoken at the National Heirloom Exposition, the 2017 California WIC Association Conference, 2017 Los Angeles LARA GAIN Summit, UC San Diego, UC Los Angeles, the Claremont Colleges, and more. He was a Irwin Jacob's Scholar for Computer Science at UC San Diego, graduating class of 2010.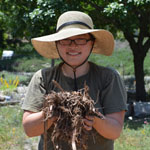 Compost Master Lynn Fang received her Master's in Compost Biology at the University of Vermont and works to educate her community about soil health through workshops and classes. She leads the Sarvodaya Farm's Master Composter Training Program, manages composting operations for Huerta del Valle, and offers consulting services for small farms and composting operations. Lynn believes in the power of healthy soil to grow resilient communities.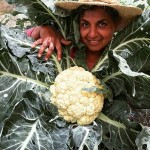 Farmer Manju Kumar is the Field Manager at Sarvodaya Farms. She has over 25 years of experience growing food from the backyard scale to the small-farm scale. Manju has a passion for growing and cooking great food. Using her culinary expertise, she helps select the best-tasting varieties to grow and manages all harvesting at Sarvodaya Farms, and directs a number of it's educational programs.
Workshop Syllabus
Daily Schedule
09:00am to 12:30pm Morning Session
12:30pm to 01:30pm Lunch
01:30pm to 05:00pm Afternoon Session
3 day Workshop Program
Friday, October 20
Morning Session (3.5 hrs) - Urban Farming System Overview
Introduction and tour of Sarvodaya Farms

Review of overall farming system and goals

Foundational ideas: No-till, continuous planting, soil health, water conservation, perennial hedgerows
Lunch on the Farm (1 hr) - Bring your own or purchase tickets for Prepared Farm Lunch
Afternoon Session (3.5 hrs) - Composting and Soil Health Management
Sourcing organic materials for composting from the urban waste stream

(Hands on) Building and managing hot compost piles

(Hands on) Amending, preparing and storing compost for farm use
Saturday, October 21
Morning Session (3.5 hrs) Seed Starting and Nursery Stock Management
How to design, setup and build a working farm nursery

Setting nursery irrigation systems and watering schedules

(Hands on) Making your own potting mix

Sourcing organic high-quality seeds

(Hands on) Preparing nursery trays and planting seeds

(Hands on) Managing and fertilizing nursery stock

Planning for year-round planting
Lunch on the Farm (1 hr) - Bring your own or purchase tickets for Prepared Farm Lunch
Afternoon Session (3.5 hrs) Irrigation Design and Water Management
Basic ideas for water management on a small farm

Water requirements for different types of plants

(Hands on) Designing and installing an appropriate irrigation system

Sourcing irrigation materials

(Hands on) Sample irrigation system build
Sunday, October 22
Morning Session (3.5 hrs) Crop and Field Management
(Hands on) Dressing, fertilizing, and preparing beds for planting

Crop rotation and companion planting

(Hands on) Transplanting and watering seedlings into field beds

Field crop management - fertility, disease, and insects

(Hands on) How and when to remove field crops
Lunch on the Farm (1 hr) - Bring your own or purchase tickets for Prepared Farm Lunch
Afternoon Session (3.5 hrs) CSA Management and Business Models
(Hands on) Post harvest processing and storage

Farm-scale cold storage

Produce packing and distribution

Marketing and sales models

Data management