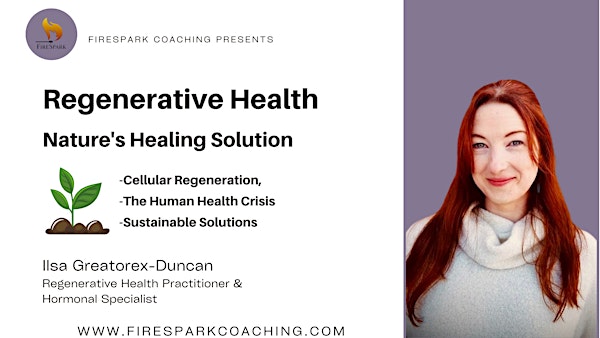 Regenerative Health - Nature's Solution
A dive into the method of Regenerative Health, how the body can heal when given the right support, the science, obstacles, & solutions!
By Ilsa Greatorex-Duncan - Firespark Coaching
Date and time
Saturday, June 10 · 11am - 12pm PDT
About this event
This is a 40 min webinar on the power of Regenerative Health and beyond! (30 mins presentation + 10min Q&A)
Come join me this Saturday to learn more.🔥
We will be discussing
✨The principals of regenerative health - The science behind the practice of healing your body without modern medicine
✨Obstacles & how our soil health is affecting human health
✨What we can do about it
This is an issue I am deeply passionate about! Awareness is the first step for change, so my mission is to spread these seeds of knowledge to inspire more positive change in human health & the world while providing solutions for those in need.
This will be short and sweet. I will be sharing some powerful information, offering solutions, and free breakthrough sessions for those who are interested in improving their health, and/or making a change in our world!
I am a Certified Regenerative Health Practitioner, Iridologist, CHC, CLC, & Fertility/Pregnancy Nutrition Specialist.