Regency-Era Dance and English Country Dance Workshop

Friday, July 24, 2015 at 7:00 PM

-

Sunday, July 26, 2015 at 4:00 PM (CDT)
Event Details
The International Folk Culture Center presents John Gardiner-Garden and Aylwen Gardiner-Garden of Canberra, Australia for a weekend of Historical Dance, with a focus on the Regency Era, but with creative excursions into other periods as well! Join us for a gracious foray/exploration of English Country Dance.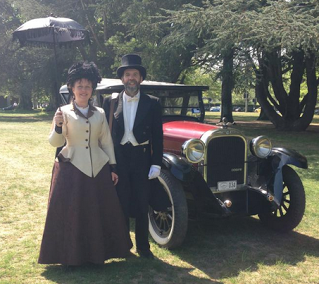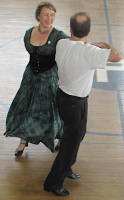 John and Aylwen will be finishing a tour of the U.S. and Eastern Canada--we are their final stop for a dance workshop! John has written numerous books about the history of dance and Aylwen is a world-renowned costumier. The IFCC is privileged to bring this outstanding couple to Texas.
Funded in part by:

For more information about John and Aylwen, and info about their activities and publications:     http://www.earthlydelights.com.au
Updates:

June 27:  John and Aylwen are experts, but we should NOT be intimidated by their expertise.  If you are concerned that you may not "catch on quickly enough" for this workshop, here is what John writes:
"(Dancers) will find (themselves) in a very different situation with us. We won't be assuming any familiarity with the dances we lead, will be teaching dances from scratch in the workshops and refreshing people on them and calling them during the ball, so everyone will feel comfortable with everything we introduce. It's also the case that we will be enjoying some of the real dances enjoyed in the Regency period, not just repackaging some of the usual north-American favoured-ECD repertoire from a 100 years earlier for the purpose, so although people who love ECD will love what they find us offering on the weekend, the list of dances we plan is unlikely to mean much to them. Best plan would be to just to plan to come without fear to the whole weekend, workshops and all, and I guarantee (dancers) will have a wonderful time. 
 I might also add that I have lots of experience in teaching groups with mixed degrees of familiarity in the style / repertoire being tasted, and love nothing more than bringing all on together, and if (dancers) are keen on having notes after the weekend when all the dance instructions will make more sense, I'll happily email them a list of all the dances we actually did in the order we did them and with pointer to the relevant book of mine.
I hope a reply along these lines is helpful and encouraging, 
Warmest regards, John. 
When & Where

International Folk Culture Center at OLLU
411 SW 24th St
San Antonio, TX 78207


Friday, July 24, 2015 at 7:00 PM

-

Sunday, July 26, 2015 at 4:00 PM (CDT)
Add to my calendar