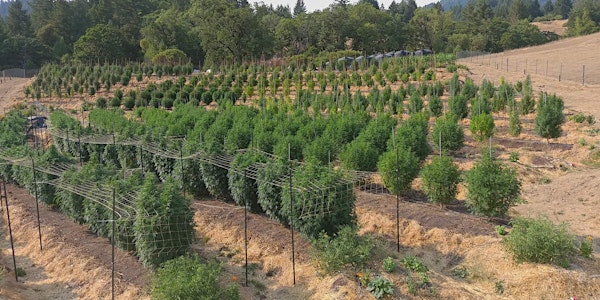 Regen Camp with Joey Burger, Tamara Thorn & Special Guest Instructors
Regen Camp with Joey Burger, Tamara Thorn and Special Guest Instructors at Hugelville
When and where
Location
Hugelville in Southern Humboldt County Directions sent prior to start of workshop Farm is an easy 15 minute drive from Garberville and accessible with two wheel drive. Please carpool and drive slowly Garberville, CA 95542
Refund Policy
Contact the organizer to request a refund.
Eventbrite's fee is nonrefundable.
About this event
We are very excited to be welcoming everyone back for Regen Camp at Hugelville Easter weekend April 15th thru 17th. Tamara and I have an awesome weekend planned for you and we are blessed to have some of our favorite Educators joining us! Introducing the incredibly talented Preston Smith, Johnny Gilligan, Jess Lofton and Jay Peters. These are some of the current and future leaders of the Regenerative Education Movement and we are honored to be teaching alongside them.
Three days of fun starting Friday with dinner, Legacy Vendors Sesh, Syntropic Farming Movie Night and a campout under the stars.
Saturday kicks off with breakfast before a day of Natural Farming lessons, lectures, and demonstrations including Lunch, farm tour of Hugelville, a hands on Hugelkultur build, followed by Dinner, Regenerative Farmers & Breeder Talks with Nick Mahmood of Greensource Gardens, Daniel Morford of Heartrock Mountain Farm, Zellig of Spring Creek Farm, Noble Haze of Emerald Regenerative Farms, Eric Minor of HBK Genetics and more special guests, Seed Swap, a Sesh with our favorite local Legacy Vendors, followed by music from DJ Feral Selector & howling at the Full Moon.
The next morning Tamara will lead us thru Canna Yoga and then our hosts have prepared a delicious Easter Brunch for us to enjoy. The days festivities continue with a Kids and Adults Easter Egg Hunt Humboldt Style then Mushy Talks from local Mycologists Humboldt Fungi and Mendo Myco follow. Then we'll pick the energy back up with a Body Movement class led by Sierra Hayes. Then Hash Talks with Wooksauce Winery and Alice from Girls In Green followed by Social Time and stocking up on our Legacy Vendors goodies before everyone's afternoon departure at 4:20.
We have two ways you can participate in this event. Full day Regen Camp tickets for the 16th that are jam packed with all of the Natural Farming Lessons will be offered at an early bird rate until 3/7. Camping for Friday/Saturday & extra meals can be added on.
We will also be offering a limited amount of half day tickets that include the Hugelville farm tour, Hands On Hugelkultur build, Dinner, Speaker Panels, Sesh, Music and Camping for Saturday night. Sunday Brunch can be added on.
With the crash in the market we wanted to offer a lot more value for these events so we hope you enjoy the program we've put together for you.
The skills you acquire in this workshop will help you gain independence from the grow stores & take your medicine & food sovereignty into your own hands.
In this one-day intensive full of demonstrations, lectures, and hands-on projects you will learn valuable skills to add to your Regenerative Farming toolbox. Whether you are just starting your journey down the Regenerative path or you are an OG looking to learn some new tricks these Natural Farming practices can help you reduce costs on inputs, increase yields, conquer pest and pathogen pressures, sequester carbon, conserve water and build fertility.
By the end of this class, you will have a deeper understanding of the natural plant allies and resources all around you and how they can be harnessed to feed your plants and soil.
You'll learn to supercharge the microbial biology in your soil with JADAM Microbial Solution and Compost Tea Extracts. How to make your own fertilizers from plants grown and Wildcrafted from your farm with JADAM Liquid Fertilizer. How to make traditional Korean Natural Farming Fermented Plant and Fruit Juice as well as low sugar Kombucha Style. How to control pest and pathogen pressures with JADAM Herbal Solution. How to build soil, increase biodiversity and enhance water availability with Cover Crops. How to reduce plastic and potting soil mix by making your own Soil Blocks.
We'll blend Japanese and Korean natural farming to propagate seeds & Establish resilient ecosystems with Seed Bombs. Learn to make, charge and use the incredible soil building resource Biochar. Learn to culture the beneficial microbial innoculant Lactic Acid Bacteria. We will get a grand tour of the beautiful Hugelville Farm and property. And get a chance to bond with the earth with a hands-on Hugelkulture build and lesson on Contour Lines with the A-frame Level, the tool that built the pyramids.
Meat or vegetarian Lunch and Dinner is included with 4/16 Full Day Admission Ticket as well as a collection of SOP's and a sampling of Natural Farming Inputs.
Event location to be shared with attendees prior to event. Location is within an easy 15 minute drive of Garberville, CA. Please carpool and drive slowly.
Schedule:
Friday 4/15
Arrival 4:20
Vending Begins 5:00
Dinner 6:30-7:30
Syntropic Farming Movie Night 7:30-9:00
Social Time
Saturday 4/16
Breakfast 8:00-9:00
Opening Ceremony & Introductions 9:00-9:30 w Jess
JADAM Microbial Solution 9:30-10:15 w/Joey
Compost Tea Extract 10:15-10:30 w/Tamara
JADAM Liquid Fertilizer 10:30-11:30 w/Tamara
Fermented Plant Juice/Fermented Fruit Juice11:30-12:30 w/ Jess & Jay
FPJ Kombucha Style 12:30-1:00 w/Joey
Lunch 1:00-2:00
Soil Blocks/Seed Bombs/Bio Char 2:00-3:00 w/Preston
JADAM Herbal Solution 3-3:50 w/Tamara
Lactic Acid Bacteria 3:50-4:20 w/Johnny
Vending Begins 4:20
Farm Tour 4:20-5:00 w/Jen & Dan
Hugel Build 5:00-6:30 w/Joey
Dinner 6:30-7:30
Farmer and Breeder Talks 7:30-9:30
Music w/ DJ Feral Selector 9:30-12:00
Sunday 4/17
Vending All Day
Canna Yoga w/ Tamara 8:30-9:30
Easter Brunch 9:30-11:30
Mushroom Talks w/ Humboldt Fungi & Mendo Myco 11:30-12:30
Body Movement w/ Sierra 12:30-1:30
Adult and Kids Easter Egg Hunt 1:30-2:30
Hash Talks w/ Flynn & Alice 2:30-3:30
Social Time 3:30-4:20
Departure 4:20
Your Instructors:
Joey Burger is a Regenerative Cannabis Consultant, Dragonfly Earth Medicine Pure Certified Educator and Permaculture Teacher with over 27 years practicing in the Emerald Triangle's Cannabis Industry. Trained in Permaculture in 1998 by Tom Hazel Ward and Scott Pittman, Joey was then Mentored by Humboldt's own Permacultuture OG Nadine Chapdelaine and began a career in Cannabis that continues to this day. In 2017 Joey attained DEM Pure Certification for his Licensed Mendocino Cannabis Farm and the same year was certified in teaching Permaculture Design Certification courses by Educators Andrew Millison and Rico Zook. He works to convert the wasteful and environmentally damaging practices of our current cannabis and food production systems by Hosting Workshops, Community Seed Swap Sesh's, Teaching thru his Patreon Subscription Community, and Consulting with Farmers on embracing Natural Farming. With a background in JADAM and Korean Natural Farming he has consulted on cannabis projects worldwide and in 2021 designed and built the licensed acre Hugel garden we call Hugelville that is hosting Regen Camp. Joey is currently growing Craft Hemp, Commercial Herbs, Sacramental Cannabis, Breeding Seeds, Crafting Natural Farming Inputs, Hosting Grateful Dead Dance Parties, and building a Temple to Nature at Heal Thyself Gardens in Lake County, CA.
Tamara Thorn is a Dragonfly Earth Medicine Pure Certified Educator and Cannabis Farmer, Herbalist, Mother, Yoga Instructor, Holistic Healer, and Medicinal Product Formulator. She learned a variety of beyond organic farming methods and herbalism by traveling in her school bus with her young child around the USA visiting intentional communities and Wwoofing (www.wwoofusa.org) where she did work/trade and learned hands on. She also traveled in a horse caravan in Mexico (www.nomadsunited.com) teaching environmental education, building biodigesters, and circus performing. She became a certified permaculture designer in 2010, manifested a piece of land, and started growing cannabis, herbs, and food. She learned KNF and JADAM natural farming in 2016 from Dia and Spencer Damon and practices these methods along with Biodynamic principles on her 120 acre farm. In 2017 she became the first farmer in Lake County to receive DEM Pure Certification. She does one on one Holistic Consults with Patients and is the owner of Heal Thyself Gardens a Regenerative Herb and Hemp farm, wellness product line, and Holistic Education Center outside Middletown, CA.
Preston William Smith is a full time Farmer, Educator, Herbalist, & Bee keeper who has spent the last 10 years in the Pacific Northwest implementing regenerative farming practices based in Permaculture, Korean natural farming, and JADAM. A student of master Hankyu Cho. Certified level 3 teacher & Certified herbalist through Dandelion herbal center & Sage mountain herbs. With a passion for wild places and foraging as well as cultivating beyond organic food and medicine. Preston has dedicated his focus to helping consult & convert conventional farms to Regenerative practicing farms- He started Rogue Natural farming and Living Abundance Botanicals in 2020. Currently he resides in Humboldt, county CA. where he manages a regenerative farm and tends to his bees.
Johnny Gilligan is an upstate NY native, who 9 years ago traveled west with the aspiration to work with the plant that had at that point already given him so much. Blessed to have his dreams manifest, he realized he wanted to give back more than he took, and that he was indebted to cannabis, and the earth. He is focused on conscious, sustainable, naturally farmed, craft organic indoor & outdoor cannabis cultivation, and educating others on natural farming systems/techniques and the importance of regenerative practices.
Airoe Apothecary and Solventless co-creators Jess Lofton and Jay Peters have been hard at work over the past three years concocting their medicine offerings. Airoe Apothecary offers medicines for both humans and plants. OHN, Fire Ciders, and wildcrafted medicinal tinctures are some of their favorite medicines to bring to the table. Their hash project, Airoe, is an organic single source solventless concentrate project. Jay is also working with licensed cannabis extraction company Fully Melted, and his SOPs for solventless concentrates can be found all over northern California and parts of Montana.
Jess Lofton has studied under Cheryl Mendiola and Preston Smith, taking her first KNF level 2 class in 2021. Jay joined for her second class as she assisted in a Level 2 intensive with Preston Smith in Oregon later that year. Now both Level 2 certified KNF practitioners, they have been integrating more deeply into the regenerative community and teaching opportunities. Jess helped create a level 1 Intro to KNF class with friends and co-stewards in Arcata and continues to walk the path towards being a certified KNF and JADAM teacher in the eyes of CGNFHawaii.
Jay Peters has been in the Humboldt cannabis game for over a decade with years of farming and solventless hash processing under his belt. He has practiced with lots of different techniques but has always gravitated towards natural and regenerative practices. Jess joined him in 2019, learning the ways of farming by his side. They fell in love with the culture, philosophy, and methods of regenerative farming practices and immediately went searching for ways to deepen their understanding of these techniques.
Our Host Farm Hugelville:
Hugelville was established in 2020, when a ½ acre sun grown cannabis farm in cloth pots was transformed into above ground, on contour Hügelkultur beds. Utilizing a system of cultivation intended to maintain permanent agriculture by relying on a self-sustaining ecosystem. Fertilizers are handcrafted with native plants and indigenous microorganisms. Practicing land stewardship with an emphasis on watershed conservation, giving back 1.5 million gallons to our impaired watershed annually.
-Jennifer Aspuria
Merch:
Merch for Hugelville Regen Camp is available at:
Scholarships:
Scholarships are available for BIPOC, LGBTQIA+ and those who've faced barriers to entry into the industry.
Several Full Scholarships for Licensed Humboldt County Cannabis Cultivators have also been made available thru Redwood Alternative Agriculture Fund. A Humboldt Non Profit helping Licensed Cultivators improve their farming practices with the goals of attaining Regenerative Certification.
Please email humlocal@gmail.com to apply