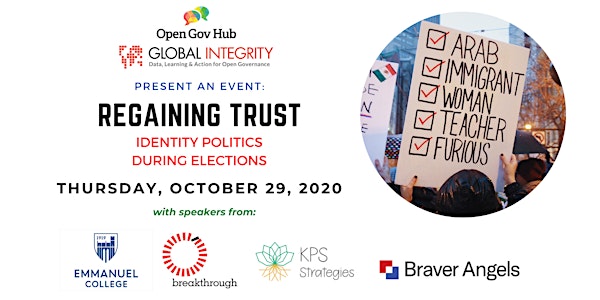 Regaining Trust: Identity Politics during Elections
What drives our voting decisions? And how do we mend broken trust? This talk is about the core issues of our identity and political choices.
About this event
How do we decide who gets our vote? There are many multidimensional, intersectional factors that shape our political views: gender, race, ethnicity, age, class, orientation, religion, etc. Identity politics in a bipartisan political system play a pivotal role — and can sometimes be exploited by competing politicians.
These divisions can be used to undermine democratic values and the integrity of elections. When groups of people are pitted against each other, actual preferences get lost in the muddle. The goal is to win votes using strategies that are not based on policy platforms but identity allegiance instead, often occurring at a cost of shrinking civic space. This opens the door to populism and, simultaneously, to groupthink. Increasingly, voting preferences tend to skew with how we identify with a group rather than a person, influencing power dynamics.
In a polarized system that's build on fraying social fabric, this kind of societal fragmenting can further break down trust in government and its institutions. When systems fail or the polar opposite side wins an election, what happens to the voters whose candidate lost? What are the risks of the losing party undermining election results? And what can we learn from other countries about contentious elections before we go to the polls ourselves?
SPEAKERS:
And...YOU! We will do a virtual fishbowl discussion in the second half of the event, so bring a question or topic and join us live on the virtual stage!
ABOUT THE ORGANIZATIONS:
BRAVER ANGELS is a nonpartisan grassroots organization to bridge the growing political and ideological divide between Democrats and Republicans through open conversations to repair America's social fabric.
BREAKTHROUGH is a global human rights organization based in the U.S. and India, and uses potent mix of media, arts, and technology to dismantle cultural norms that lead to violence and discrimination.
EMMANUEL COLLEGE is a Catholic liberal arts & sciences institution in Boston, rooted in social justice and empowering young women through education since 1919.
KPS STRATEGIES is an organization with big picture visionaries and nuts-and-bolts fixers that's bringing a justice and equity lens to creating and getting challenging programs and policies off the ground.
THE OPEN GOV HUB ELECTION EVENT SERIES: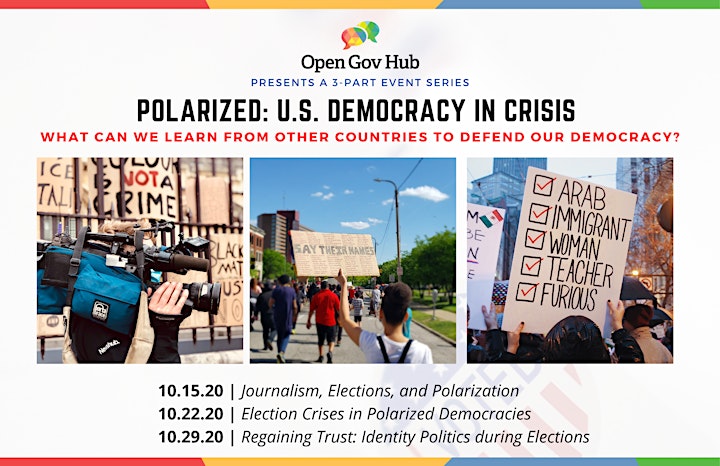 This event series is a part of our 2020 programmatic themes on Depolarizing the Political, Civic, and Media Spaces. It also builds on our 2017-19 Defending Democracy program and the ongoing Outside In initiative by Global Integrity (a co-founder of the Open Gov Hub), which brings international perspectives on governance challenges in the United States.