Refund policy
Contact the organizer to request a refund.
Eventbrite's fee is nonrefundable.
We call all HERMANAS to step up and take care for our Latinx community to regain our power. ARE YOU WITH US?
About this event
Less than six weeks into the election, discussion about Latinxs essential workers, Latinxs and the economy, Immigration Reform, Deportations and Incarceration of Latino Children are missing
We are calling YOU and all Latina leaders because these are URGENT MATTERS TO DISCUSS.
Latinas in Business is a national non-profit organization that advocates for the economic empowerment of Latinas and other minority women entrepreneurs and in the workplace.
We invite you to participate in this very important FREE event where all voices need to be heard.
HERMANAS, Yes, we can! Sí se puede! REGISTER NOW! REGISTRATE YA!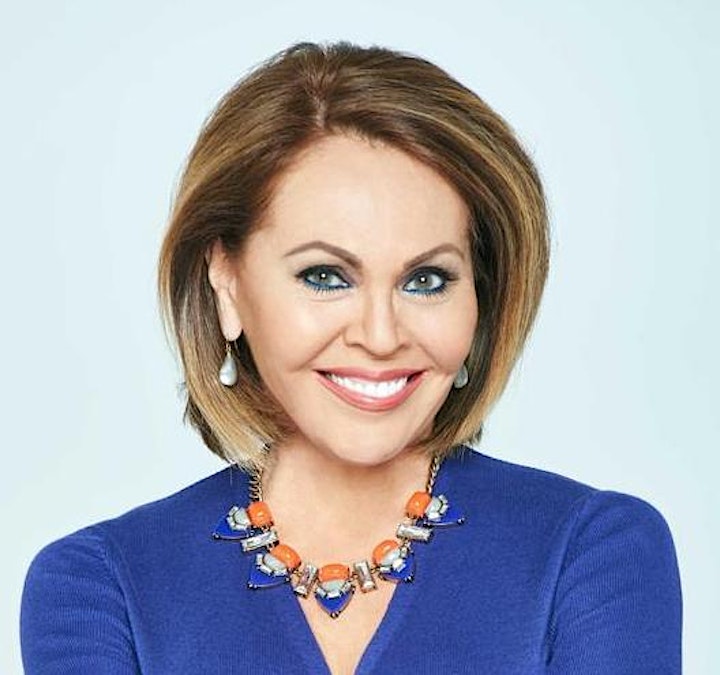 KEYNOTE SPEAKER
Maria Elena Salinas, an award-winning journalist and author, joined CBS News as a contributor in 2019, a role in which she reports across multiple CBS News broadcasts and platforms. Salinas is one of the most recognizable and respected journalists in the country, most notably having served as co-anchor of Univision's evening news program for more than 30 years.
In a career that spans nearly four decades, Salinas has interviewed world leaders and covered virtually every major national and international news event of our time. Her work has earned the top awards presented in broadcasting, including multiple Emmys, a Peabody, Gracie Awards, the Edward R. Murrow Award and the Walter Cronkite Award for Excellence in Television Political Journalism.
While at CBS News, Salinas has contributed to the network's coverage of the 2020 election including primetime coverage of Super Tuesday and the Democratic and Republican national conventions. Salinas also anchored the poignant CBS News documentary "Pandemia: Latinos In Crisis," an hour-long, sweeping look at the Latinx community, along with other communities of color, who continues to bear the brunt of the COVID-19 pandemic while fulfilling essential roles across the country. For "48 Hours," Salinas investigated the death of a college student and the international search for her killer. Salinas also contributed to a special edition of CBS News' investigative series "Eye on America," which examined how families throughout communities across the country and once lived paycheck to paycheck, fell through the cracks and found themselves homeless.
TENTATIVE AGENDA
Friday October 16, 2020 12pm to 2pm EST - 9am to 11am PST
1. COVID-19 AND ESSENTIAL WORKERS: More protection for Latinxs frontline workers in factories and farms dying of COVID-19; more testing, sick-time leave and protection equipment.
Alana Cueto, MSN, RN, CNL, Fellow, New York Academy of Medicine, President, biennium 2020-2022 National Association of Hispanic Nurses (NAHN)
Jazmin Freddi, MD, MBA, Founder, Latinas in Global Health, President UN Women- Miami Chapter
Sign our petition to both Houses of Congress
2. INCARCERATION OF UNDOCUMENTED CHILDREN: We demand the immediate freedom of ALL immigrant children held at deportation facilities where COVID-19 has been detected. They are victims of abuse and neglect; their lives are in our hands, and they are OUR children!
Selina Sosa, Minister, Founder, Ethnic Perspectives
Cesar M. Estela, Esq., American Immigration Lawyers Association (AILA), President NJ Chapter
Maria Santiago-Valentín, Child Study Team LDTC, Behavior Analysis Technician (BAT), Mindfulness Educator, and Doctoral Candidate of Education at Walden University.
Sign our petition to both Houses of Congress
3. FINANCIAL ASSISTANCE FOR FAMILIES: We request additional financial assistance for families who lost their jobs by no fault of their own; both parties are dragging their feet in approving funding to help families with essential needs.
Sign our petition to both Houses of Congress
HERMANAS, Yes, we can! Sí se puede! REGISTER NOW! REGISTRATE YA!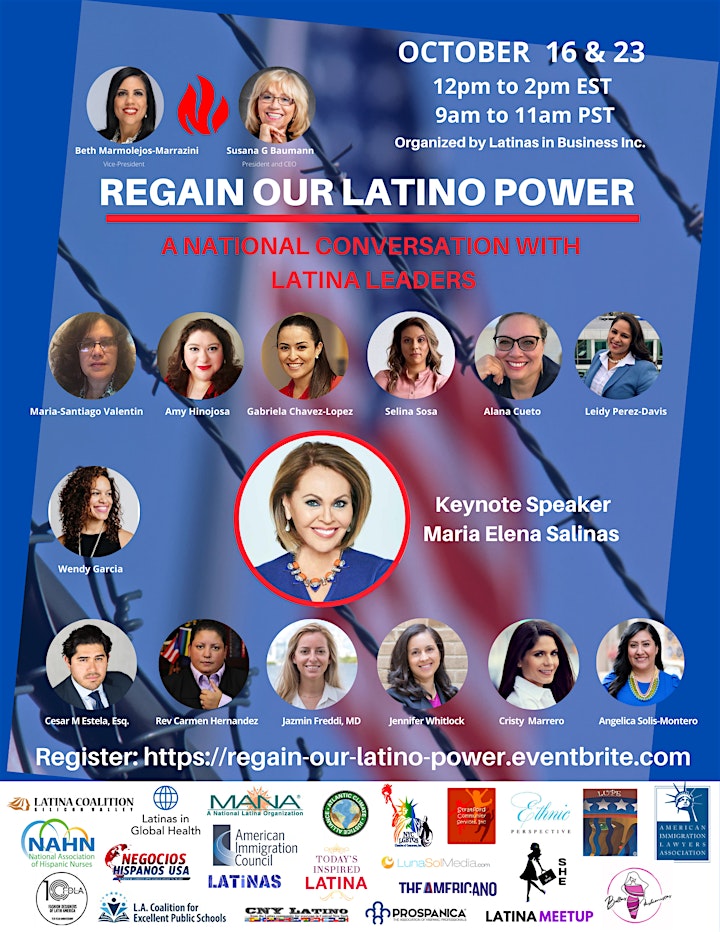 Friday October 23, 2020 12pm to 2pm – 9am to 11am PST
4. IMMIGRATION REFORM: Stop massive deportations that hurt regional economies and break immigrant families. Immigrants bring significant income and tax revenue to regional economies, while provide vital work that bring food and essential products to our homes and our tables
Sign our petition to both Houses of Congress
Amy Hinojosa, National President, MANA, a Latina Organization
Jennifer Withlock, American Immigration Council, Manager of Pro Bono Partnerships and Projects for the Immigrant Justice Campaign
5. SMALL BUSINESS FINANCIAL ASSISTANCE: Finally, we also request immediate forgiveness for small businesses who received PPP Loans of $150,000 or less. Latinas and other minority women entrepreneurs are closing their doors every day. They need OUR help!
Sign our petition to both Houses of Congress
Gabriela Chavez-Lopez, Latina Coalition of Silicon Valley
Rev. Carmen Hernandez, Founder President, NYC LGBQTS Chamber of Commerce
6. WHAT'S NEXT FOR LATINOS IN THE USA? How will future generations of Latinxs live and succeed in this country? What is left of the AMERICAN DREAM?
Keynote Speaker: Maria Elena Salinas, CBS News Contributor
HERMANAS, Yes, we can! Sí se puede! REGISTER NOW! REGISTRATE YA!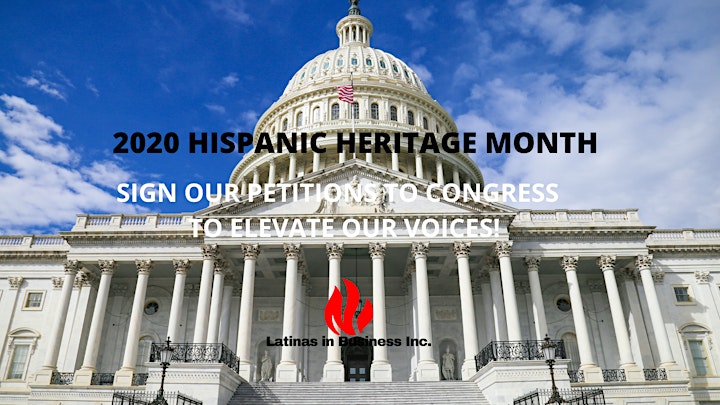 Let our Senators know that Latinos, we are waiting for answers to our concerns.
Our lives are not a political game that can be played to gain votes for the election.
Our lives are real. We are a hard-working community and an influential trillion-dollar market.
So, let's regain our power! "A ponerse los pantalones" and stand up for what we want and what we need!
HERMANAS, Yes, we can! Sí se puede! REGISTER NOW! REGISTRATE YA!