We're finally back to enjoy our EURO-RUSSIAN DANCE PARTIES on the rooftop!
About this event
After such a long time, let's get ready to party together again!!!
Come join us for a Happy Hour DISKOTEKA on the ROOF TOP at Bar Standard from 6pm-10pm. And then as a bonus, you can continue to dance and have fun at the afterparty on main dance floor with variety of music by a guest DJ until close (2am).
DJ DABROOKE will be spinning good variety of Russian, Euro, and TOP40 dance music on the rooftop from 6pm-10pm. So bring your friends, dress sexy, catch up with friends over some drinks, and party the night away!
SPONSORED BY HOME PROS COLORADO, your Colorado residential and commercial real estate resource! www.homeproscolorado.com
This is a private event and having fun safely is our main goal! Please be respectful of anyone who wants to wear a mask, whether they are vaccinated or not. Anyone who will be causing issues and making others feel uncomfortable will be warned, and if needed will be asked to leave the event.
PLEASE READ, UNDERSTAND, AND COMPLY WITH COVID-19 SOCIAL CONTRACT WHEN ATTENDING THIS EVENT:
1. I agree that I will not be allowed to participate in or attend the event if any of the following apply:
a. I have been in contact with an individual infected with COVID-19 within the last 14 days.
b. I have been in close contact within the last 14 days with an individual suspected of being infected with COVID-19, including individuals exhibiting COVID-19 symptoms.
c. I am currently experiencing, or have experienced in the past 14 days, fever, cough, or shortness of breath.
d. I have traveled to an area that is under level 2, 3, or 4 travel advisories by the U.S. State Department.
2. I understand and assume all risks that despite all safety precautions, I may still be exposed to possible infection of COVID-19 or other communicable diseases.
3. I will comply with all social distancing requirements, if applicable and are posted at the event.
4. As a participant, I have an option to wear a face mask or covering if I wish. I will not be rude or disruptive to others who choose not to wear a face mask.
5. I understand that I will congregate with other patrons at the event and will maintain proper and safe social distancing at all times.
6. I will abide and follow all rules and instructions by official event organizer and staff.
7. I understand that failure to adhere to these regulations may and will result in me not being allowed to participate in the event, and I will not be entitled to any refund for attending the event.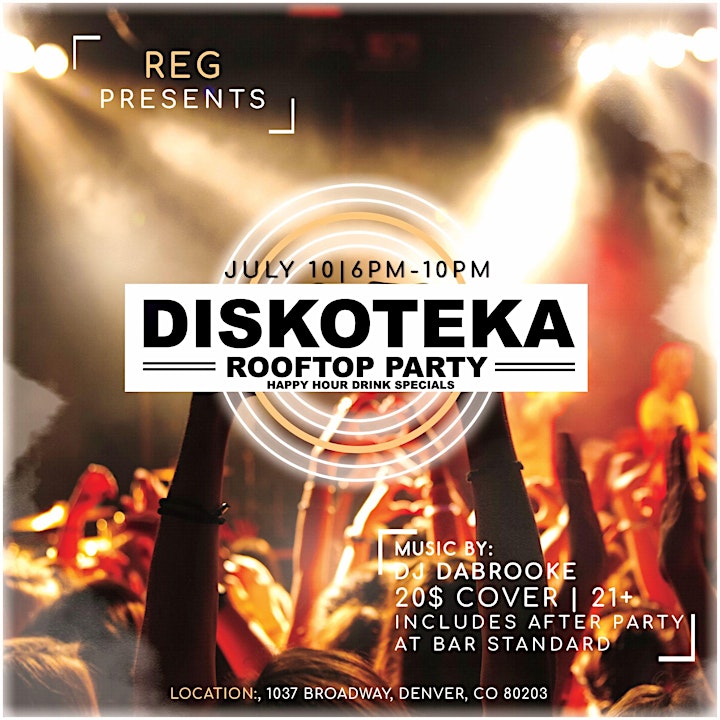 Organizer of REG presents HAPPY HOUR DISKOTEKA / ROOFTOP PARTY
Before REDwave Connections got it's name, it started as an idea formed by Nikolai that Colorado Russian-speaking community can benefit from quality events and nightlife entertainment. Over the years, the idea has grown into a company that offers full service of events, concerts, tours, and transportation while giving back to numerous organizations benefiting local communities. 
​Recently the company has also focused on offering PR and marketing services for businesses and to further building a local network that represents trusted and verified service providers. 
​REDwave Connections is also a proud contributor to the Wildlife Sanctuary, Project Exodus, and other local organizations. This is yet another company approach to give back to community through sales of ongoing concerts and events.
​We thank you for your continuous support.