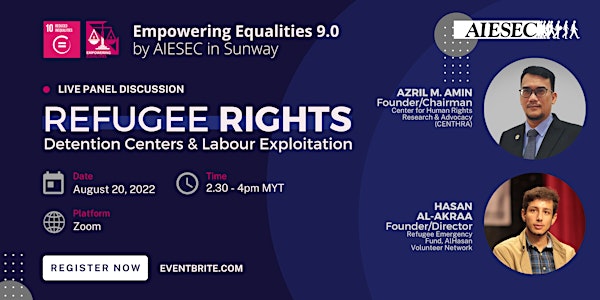 Refugee Rights - Empowering Equalities 9.0
We aim to provide knowledge related to refugee concerns in Malaysia and offer some views on some recent topics of refugees in Malaysia.
About this event
As of the end of January 2022, there are 181,510 refugees and asylum-seekers registered with UNHCR in Malaysia. Malaysia is not a party to the 1951 Refugee Convention and has no domestic or administrative framework that governs refugees and their rights.
Polemic topics regarding refugees have never ceased to trend in Malaysia. The recent event of the detention camp breakout remains fresh in the minds of many, with countless controversial opinions from the public.
In this event, we invite the public to watch a discussion on refugee detention camps, and labor exploitation of refugees, two of Malaysia's most significant human rights issues. Everyone can surely take away a thing or two from our panelists who are experts on the matter.
The panel discussion will cover two topics:
Detention Centers - To raise awareness amongst the public on the plight and human rights violations of refugees in the immigration detention centers as well as the current or potential alternatives to these centers.
Exploitative Work Practices - To raise awareness on the refugees' work rights violations, exploitation, and the importance of having a legal framework for protection.
Through this event our aims are:
- To enhance knowledge on refugee concerns that requires attention
- To provide a diverse perspective on different topics of refugee concerns
- To educate the Malaysian public and spark advocacy
About the panelists
Hasan Al-Akraa is a 22-year-old Syrian refugee who has been living in Malaysia for the past 12 years. Hasan is currently working as the Community Leadership and Engagement Officer at Asylum Access Malaysia where he organizes community empowerment and awareness workshops, manage ad-hoc cases and do referrals to the legal services team and other NGO partners, as well as coordinate the Refugee Youth Network (RYN). Hasan began his social work as a volunteer teacher at different refugee learning centers such as Jasmine Ash-Sham School, Al-Aqsa Integrated School, and Smart Iqra Education Center among others. In 2016, Hasan co-founded the Alhasan Volunteer Network, a non-profit organization that aims to empower the youth through social and impact-driven projects for the underprivileged communities. Hasan is also the founder and fundraising coordinator of the Refugee Emergency Fund (REF), a non-profit organization that runs public crowdfunding initiatives for urgent cases that need financial support (medical, rental, shelter, food, education, and burial) for refugees, asylum seekers, and undocumented migrants. He recently completed his Bachelor's Degree in Education at the University of Nottingham Malaysia Campus.
Azril Amin has over 18 years of experience as a lawyer and executive of non-governmental organizations, often collaborating with eminent research organizations in local and global contexts. He founded and served as co-chairperson of the Malaysian Alliance of Civil Society Organizations in the Universal Periodic Review (UPR) Process from 2017 to 2019, a grouping of more than 50 prominent civil society organizations whose main objective was to research and advocate for Malaysia's human rights issues in the UPR Process of the UN Human Rights Council. He did research and co-edited a stakeholder report for Malaysia's third cycle of the UN Human Rights Council during that period. Additionally, he established the Centre for Human Rights Research and Advocacy, leading the team that ran the initiatives for refugees and stateless children. He also served as Prime Minister Tan Sri Muhyiddin Yassin's Special Officer from April 2020 until August 2021. He oversaw seven ministries' ministerial-level strategies and programs relating to social and Islamic issues.