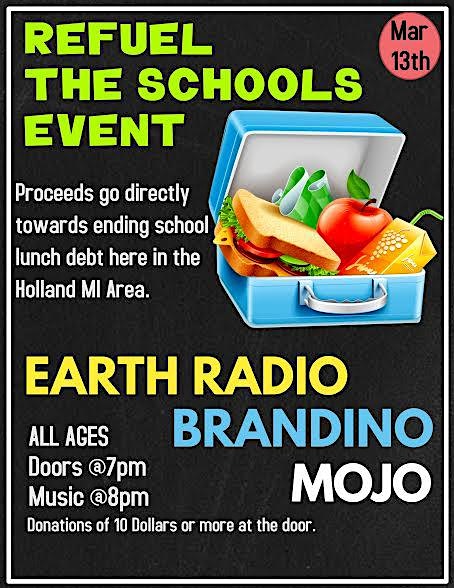 About this Event
Friday, March 13th
Doors: 7 PM
Tickets: $10 (Donations above this amount are greatly appreciated!)
In partnership with Be Conscious Studios, West Mitten Media, and the Park Theatre Presents: Refuel The Schools: A Fundraiser for Public Schools' Nutritional Programs and Lunch Debt in the Holland, Michigan Area.
Public schooling and education are important! Kids should be able to get a good education that will help them grow into educated adults and make sense of the world. Students should also have access to an adequate nutrition program so that they can focus on learning and growing. This requires funding, and some schools just can't always swing it. Together we can help that change!!
So we teamed up with Be Conscious Studios, West Mitten Media and some amazing local Musicians to help aid in this endeavor. Friday, March 13th we will be hosting a fundraiser in which proceeds will be going to various public schools in the area to help cover student lunch debt. Come out for a night of phenomenal music and community support!
Line Up:
Earth Radio
Spotify: https://open.spotify.com/artist/4IAumlMEkUo4a5IXvmJ8Y8?si=Y7KDRkm-QbqNg8P63o-5-Q
Facebook Page:
https://www.facebook.com/earthradi0/
Brandino Extravaganza
Spotify:
https://open.spotify.com/artist/0TVV1U0508C0v4xKw7THTh?si=e9nQie4WQVCXj20R6zoDFA
Facebook:
https://www.facebook.com/thebrandinoextravaganza/
Mojo
Bandcamp: 
gotmojo.bandcamp.com
Facebook: https://www.facebook.com/mojomusicmojo/
This event will be Standing Room Only