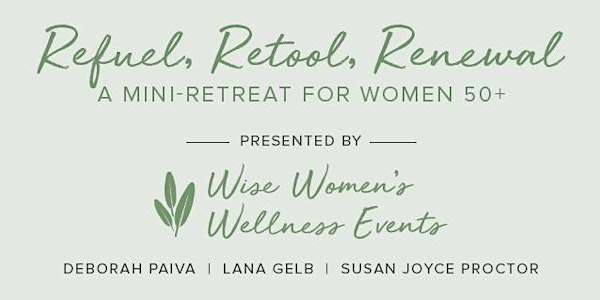 Refuel, Retool, Renewal: A Mini-Retreat for Women 50+
AN INSPIRING MINI-RETREAT FOR WOMEN 50+, with powerful tools for navigating change & loss, promoting wellbeing, upgrading your brain
When and where
Location
Embassy Suites by Hilton Boca Raton 661 Northwest 53rd Street Boca Raton, FL 33487
Refund Policy
Contact the organizer to request a refund.
Eventbrite's fee is nonrefundable.
About this event
Change, as we all know, is inevitable.
What does that mean for you, as a woman over 50?
Let's be honest: the changes that accompany aging are rarely welcome, often feared, sometimes even dreaded. And few of us have effective tools for navigating these changes, or for making really good choices to manage them well.
Until now….
Because in this one-day mini-retreat, you will experience terrifically valuable and ground-breaking "aha's" for this chapter of your life!
Wise Women's Wellness Events is the brainchild of three accomplished 50+ women, who have each developed exciting tools for the most pressing concerns of our tribe.
This very special collaboration offers you a powerful program of both solutions and support, where you'll learn the holistic tools and strategies you need for dealing with:
The health and wellness challenges that we face as we age -- from preventing disease to strengthening our physical resilience
The effects of time and stress on our physical and emotional well-being, as well as on our outward appearance and sense of self
Maintaining our mental faculties, and preventing dementia, Alzheimer's and memory problems
The loss of partners, family and friends -- and the toll it takes on us
Our deep need for community, especially during times of loss, dis-ease and disconnect
And much more!
Deborah, Lana and Susan are creating a safe, intimate space for you to learn, experience and connect....
Here's a taste of what you will be enjoying at Refuel, Retool, Renewal:
Treating yourself to a "ME" day of nourishment and connection
A beautiful experience of community with other 50+ women
The inspiration of Life Coach & Author Deborah Paiva, and her powerful system for navigating change and loss with grace and ease
A really fun, experiential brain rejuvenation class with the amazing Lana Gelb, a master Neuroplasticity trainer
Immediately actionable tips for how to "get your juicy back" after menopause, why CBD is a gift for women, and much more wellness wisdom with Ayurvedic Practitioner Susan Joyce Proctor
Introductions to companies and professionals who understand the needs and wants of our generation of women
A superbly curated Holiday Wellness Marketplace, where you can find the ideal gifts for many loved ones on your list
A catered box lunch
Celebratory cocktail party (for Purple ticket holders)
Goodie bag goodies
And more....
We hope you will decide to join us for this truly uplifting event, and that you'll want to share it with girlfriends and sisters! It will be a wonderful opportunity to fortify yourself for the upcoming holiday season, with enhanced tools for dealing with stress, family, and all the demands that we as women make on ourselves.
"If you are fortunate enough to attend the Wise Women's Wellness Event, Refuel, Retool, Renewal, you will jump for joy and you will invigorate your female power!" Anita Finley, President, Boomer Times Magazine & Radio
Sponsorship and vendor opportunities are still available, as well as special group rates if you'd like to join us with two or more friends. We also can offer reduced rates at the hotel should you be visiting from out of town, or decide to make it a little getaway.
Please reach out to us at WiseWomensWelless@gmail.com with any questions or for more information. We're looking forward to connecting, and sharing this beautiful experience with you.