RefresHER Women's Convention
Description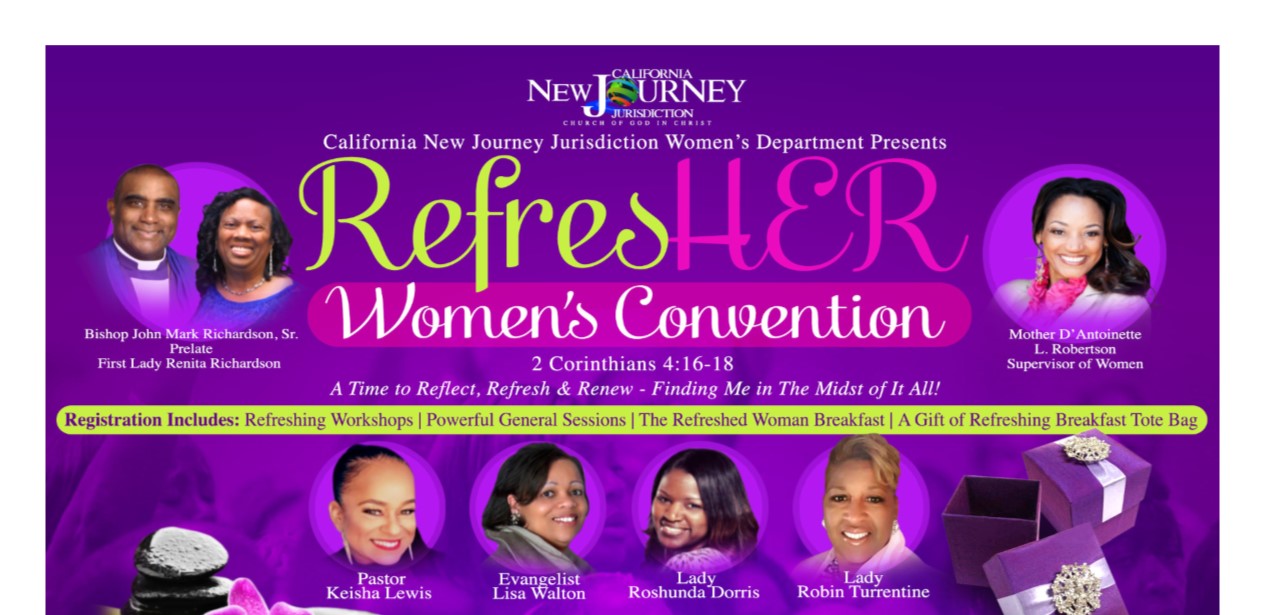 Join us for a few days of refreshing and renewal that will result in REVIVAL. This will be a unique and anointed time for God's women (and Men) who are weary and worn in various places in life to receive full strength and refresh in His presence. We're so filled with priorities and the pressures of life, that we sometimes lose focus of our original assignment! A cup that is full cannot be filled - let's empty ourselves in the safe place of His presence and allow Him to re-fill us. How can we receive more, or what's next, if we're always overwhelmed? Together, we'll press the RESET button and experience a time of Refreshing in His presence!
WOMEN'S CONVENTION ITINERARY AT-A-GLANCE
Wednesday, September 25th
6:00pm RefreshME - I'm Poured Out!
An Evening Spa Retreat designed to pour back into Sr. Pastor's Wives and women who Pastor. Join Mother Robertson and special guests for an evening of replishment, laughter, delicious food, shopping and fun. Additional registration is required.

Thursday, September 26th
6:00am Morning Glory: Lord, Fill Us Afresh!
8:00am Registration
9:00am General Session & Powerful Workshops
6:00pm Evening Glory
7:00pm General Session
Friday, September 27th
6:00am Morning Glory: Lord, I Want More of You!
8:00am Registration
9:00am General Session & Powerful Workshops
6:00pm Evening Glory
7:00pm General Session
Morning Attire: Red
Saturday, September 28th
9:00am The Refreshed Woman Breakfast
Attire: Shades of Purple & Lime Green
9:00am God's Girlz One-Day Convention
Sunday, September 29th
5:00pm Grand Women's Convention Celebration and
Class of Evangelist Missionary Capping & Licensing Ceremony
Attire: White or Off-White

Powerful RefresHER WORKSHOPS:
Even With My Issues - I Can't Stay Stuck Here!

She Can Preach! Sermon Preparation 101 for Women Who Preach

Rubies with Lady Renita

Developing A God's Girlz Ministry in Your Church

This Girl Prays: Experiencing Deeper Intimacy with God

I Don't Want to Lose It! God, Keep Me Emotionally & Physically

Worshipping While Wounded

I'm Not That Thirsty! Recognizing Triggers & Setting Non-negotiables as a Single Woman!

Mother, I'm Listening Now - Titus 2 Women, Talk to Me! (For the Seasoned Woman)

I Still Do, But What About This? (For the Married Woman)
HOTEL ACCOMMODATIONS:
Torrance Marriott Redondo Beach
3635 Fashion Way – Torrance, CA 9050
Reserve by clicking the link below, or call: (310) 316-3636
Ask for the CNJJ Women's Convention Rate of $134 per/night (self-parking included)
Deadline: September 5th
Link: Book your group rate for California New Journey Jurisdiction Women's Convention
bHER CONVENTION MAGAZINE AD OPPORTUNITY
We're excited to announce the launch of the first edition of our bHER Magazine. Our magazine will feature articles, testimonials, interviews, beauty and wellness tips, and more. Become a part of the excitement by placing your business, Church, or congratulatory Ad in our very first edition. Full-page ads are $100, half-page ads are $50. Submit camera-ready artwork to Lady Jacques McNeil at: info.cnjj17@gmail.com no later than Monday, September 16th.
BECOME A VENDOR:
Secure your Vendor space today on Shopper's Row, September 26th – 28th! Contact Evangelist Liz Allison at 888-444-9115, Ext. 2 to obtain additional information. Affordable Vendor Rate: $100. Our vendor space sells out quickly - reserve your space now to avoid disappointment.
WOMEN'S CONVENTION CHOIR REHEARSALS:
Ladies, you're invited to make a joyful noise with us! Join our 30-Voice Women's Convention Praise Team & Choir for two Rehearsals on Saturday, September 14th & Saturday, September 21st from 10:00AM – 1:00PM.
Location of both Rehearsals:
New Journey Ministries COGIC
14115 Cordary Avenue - Hawthorne, CA 90250
7-DAYS OF PRE-CONVENTION PRAYER & FASTING
"Joshua told the people, "consecrate yourselves, for tomorrow the LORD will do amazing things among you." Joshua 3:5
September 19th – September 25th
Daily upon rising through 12:00PM – No food, water only!
Join us daily during the Fast for Prayer: 6:00AM – 6:30AM on the Prayer Line:
Prayer Line: (605) 475-4001 – Passcode: 521025#
Check with your physician before embarking upon a Fast.
OUR GRAND WOMEN'S CONVENTION CLOSING CELEBRATION LOCATION - SUNDAY, SEPTEMBER 29th AT 5PM:
New Journey Ministries COGIC
14115 Cordary Avenue
Hawthorne, CA 90250
ADDITIONAL REGISTRATION|PAYMENT OPTIONS:
REGISTER SAFELY BY PHONE OR CASH APP? CONTACT ELIZABETH ALLISON AT (888) 444-9115,Ext. 2.
CANCELLATION:
No refunds. Workshops and speakers are subject to change without notice.
ALL ARE WELCOME!