Refreshed to Be Recharged Conference
About this event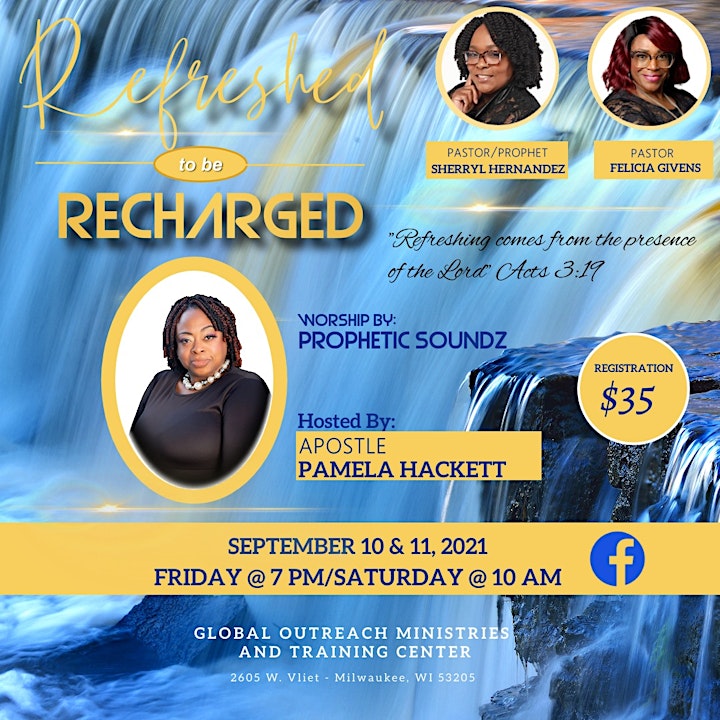 Men, women, boys, and girls have been on the frontline and have experienced battle fatigue. This gathering of refreshing is designed for them to come into this place to be replenished, recharged, to mount up, and go back to the wall of prayer. When Apostle Hackett first heard and received this assignment the Lord began to tell her that it will start small but it will grow even bigger. As Apostle Hackett continues to build in this place called refreshing, she wants intercessors to know they are on the heart of God. The great intercessor is concerned. It is a time to be refreshed, renewed, replenished, and restored.
Our new annual Refreshed to Be Recharged Conference will take place on September 10-11, 2021 at Global Outreach Ministries & Training Center, 2605 W. Vliet, Milwaukee, Wisconsin, 53202.
Join us and register below.
*MASKS REQUIRED*
Hotel Recommendations:
1. Hampton Inn & Suites
Milwaukee Downtown
176 W. Wisconsin
414 271 4656
2. DoubleTree
Milwaukee Downtown
611 W. WISCONSIN
414 273 2950
3. COURTYARD
DOWNTOWN MILWAUKEE
300 W. MICHIGAN
414 291 4122
4.Hyatt Place
Milwaukee Downtown
800 W Juneau Avenue
414 808 3880
5. Milwaukee Marriott
Downtown
625 N. Milwaukee Avenue
414 278 5999
6. Fairfield Inn & Suites
7035 N. Port Washington Rd.
414 446 5900
7. Residence Inn
7003 N Port Washington Rd.
414 446 4295