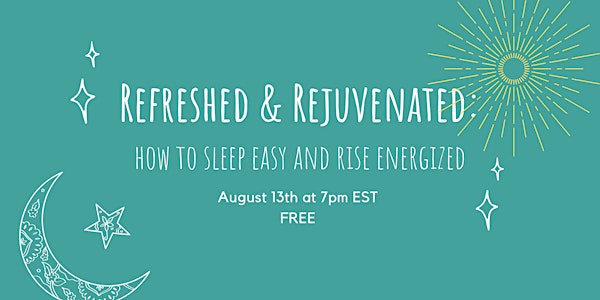 Refreshed & Rejuvenated: how to sleep easy and rise energized
Deep sleep is the biggest building block to a productive day and positive moods. Come learn quick-and-easy strategies for restful sleep
Date and time
Thursday, August 13, 2020 · 4 - 5pm PDT
About this event
You can't put a price on a great night's sleep- it's the foundation of a productive and happy day. Unfortunately, it's not always easy to find. In a study by Consumer Reports, it was found that 27 percent of U.S. adults said they had trouble falling asleep or staying asleep most nights, and 68 percent—or an estimated 164 million Americans—struggled with sleep at least once a week. The stress of recent crises in our country can really shake our sleep cycles. This sleep shortage affects us on all levels- mentally, physically, and emotionally
Whether it's our brains or our bodies keeping us awake, the secrets to a good night's rest don't require a huge overhaul. A few small shifts can help us settle into bed easily and wake up alert and refreshed. On August 13th I'll be sharing those tips in a free workshop, hosted on Zoom! Attendees will learn the research-based tips to better sleep, and also get assessment tool to see how to change your environment to get better sleep. Register to claim your spot and take the first step to sleeping like a baby!
*Get your ticket by August 6th and you'll get access to a free recommendations list of sleep meditations, music, and products that'll have you relaxed and rested!*
F.A.Q.:
Q: Do I have to have my camera and mic on?
A: Participate in any way you feel comfortable! If you learn best by listening, there's no pressure to have your camera or mic on. If you learn best by talking it out, feel free to hop on and chat with me during the event! Do what feels best to you.
Q: What if I can't make it live?
A: Purchase a replay ticket ! I'll send you the recording and resources after the event.
Q: Who is this event meant for?
A: This is an ideal event for someone who is struggling with falling or staying asleep- whether this is a new or long time challenge. This is also a great refresher for those preparing to return to work after working from home. I'll be covering some strategies for getting back into that bedtime routine, as well as how to manage thoughts or worries that can pop up at bed time.
About the organizer
Watered Grass LLC is here to help connect people who are stressed, burnt out, or just looking for more out of life with the right strategies for them! Through podcasting, events, and coaching, Watered Grass helps clients to define exactly who they are, so that they can live their happiest life- because "the grass is greenest where you water it"