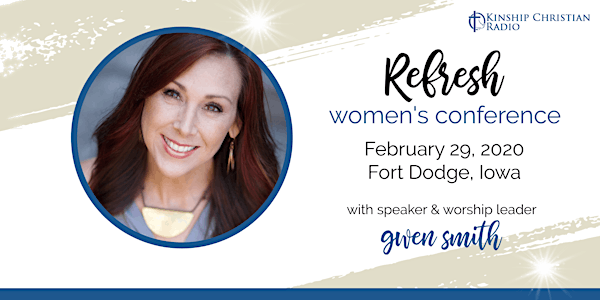 REFRESH Women's Conference
When and where
Location
Lizard Creek Ranch & Conference Center 1762 Johnson Avenue Fort Dodge, IA 50501, Iowa 50501
Description
We all want to feel close to God, yet often struggle to fit Him into our busy, stressful schedules! But when we set aside time to gather together, worship, laugh and open the Bible, God moves and we grow!
JOIN speaker and worship leader Gwen Smith for the one-day REFRESH women's conference in Fort Dodge, IA on February 29, 2020! Invite some friends and take a huge Leap Day forward toward soul-rejuvenation when you register today ->
We are starting at 9:30am so come early to visit with Wings of Refuge and get a slice of Tea Thyme's delicious sweet bread! There will be a morning and afternoon break for a snack and refreshing the coffee with a lunch time delicious meal provided by Tea Thyme of Fort Dodge. The snacks will consist of fruit, cheese and crackers, nuts, desserts, cookies, and so much more.
There will be a minimum of 12 bathrooms on campus for our guests' needs.
Enjoy the beautiful campus of Lizard Creek Ranch by pre-registering now and arrive early enough for parking, getting checked in and then browsing over the merchandise tables from Gwen. She will have all four books available for sale;
I WANT IT ALL & BROKEN INTO BEAUTIFUL. Other two are TRUSTING GOD and KNOWING GOD BY NAME.
You can come as early as 8:30am when the doors open and get your coffee, tea or water. Prayer teams will be available in the cottage starting at 9am, if you need prayer for any specific need.
We are asking for preparation purposes that all tickets are purchased by Friday, February 28th at 7pm. Thank you for considering to join us and we hope to share our day with you on Saturday, Feb 29th, at Refresh!