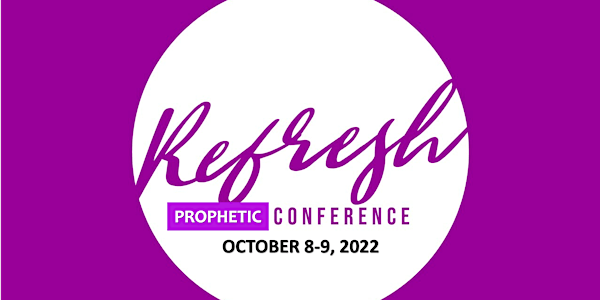 REFRESH PROPHETIC CONFERENCE
REFRESH PROPHETIC CONFERENCE 2022 | 1 EVENT 2 LOCATIONS | LOS ANGELES, CA
When and where
Location
2500 Via Cabrillo-Marina 2500 Via Cabrillo-Marina Los Angeles, CA 90731
About this event
Get ready for an incredible time to get REFRESHed both in your spirit and in your physical strength. This year's theme for our 2022 Refresh Prophetic Conference is: Understanding & releasing the Gifts of the Holy Spirit.
SCHEDULE (1 EVENT 2 LOCATONS:
Saturday @ 10am-2pm at 2500 via cabrillo marina, San Pedro, CA 90731
Sunday @ 10:30am to 12:30Pm at 2500 via cabrillo marina, San Pedro, CA 90731
Sunday @ 4pm to 6pm at 12055 Wicks St, SUN VALLEY, CA 91352
WHO WILL BE SPEAKING?
Prophet John and Meleana Harke of Passion Ministry. They preach nationally and internationally and are seeing great revivals break out around the country and oversees. They have a great word and will encourage all who come.
Pastor/Prophet Mike and Sandra Chipchase of Word A Live Church. They have been equipping the body of Christ for many years in the prophetic and the gifts of the Holy Spriit. They too will be a blessing.
Pastor/Apostle Brad and Carolyn Kuechler of Rock Solid Church and Jesus Lyfe. They are the senior pastors of Rock Solid Church and will be hosting this event at their church. Apostle Brad Kuechler preaching around the country as well, has written several books and is a singer songwriter. He will be leading us in worship in many of the services. He not operates in prophetic worship he also writes songs to our Lord that will Refresh your spirit and life.
Mars and Zeny Lobido of Rock Solid Church of the Valley. They are worship leaders to our Valley Campus church. They love the Lord and will assist and lead in a few services.
WHAT TO EXPECT?
Eye Opening Preaching of God's word
Call out rooms where you can come and get a prophetic word of encouragement
Healing for the sick. We will pray over all who need a healing.
Salvation to those who are seeking God and desire to learn of Jesus Christ
Lunch will be provided at on our saturday meeting
Dinner will be provided at our Sunday night meeting in the Valley
the event will start in San Pedro at our main campus on Saturday, it will continue on sunday at 10:30am in San Pedro and then we will finish the event at our Valley Campus sunday night at 4pm. Dinner served right after.
Seating is limited. Please register as soon as you can.
RERESH 2022
Act 3:19 Repent therefore and be converted, that your sins may be blotted out, so that times of refreshing may come from the presence of the Lord.
1Co 12:1 Now concerning spiritual gifts, brethren, I do not want you to be ignorant:
1Co 12:7 But the manifestation of the Spirit is given to each one for the profit of all: