Sales Have Ended
Ticket sales have ended
If you're still interested in attending, feel free to pay at the door as this helps cover the cost of refreshments. Blue Ion's office is located above the Apple Store on King Street. Enter through the alley between Liberty and George Street. Visit the event map for help with directions: http://tinyurl.com/kwj4bgq
Sales Have Ended
Ticket sales have ended
If you're still interested in attending, feel free to pay at the door as this helps cover the cost of refreshments. Blue Ion's office is located above the Apple Store on King Street. Enter through the alley between Liberty and George Street. Visit the event map for help with directions: http://tinyurl.com/kwj4bgq
Description
Session 1 - Coming to Terms with Your Style
Fine artists spend their lives exploring their style and what it means to create tasteful imagery, whereas, commercial artists often don't have that luxury. The field, which is subject to the whims of pop culture and clients' money, can be very difficult to navigate. As such, it can be perceived to be a sensible move to follow a trend, or latch on to a favorite designer's look for 'non-plagiarized inspiration'.
The longer you're in the field, the tougher it is to remake your work, but you're not doing yourself any favors if you're suppressing your style to keep up with appearances.
My work is living proof that you can be true to yourself in the creative process, and still enjoy success. In our time together, I'll share about how I fought my style for years, and eventually gave in. I can't promise the same result for everyone, but at the very least, I think my neurotic take on the world of illustration and design from the perspective of my own work, will be informative and entertaining.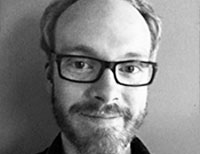 Our Speaker - Timothy Banks
Timothy Banks - a professional illustrator who lives in (and works from) Charleston, creates images for such clients as Nike, Paste Magazine, Caribou Coffee, Nickelodeon and a heavenly host of book publishers.
Banks' career spans more than 14 years, and he has witnessed the collapse of print publishing, the digitizing of traditional artists' media and the supposed demise of the tangible magazine and newspaper.
His illustrations are a case study in adaptability, and chronicle the sweeping changes in the field over a relatively short period of time.
Session 2 - El Salvador, Surfboards, MS-13, Bootleg DVDs, and Child Labor
I recently travelled to El Salvador in search of waves, but instead stumbled upon a new understanding of my clients, and maybe your clients too.
During my presentation, I'll explain my cryptic title and share insights learned from young MS-13 gang members about client service. I've come to realize that regardless of title, we're all in the business of Sales.
You can also expect to see some decent surfing, incredible waves and a bit of my work.
Our Speaker - Ryan Cockrell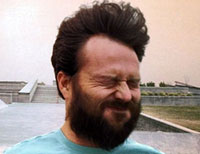 Ryan grew up parting his hair to the left, and after a short sojourn to the right, has come back around to the left-handed or south part. Ryan, who is the humblest, smartest and best looking of all the people who work at Lunch & Recess, has been told that he looks like a combination of Sean Connery, Tom Cruise, Zach Galifianakis, and Jim Caviezel - but more attractive!
Ryan can't stand being called a videographer, so please don't, unless (of course) you want to be punched. He takes pride in not having Googled himself for over ten years, and updates his Facebook profile at least once a year to keep active.
Please help Ryan attain Platinum-Diamond status on Instagram by following @rybot.
---
Other Information
This event is proudly hosted by the crew at Blue Ion, and Refresh Charleston, with wonderful support from Campaign Monitor and A Book Apart.
Blue Ion's office is located at 301B King Street, above the Apple Store. Enter thorugh the alley between Liberty and George Street. View the event map for more details.
Refreshments will be available before and during the duration of the event.