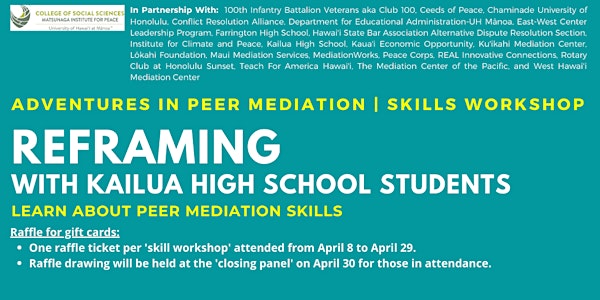 Reframing | Skills Workshop
Adventures in Peer Mediation | April 7 - April 30
About this event
The Peer Mediation Conference has been bringing together youth peer mediators (ages 8 to 18 years old) for over thirty years. This is the first year the conference has gone virtual to connect peer mediators around Hawai'i and others aspiring to develop their own peer mediation program. The events are free and open to everyone who wants to learn more about peer mediation. We encourage youth and adults that work with youth to attend.
Terminology
Peer mediation is problem solving by youth with youth. It is a process by which two or more students involved in a dispute meet in a private, safe and confidential setting to work out problems with the assistance of a trained student mediator.
A mediator is a person who mediates—helps to settle a dispute or create agreement when there is conflict between two or more people or groups by acting as an intermediary or go-between for those parties. The act or process of mediating is called mediation.
Mediation is an alternative dispute resolution process wherein a neutral third party, the mediator, facilitates a discussion between the parties to promote the voluntary resolution of disputes.
Adventures in Peer Mediation | April 7 - April 30
34th Annual Peer Mediation Conference
"Reframing" with Kailua High Peer Mediation Program | Skills Workshop
Learn about peer mediation skills.
The Session:
Learn how to become a better listener, friend, and mediator through the art of reframing. Ever known someone who seems to be stuck in a bad mood or can't solve a problem learn how reframing is actually more powerful than giving advice.
About Kailua High Peer Mediation Program
The Kailua High Peer Education Program works to support students through Social Emotional Learning (SEL) opportunities facilitated through guidance lessons as well as group and individual counseling. Students at Kailua High School take part in SEL Groups offered virtually for up to 2 additional elective credits a year; Positive Coping Strategies Group and Peer Education. Positive Coping Strategies provides students with an opportunity to cope with feelings of stress and anxiety through mindfulness strategies. KHS students mentor other KHS students through the Peer Education Program (PEP) by facilitating SEL guidance lessons and Peer Mediation.
Raffle for Gift Cards:
One raffle ticket per 'skill workshop' attended from April 8 to April 29.
Raffle drawing will be held at the 'closing panel' on April 30 for those in attendance. Learn more at https://adventurecontinues.eventbrite.com.

In Partnership With:
100th Infantry Battalion Veterans aka Club 100
Ceeds of Peace
Chaminade University of Honolulu
Conflict Resolution Alliance
Department for Educational Administration-UH Mānoa
East-West Center Leadership Program
Farrington High School
Hawai'i State Bar Association Alternative Dispute Resolution Section
Institute for Climate and Peace
Kailua High School
Kaua'i Economic Opportunity
Ku'ikahi Mediation Center
Lōkahi Foundation
Maui Mediation Services
MediationWorks
Peace Corps
REAL Innovative Connections
Rotary Club of Honolulu Sunset
Teach For America Hawai'i
The Mediation Center of the Pacific
West Hawai'i Mediation Center
APRIL 8 - APRIL 29 | 16 SKILL WORKSHOPS
Raffle for gift cards: one raffle ticket per 'skill workshop' attended. Raffle drawing will be held at the 'closing panel' for those in attendance.
APRIL 30 | CLOSING PANEL
Raffles will be held at the closing for those in attendance. We will have gift cards in $25 and $50 increments to be raffled for Amazon, Mana Up, Red Lobster, Starbucks, and many more. Over $500 worth of gift cards to be raffled up. Be sure to attend the skills workshops to obtain one digital raffle ticket per skills workshop attended.