Model MLK Jr. to align stakeholders and increase impact in your DEI initiatives without upsetting people or making things worse.
About this event
How Purpose-Driven Leaders Can Get Alignment, Avoid Sensitive Diversity, Equity, and Inclusion Pitfalls, and Model the Work of Dr. King to Advance Positive Company Culture Change
Well-intentioned companies are hiring based on easy-to-see differences such as skin color to solve their "diversity problem".
What they don't yet see is: when you treat diversity as a problem, diversity becomes the problem.
Issues of race, privilege, and tokenization are still so sensitive that – although visually diversifying your teams my look good from the outside – legacy members of your team can feel they're being passed over for positions they deserve, and new "visually diverse" hires can feel marginalized when brought into company cultures not yet set up for them.
As a result, trying to do the right thing not only becomes inconvenient; it can increase the levels of tension and mistrust your overwhelmed teams are already feeling.
Fortunately, there's a way to resolve the core of the "diversity problem", and get everyone aligned without getting into trouble and retraumatizing your teams.
In this Free Executive Training with Kemy Joseph, MS EdS, you will model leadership lessons from Dr. Martin Luther King and the Civil Rights Movement to:
Understand the true meaning of Advancing Equity and how it really impacts everyone in your organization, so positive change will not only be welcomed by your teams; it will be carried by everyone in the long-run, which means DEI is no longer a burden to be shouldered alone.
Learn how to get your executive team aligned on meaningful DEI initiatives, so you can make progress with more confidence and less resistance from the top, which means positive change gets the buy-in it needs without the frustration of chasing or avoiding resistant gatekeepers.
Get a clear pathway to DEI success, based on MLK's Civil Rights Campaign and case studies of companies making forward profit and progress, so you can clearly see where you can start, where DEI can take you, and how far you've come on the journey regardless of where you are now, which means you'll be able to take your next steps with clarity and certainty.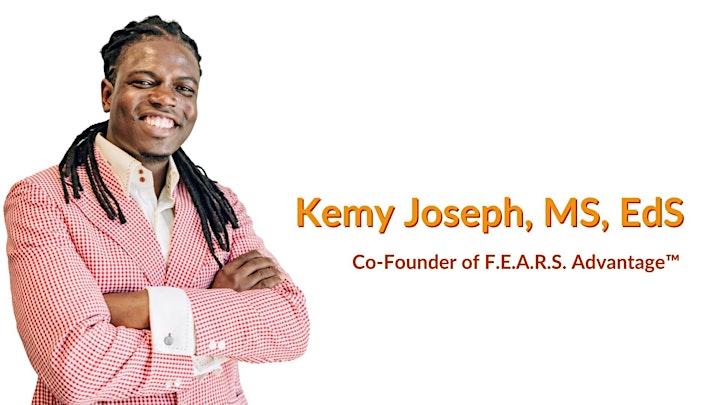 Kemy Joseph is on a mission to help 5 Million business leaders advance equity in their organizations by 2030 to create a world where people of all backgrounds can live safely and thrive.
Kemy helps purpose-driven business executives leverage equity as a pathway to prosperity to effectively lead their diverse teams through conflicts involving race, politics, and privilege. In a time where people feel so disconnected and unsafe, he's able to create virtual safe spaces where people have real conversations that build trust, repair relationships, and create new sustainable solutions. He also uses a multi-camera setup with music, stories, and group exercises to create highly engaging, transformational experiences!
Most people see Kemy's bright smile, but wouldn't imagine the hardships behind it. Being raised in Miami, FL as a first generation Haitian American, he lived in a single-parent household with nine siblings where poverty, violence, and racial inequity traumatized him at an early age.
Growing up, he was socialized as a sexist, racist, homophobe, bigot, bully, and criminal.
As an adult he's made the extraordinary effort to re-socialize himself into a human being — a healthy, educated black man who respects women, celebrates diversity, and advances equity for all people. His journey represents the transformation that's possible when we use negative experiences for positive change and learn the skills we need to treat others equitably. From that humbled perspective, he brings a great deal of empathy, hope, and productivity to these often difficult conversations.
Organizer of Reframing DEI and Racial Equity in the Workplace
F.E.A.R.S. Advantage helps innovative purpose-driven business leaders build an unshakeable foundation of trust in their organizations using a cohesive Diversity, Equity, and Inclusion (DEI) framework that gets buy-in, advances equity, and boosts profits without the shame and blame often associated with conventional D&I work.
We're on a mission to reach 5 million business leaders with our Cultural Equity Accelerator Program, which makes doing "the work" a positive, approachable, and inspiring experience for Executives, Directors, and DEI Committee Chairs who aim to create company cultures where every employee can live safely and thrive.