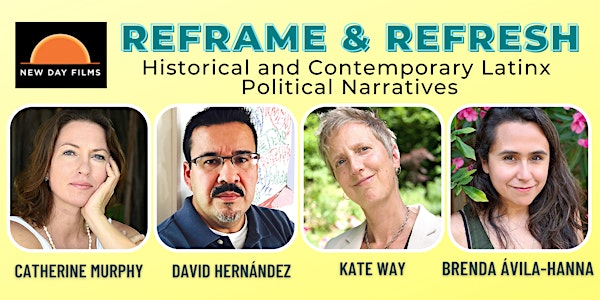 Reframe & Refresh: Historical and Contemporary Latinx Political Narratives
REFRAME AND REFRESH is a series for the education and filmmaking community to have refreshing conversations that reframe our perspectives.
About this event
[Image description: New Day logo Headshots of 4 people. Catherine Murphy a white woman, David Hernandez, a Latino man with glasses Kate Way a white woman, Brenda Avila Hanna a Latina woman text reads Reframe and Refresh, Historical and Contemporary Latinx Political Narratives.]
Join us for this conversation with filmmakers, Catherine Murphy (Silvio Rodriguez: My First Calling), Kate Way (Stop Time), and David Hernández, Associate Professor of Latina/o studies at Mount Holyoke College exploring historical and contemporary political narratives from the Latinx community. What are the broader applications of these stories? Why are these narratives relevant today but also for the future? The panel will be moderated by Brenda Ávila-Hanna, New Day Films and director of Vida Diferida (Life, Deferred).
You will receive the link to join the discussion in your email after registration. Auto-captions will be available.
REFRAME AND REFRESH is a series for the education and filmmaking community to have refreshing conversations that reframe our perspectives.
ABOUT THE SPEAKERS
Catherine Murphy is a US filmmaker who has spent much of her life living & working in Latin America. She is founder & director of The Literacy Project, a multi-media documentary project on literacy in the Americas. Her films explore the intersection of literacy, education and social justice movements in the Americas.
As an independent producer, Murphy's work has focused on social issue documentaries. She has field produced films for other directors including Dorothy Fadiman, Sonja de Vries, Saul Landau and Matt Dillon. She served an archival researcher for Susanne Rostock's biography of Harry Belafonte, Sing Your Song. Murphy worked as senior staff producer at the TeleSur TV Washington DC bureau, and has produced content for PBS, TeleSur, Avila TV, Pacifica Radio National, WBAI and KPFA. After a decade of producing films for other documentary makers, her directorial debut Maestra was launched in 2012. Maestra has enjoyed robust distribution since release and has been translated into six languages. Four short stories based on her Maestra interviews were published in Eduardo Galeano's penultimate book, Espejos.
Kate Way is a critical educator, photographer, and documentary filmmaker based in western Massachusetts. Her interests lie in the intersection of media literacy, public policy and education, and social and economic justice. As a high school English teacher for almost twenty years, Kate worked with students to use media arts as tools of literacy development and social change. She is now a full-time Lecturer in the College of Education at the University of Massachusetts Amherst, and also teaches Photography at Bard Microcollege in Holyoke, MA, a non-traditional college for women whose education has been interrupted by social and economic challenges. Stop Time is Kate's second major documentary film project. Her first film, G is for Gun, explored the highly controversial topic of K-12 schools arming teachers – it was nationally broadcast on the WORLD Channel in 2018 and was chosen to headline the Meet the Press Festival in Washington, D.C. the same year. Kate's still photography has been collected, published, and exhibited widely.
David Hernández is Associate Professor of Latina/o Studies and Faculty Director of Community Engagement at Mount Holyoke College. He completed his Ph.D. in Ethnic Studies at U.C. Berkeley. His research focuses on immigration enforcement, the U.S. detention regime, in particular. He is completing a book on this institution titled Alien Incarcerations: Immigrant Detention and Lesser Citizenship for the University of California Press. He is also the co-editor of Critical Ethnic Studies: A Reader (Duke University Press 2016). Other work has appeared in journals such as Border-Lines, Harvard Journal of Hispanic Policy, Journal of Race and Policy, Latina/o Studies, and NACLA: Report on the Americas.
Brenda Ávila-Hanna is filmmaker and educator from Mexico City who has lived in the CA Central Coast for over a decade. Her films include the short documentary, Vida Diferida (Life, Deferred). Her work has been showcased at HotDocs, Lakino Berlin, PBS, Fusion Network and more. Brenda was part of the inaugural cohort of DOC NYC's "Documentary Industry New Leaders" and a 2021 Rockwood/Just Films Fellow. She is a member-owner of the film distribution cooperative New Day Films, where she served in the Steering Committee as their first team lead for Equity & Representation from 2019-2021.
ABOUT NEW DAY FILMS
New Day Films is a unique, filmmaker-run distribution cooperative, providing award-winning films to educators, community groups, government agencies, public libraries and businesses since 1971. Democratically run by more than 150 filmmaker members, New Day is committed to reflecting greater diversity, representation and inclusion. It is celebrating 50 years of delivering dynamic and provocative storytelling with filmmakers who have won Oscars, Emmys and hundreds of film festival awards. New Day films have been broadcast on PBS, HBO and other media outlets.
ABOUT THE FILMS
Silvio Rodriguez: My First Calling -- The little-known story of Cuban troubadour Silvio Rodriguez, speaking in first person about the life-shifting experience he had at 14-years-old when he signed up to join the youth brigades of the 1961 National Literacy Campaign and taught a rural campesino family how to read and write.
Stop Time tells the story of Lucio Pérez, a husband, father, and worker who lived in a Massachusetts church basement for over three years in defiance of a deportation order. Lucio recounts the forces that brought him to the United States, entangled him in the immigration system, and ultimately led him to sanctuary.