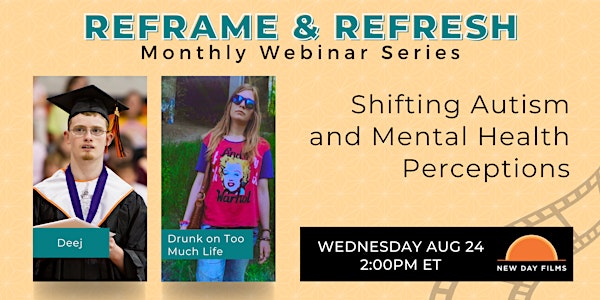 Reframe and Refresh: Shifting Autism and Mental Health Perceptions
Join our discussion on shifting perceptions about living with autism and mental health conditions.
About this event
Join us for an important discussion on shifting perceptions about autism, disability and mental health conditions with filmmakers Robert Rooy, director of Deej and Michelle Melles, director of Drunk on Too Much Life along with Dr. Emily Beitiks, Interim Director at the Paul K. Longmore Institute on Disability at San Francisco State University. We'll also examine how first-person narratives in film can bring fresh perspectives to autism and mental health stories.
You will receive the link to join the discussion in your email after registration. Auto-captions will be available.
REFRAME AND REFRESH is a series for the education and filmmaking community to have refreshing conversations that reframe our perspectives.
ABOUT THE SPEAKERS
Robert Rooy is the director of Deej, which received a 2017 George Foster Peabody Award and was nominated for an Emmy in the category of Outstanding Graphic Design and Art Direction. He is an award-winning independent filmmaker who has worked in more than twenty countries, creating media with and for international development, human rights and environmental organizations. His encounter with Muhammad Yunus, founder of Grameen Bank in Bangladesh and winner of the 2006 Nobel Peace Prize, led to producing and directing To Our Credit, a two-part PBS series that aired in 1998. In addition, he has worked as a DGA first assistant director on more than forty films, including Lonesome Dove, Honeymoon in Vegas, Minority Report and The West Wing. He holds an MFA degree from Yale School of Drama, a Distinguished Alumnus Award from Calvin University, and a National MediaMaker Fellowship from the Bay Area Video Coalition. His documentary, Deej,
Michelle Melles is the director of Drunk on Too Much Life, which chronicles her 21-year-old daughter's mind-opening journey from locked-down psych wards and diagnostic labels towards expansive worlds of creativity, connection and greater meaning. She is a Canadian-American filmmaker, producer, story editor, and writer based in Toronto. A fierce believer that the personal is in dialogue with the political and that good storytelling has the power to ignite change, Michelle Melles has been creating social issues documentaries for over twenty years. She has worked for some of the top broadcasters and television shows in Canada, produced and directed numerous short TV documentaries that have been nationally broadcast and internationally-distributed. Under her new banner Parallel Vision Pictures, she seeks to tell independent and multidimensional stories that challenge preconceived ideas and offer unique ways of perceiving the world. She received the Social Sciences and Humanities Research Council grant (SSHRC, 2020) from the Canadian Government for her work in auto-ethnographic documentary filmmaking and transformative mental health care; holds a M.F.A. in Documentary Media from Toronto Metropolitan University (summa cum laude, Gold Medal, 2021).
Dr. Emily Beitiks is Interim Director at the Paul K. Longmore Institute on Disability at San Francisco State University. Founded in 1996 by historian and scholar-activist Paul Longmore, the Longmore Institute uses public education and community events to teach disabled and nondisabled people alike how disability can enrich our world, from technology to the arts. Growing up with a disabled mother, Beitiks witnessed how our society treats people with disabilities. With a PhD focused on disability studies, she is an expert on access, assistive technology devices for the disabled, and disability in popular culture. She also serves as the Superfest Disability Film Festival Director.
Moderated by Chithra Jeyaram, New Day Films, director of Foreign Puzzle. Chithra makes films about identity, relationships, race, art, and health. A failed attempt to fund a film in India led her to quit a decade-long career as a Physical Therapist and get an MFA in film.
ABOUT NEW DAY FILMS
New Day Films is a unique, filmmaker-run distribution cooperative, providing award-winning films to educators, community groups, government agencies, public libraries and businesses since 1971. Democratically run by more than 150 filmmaker members, New Day is committed to reflecting greater diversity, representation and inclusion. It is celebrating 50 years of delivering dynamic and provocative storytelling with filmmakers who have won Oscars, Emmys and hundreds of film festival awards. New Day films have been broadcast on PBS, HBO and other media outlets.
ABOUT THE FILMSDeej - DJ Savarese ("Deej") is a nonspeaking young autistic who dreams of college and communicates via text-to-voice synthesizer, and here via documentary and poetry in collaboration with director Robert Rooy. Filmed in a one-of-a-kind partnership over six years, "Deej takes several masterful steps forward in inclusive filmmaking." [Peabody Award jury, 2017]
Drunk on Too Much Life - In a world gone crazy, a young woman discovers that her madness is a fierce and powerful gift that makes her more fully human. Drunk on Too Much Life is an intimate documentary that follows the filmmaker,'s 21-year-old daughter's mind-opening journey from locked-down psych wards and diagnostic labels towards expansive worlds of creativity, connection and greater meaning. On their journey, the family learns that madness has meaning that goes far beyond brain chemistry.