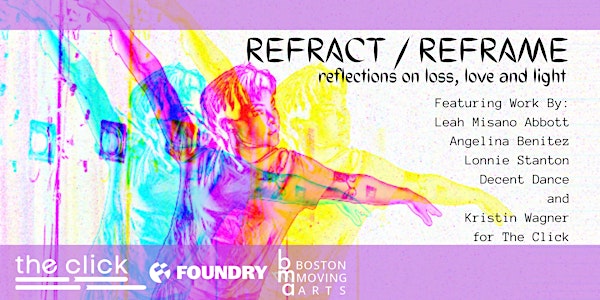 Refract/Reframe: Reflections on Loss, Love and Light
This intimate contemporary dance performance explores beauty and joy amidst an undercurrent of loss through solos, duets and ensemble work.
When and where
Location
The Foundry 101 Rogers Street Cambridge, MA 02142
Refund Policy
Contact the organizer to request a refund.
Eventbrite's fee is nonrefundable.
About this event
Refract / Reframe: Reflections on Loss, Love and Light explores moments of beauty and joy despite the undercurrent of loss experienced collectively over the past several years. In each work on the program, former and current artists of The Click spotlight dichotomies of light and dark, togetherness and loneliness, progress and stagnance. The evening's works celebrate rebirth and regrowth while also holding space for what has passed and been lost.
Included in the performances are:
Angelina Benitez's work in progress dancing by myself: honoring love and loss, hope and heartache, and the acute pain of broken promises (Friday performance only)
Leah Abbott's Inbetween: questioning the relationship between beauty and effort, seeking elegance without a filter (Saturday performances only)
Lonnie Stanton's your eyes are mirrors of the skies, reflecting clear for me: seeking opportunities for gratitude within the stages of grief (Sunday performance only)
Decent Dance's cradled in the arms of myself (with you): the married dancing duo Kristin Wagner and Tony Guglietti reflect on the COVID-era of their relationship spent in the small quarters of a Boston apartment through dance
The premier of Kristin Wagner's creation for The Click, make light: or how I survived it all: an ensemble of six use literal and metaphorical windows to frame those moments of pure beauty that give us the fortitude to survive times of great challenge
The evening is presented by The Click in collaboration with Boston Moving Arts Productions and The Foundry, and has been curated by Kristin Wagner.
Expected run time: 60 minutes, with no intermission
Advanced reservations are strongly recommended. Online ticket sales end 60 minutes prior to performance.
PERFORMANCES BY:
Leah Misano Abbott
Gabriela Amy-Moreno
Angelina Benitez
Katrina Conte
Tony Guglietti
Rachel Linsky
Audrey MacLean
Alexandria Nunweiler
Lonnie Stanton
and
Kristin Wagner
ABOUT THE CHOREOGRAPHERS:
Leah Misano Abbott grew up in South Carolina with her family who is crazy enough to do family workouts as holiday traditions. In high school, she started attending the South Carolina Governor's School for the Arts and Humanities to study dance- focusing on classical ballet. After high school, Leah went to Boston Conservatory at Berklee and graduated in May 2021 with a Bachelor of Fine Arts in Contemporary Dance Performance. Since graduation, she has worked as a freelance dance artist and teacher in Boston. Between gigs, she often finds herself taking on her next pastry-baking endeavor. Leah worked with The Click from February to May 2022, teaching butt-kicking floor work classes and guesting into make light, before moving to Seattle to work with the West Coast contemporary dance company Whim W'him for the 2022-23 season.
Angelina Benitez graduated from Salem State University with a B.A in both Modern/Contemporary Dance and has since studied at Bates Dance Festival and continues to study with local Boston-based artists. Her choreography at Salem State was presented at Boston's American College Dance Association Conference and earned her a Presidential Arts Scholarship and a Creativity Award in Dance. Angie has immersed herself in teaching dance in the Greater Boston area at local studios, schools, and residencies. Her recent performance experience includes local arts festivals and events such as Verse / Visual, 24 Hour ChoreoFest, Salem Arts Festival, Art Walk with Luminarium, and more. Much of her work is focused on collaboration. When she's not teaching dance, you can find her working as a social media strategist, creating fiber art, and taking pole dance classes. Angie is a founding member of The Click, and will be creating a new work for the collective beginning January 2023.
Lonnie Stanton is a proud native Hawaiian raised in rural Northern California and based in Boston. For the last decade Lonnie has been committed to dance education with a strong somatic focus as well as a professional contemporary performance career. She graduated from the Boston Conservatory with a BFA in Dance (2009) and has completed her 200 hour yoga certification through Yogaworks (2011). For 10 years she worked with Prometheus Dance performing and teaching with the company. Lonnie is a freelance dancer performing with Jean Appolon Expressions, Peter DiMuro/ Public Displays of Motion, Callie Chapman, Lynn Model, and BeHeard.World. During her time dancing in NYC, she worked with Kinesis Project Dance Theater focusing solely on site specific performance. Stanton is passionate about sharing dance in unconventional, often outdoor spaces where a broad audience can be reached. She has produced and structured dance for film or public space for the American Repertory Theater, Somerville Arts Council, Neoscape (advertisement), Tamara Al- Mashouk, Silvi Naci, Moe Pope, Linda Tegg, and Toni Lester (all visual or sound artists). Stanton is on faculty at the Boston Conservatory at Berklee, The Harvard Dance Center, and Deborah Mason School of Dance. Bringing dance education into public schools through Notes in Motion, New York City Ballet, and Boston Ballet has been especially rewarding to Lonnie. Lonnie is a founding member of The Click, and the creator of The Click's recent Augmented Reality dance installation Emotive Land.
Tony Guglietti received his BFA from Tisch School of the Arts at NYU. Upon graduation, he became a founding member of Sean Curran Company and toured across the globe. Kristin Wagner hasn't done any of that, but she manages to work through her inferiority complex in rehearsal just fine. Together as Decent Dance, the pair creates accessible contemporary performance works that dabble in comedy, dramedy, and all things silly, sweet and true. The duet's collaborative creative process relies on a foundation of sharing space and weight, balancing impulse and input, the occasional (read: frequent) lovers' quarrel, and Cheez-Its®. Tony and Kristin take great joy in teaching composition and expression through a contemporary dance lens to students of all ages, and have taught at the Dance Theatre of Greenville (SC), Free Form Dance Academy (MA), New England Conservatory (MA) and The Dance Complex (MA). Decent Dance has presented work at in Massachusetts, Rhode Island, and Maine at The Dance Complex, the Boston Center for the Arts, AS220, and the Mainte International Dance Festival. Their favorite performance to date was their wedding in September 2022 at the cutest little flower farm you ever did see in Barre, MA. To learn more, come say "hey" at a show. If you're shy, just creep on us on Instagram: @decentdance.
Kristin Wagner is a movement enthusiast living, learning and growing in the Greater Boston area. With a primary focus on contemporary dance forms, Kristin has been performing with a number of local dance theater companies and freelance choreographers since 2012, including Peter DiMuro/Public Displays of Motion and KAIROS Dance Theater, for whom she currently serves as Principal Dancer and Rehearsal Director. She creates her own work both independently and as "Decent Dance", a collaboration with her partner Tony Guglietti. Kristin shares her love of movement with students ranging from youth to adult in competitive, pre-professional, collegiate and community-based environments across Massachusetts. She has worked extensively in arts administration at major dance-based organizations in Boston, in addition to creating programs and opportunities independently, and is committed to making the experience of movement more financially, emotionally, and intellectually accessible for students, performers and audience alike. Kristin is a certified artist in the City of Boston and an RYT-200 yoga teacher. She has been supported through residencies and grants from the New England Foundation for the Arts, MASS MoCA, the cities of Boston, Worcester, Somerville and Brookline, and The Dance Complex, among others. In both dance and yoga, Kristin is guided by the belief that authentic, uncensored movement can be a pathway for personal growth and healing. Kristin is a founding member of The Click, and the creator of the collective's first piece for stage, make light: or how I survived it all. Learn more: bodiesmoving.com, Instagram: @bodies_moving
ABOUT THE CLICK:
Developed in 2021, The Click is a collaborative dance company and creative collective centered in Greater Boston. Its members are dancers whose primary medium of physical expression is through contemporary dance forms, but who experiment in many modes and genres of creativity. As a collective, The Click's members are deeply invested in answering the universally complex question: who am I and what am I doing here?
The Click contributes to the consistent presence of creativity in Greater Boston in several ways: by educating pre-professional youth dancers, professional adult dancers and the dance-curious of any age; by performing original creations several times a year at traditional and non-traditional venues in Massachusetts, New England and beyond; and by investing in the curiosity of those new to dance in Boston or in general by maintaining an open, inclusive and accessible community.
Learn more: theclickboston.com / @the.click.boston
ABOUT BOSTON MOVING ARTS PRODUCTIONS:
Boston Moving Arts Productions, founded and directed by David Orr, is deeply committed to helping dance and dance artists in Boston thrive. In this pursuit, BMAP supports dancers and dance companies in the making, funding and promoting of dance productions. Similarly, BMAP invests considerable time and funds into cultivating a committed audience for regional contemporary dance in the Greater Boston area.
ABOUT THE FOUNDRY:
The Foundry is a self-sustaining center of creativity and collaboration in the Kendall Square neighborhood offering the Cambridge community opportunities in science, technology, engineering, arts, and math.
At 50,000 square feet with a 4,000 square foot exterior, The Foundry provides space and programs for the arts (visual and performing), crafts, technology, entrepreneurship, workforce education, and community activities.
The Foundry helps facilitate access for residents, especially underrepresented communities to the dynamic working and learning environment of Kendall Square. The building also provides office space at market rate and below market rates for businesses and non-profit organizations.
Learn more: cambridgefoundry.org / @cambridgefoundry