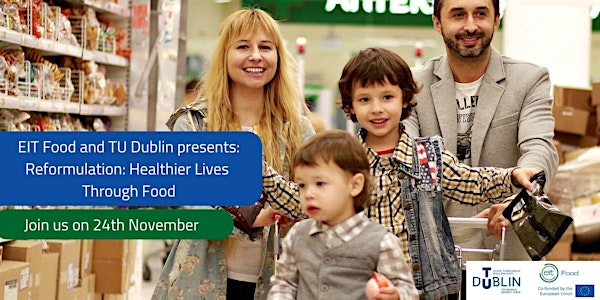 Reformulation for Healthier Lives Through Food
EIT Food Northwest and TU Dublin will discuss the reformulation of food products, as part of the mission, Healthier Lives through Food
When and where
Location
TU Dublin, Grangegorman Campus Grangegorman Lower D07 H6K8 Dublin 7 Ireland
About this event
EIT Food North-West, in collaboration with TU Dublin, is hosting an event themed "Reformulation for Healthier Lives Through Food". Join us in Dublin on the 24th of November!
Why Attend
Engage with an expert multistakeholder panel on food reformulation targeted to children and participate in a Q&A session
Discover game-changing start-ups and ask them questions about their reformulation and nutrition innovations to kickstart new collaborations
Ideate in teams' solutions and opportunities within the food reformulation space
Join the networking break, and meet large companies, policymakers, academics, and start-ups
About the Event
Taking place on the 24th of November, in TU Dublin's Grangegoraman Campus, this in-person event will explore the reformulation of food products, as part of one of EIT Food's missions "Healthier Lives through Food."
An impressive multi-stakeholder panel (including industry, academics, and chefs), will be discussing and exploring the view of food reformulation, considering one of the factors that are forgotten in the debate: the middle point between food science and the marketplace that delivers a taste and an experience that tunes with consumers. Attendees are invited to join the discussion through a session of Q&A.
Networking sessions will also take place, allowing attendees to build relations with Startups working within this space and learn more about prominent solutions in the reformulation and nutrition intersection. Relevant start-ups will be provided with the opportunity to pitch their businesses and present areas for further collaboration. The aim is to highlight innovative technologies and food ingredients in the field of reformulation and promote networking with large companies and other stakeholders both for the start-ups and the audience.
Finally, an ideation activity will take place to explore potential solutions and opportunities for food reformulation, particularly those targeted to children, aiming to develop ideas for innovative technologies, food ingredients, and processes; and/or to produce research ideas to test the consumer acceptance of reformulated products
Agenda:
11:00 AM Registration
Coffee/Tea on arrival
11:30 AM Welcome Words
Introduction to EIT Food (Dr Paula Almiron) and TU Dublin (Dr Graham
 O'Neill and Prof Christine O'Connor)
11:50AM Nuala Collins – Food Reformulation Taskforce Lead, FSAI
12:05PM Dr Aisling Aherne- Nutrition Science Manager, Kerry Taste and Nutrition
12:20PM Annette Sweeney-Senior Lecturer in Culinary Arts and Programme Lead in
 MSc Applied Culinary Nutrition, TU Dublin
12:35PM Dr Lubna Ahmed -Principal Investigator, Food Innovation Lab, TU Dublin
12:50PM Panel Discussion
1:15PM Networking Lunch (provided)
2:00PM Co-creation/Co-design Interaction Activity (facilitated by Dr Graham
O'Neill)
3:00PM Start-Up Pitching Session
4:00PM Close
If you have any questions about this event or would like to find out more information, please contact Dr Paula Almiron (paula.almiron@eitfood.eu)
TU Dublin, School of Food Science & Environmental Health
The School is located at the TU Dublin City Campus Grangegorman site, near the centre of Dublin city. Excellence in industry-relevant teaching and research are the core missions of the School from Higher Certificate level to PhD and postdoctoral education and training, across the discipline areas of Food Science and Environmental Health. Our BSc (Hons) degrees all incorporate extensive work-based learning in addition to traditional taught and laboratory components. Our BSc (Hons) in Nutraceuticals is the first degree of its kind in Europe and covers a range of scientific disciplines and new nutraceutical technologies. The programme provides graduates with the necessary technical and theoretical knowledge to exploit the growing opportunity of Food in health and wellness. Our BSc (Hons) in Food Innovation covers a comprehensive range of science, technology, business and innovation disciplines. Students can choose to specialise towards either the Food or Brewing and Distilling industries in their final two years including up to 11 months of work-based learning in the relevant industry through a structured internship and final year project. Our BSc (Hons) Environmental Health is the only programme of its kind in Ireland and is accredited by the Minister of Health for employment as Environmental Health Officers. We also offer a joint BSc (Hons) in Culinary Science together with the School of Culinary Arts and Food Technology, a Higher Certificate in Food Science and Management and two taught MSc programmes in Food Safety Management and in Environmental Health and Safety.
The School's research is aligned with the existing research centres in TU Dublin including the FOCAS research institute, the Environmental Sustainability and Health Institute, and the Food and Health Research Centre. The School currently has more than 80 researchers addressing research questions across Environmental Health, Food and Pharmaceutical Sciences. The School's academic staff have been the recipients of several prestigious international awards for their research including several Clarivate Most Highly Cited Researcher Awards in 2017 and 2018.
Disclaimer: Unfortunately, numbers will be limited due to space and workshop constraints. We will aim to ensure all stakeholders in the food system are represented, so not all registrations will be allocated a place in the workshop. Please register early, and we will be in touch to confirm places.