Reforming the Universal Service Fund: What's Changing?

Tuesday, October 16, 2012 from 8:00 AM to 10:00 AM (EDT)
Event Details
You are invited....
to an event of the Broadband Breakfast Club
Reforming 
the Universal Service Fund
What's Changing?
http:broadbandbreakfastseries.eventbrite.com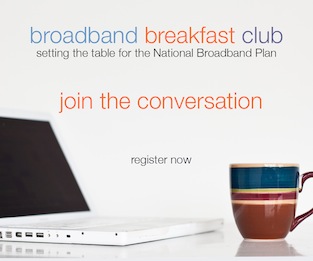 Reforming the Universal Service Fund:
What's Changing?
Nearly one year ago, the Federal Communications Commission announced major changes to the Universal Service Fund by creating the Connect America Fund and the Mobility Fund. How has the FCC followed through in implementing these two funds? Will the Connect America Fund realize the ambitious goals of the National Broadband Plan? Further, the FCC this month completed a spectrum auction to facilitate the Mobility Fund. What have the agency and industry learned from these experiences?
Telecommunications advocates, policy-makers, journalists, top officials and the general public, all seeking to trade insights on these important issues, are invited to attend this event of the Broadband Breakfast Club, which includes full American and Continental breakfasts, for as little as $45.00, plus a modest registration fee.
This event is on the record and open to the public. 
For News and Events on BroadbandBreakfast.com follow us at http://www.twitter.com/broadbandcensus
Event Details
Title:  Reforming the Universal Service Fund: What's Changing?
Date:  Tuesday, October 16th, 2012  8 a.m. - 10 a.m. 
Where:  Clyde's of Gallery Place, 707 7th Street NW, Washington, DC 20001
The breakfast begins at 8 a.m., followed by a discussion, beginning shortly after 8:30 a.m. and ending by 10 a.m.
Panelists:
Jeffrey Lanning
Assistant Vice President, Federal Regulatory Affairs
CenturyLink
Jeff Lanning is responsible for developing and advocating company positions before the FCC and other federal agencies for CenturyLink. Jeff also supports other federal advocacy and legal matters, and counsels the company's business units. Jeff was Director of Federal Regulatory Affairs at Embarq before that company was acquired and became part of CenturyLink. Before joining Embarq, Jeff served as Associate General Counsel at USTelecom, Counsel at Wilmer Cutler Pickering Hale & Dorr (Washington, DC), Director of Business Development and Strategic Planning at Z-Tel Communications, Special Counsel and Attorney/Advisor at the Federal Communications Commission, and associate at Reboul, MacMurray, Hewitt, Maynard & Kristol (now Ropes & Gray, New York). Jeff earned an M.B.A. from The Wharton School, a J.D. from the University of Virginia School of Law, and a B.A. in Economics from the University of Virginia.
Jennifer McKee
Vice President & Associate General Counsel
NCTA
Jennifer McKee, Vice President and Associate General Counsel at the National Cable & Telecommunications Association.  Prior to joining NCTA in 2010, Jennifer worked at the Federal Communications Commission, dealing with universal service issues in the Wireline Competition Bureau's Telecommunications Access Policy Division, and with intercarrier compensation issues in the Bureau's Pricing Policy Division.
Michael Romano
Senior Vice President of Policy
National Telecommunications Cooperative Association (NTCA)
Mike oversees the association's government affairs, legal and industry, and communications operations, with a particular focus on NTCA's advocacy efforts on behalf of the organization's nearly 600 rural telecom members. Prior to joining NTCA, Mike served as of counsel at Bingham McCutchen, LLP, where he advised clients regarding federal broadband network funding opportunities and business planning, and as Vice President and General Counsel of Global Telecom & Technology, a publicly-traded network design and systems integration firm. He has also held positions in the past with America Online and Level 3 Communications.  Mike holds a B.A. from Middlebury College and a J.D. from the Georgetown University Law Center.
Tim Donovan
Vice President Legislative Affairs
Competitive Carriers Association (CCA)
Tim Donovan is the Vice President of Legislative Affairs for the Competitive Carriers Association.  CCA is the nation's leading association for competitive wireless providers and stakeholders across the United States. The licensed service area of CCA's more than 100 members covers 95 percent of the nation.  In this capacity, he leads the association's legislative advocacy before policymakers on issues impacting the competitive wireless community, including roaming, universal service, interoperability, spectrum policy, device availability, broadband policy, and others. Prior to joining CCA, Donovan served as Manager of Government Affairs for the Direct Marketing Association, where his primary responsibility was supporting the advocacy goals of the direct marketing community, including managing all aspects of the Political Action Committee. Donovan holds a bachelor's degree from Providence College, where he studied English and Political Science.
Mike Wilson
Vice President of Professional Services
CostQuest Associates
Mr. Wilson focuses his consulting efforts in the areas of rural telecommunications, Universal Service Fund policy support, interconnection, and operational analysis for wireless, competitive, and incumbent local carriers.  Mr. Wilson currently leads CostQuest's State Broadband Mapping Program under the auspices of the U.S. Department of Commerce (NTIA) and the ARRA's State Broadband Initiative (SBI). Prior to joining CostQuest, Mr. Wilson spent 9 years at Western Wireless/Alltel. He primarily worked on Universal Service Fund analysis and compliance, as well as interconnection agreement negotiations.  Mr. Wilson started his telecommunications career at McCaw Communications/AT&T Wireless in 1994. CostQuest Associates serves as the frontrunner in designing, developing and implementing economic models for the telecommunications industry.  CostQuest has developed Universal Service funding models worldwide and continues to work with the FCC and various stakeholders to develop a forward-looking funding approach for the Connect America Fund.
Moderator: 
Eliza Krigman is a technology reporter for POLITICO Pro. She developed her policy muscles at National Journal, where she served as a principal writer for the Tech Daily Dose blog and also contributed to the company's daily paper and weekly magazine. Krigman's coverage of tech issues has run the gamut from copyright infringement, online privacy and cable fee disputes to net neutrality and music performance royalties. She has also written extensively on federal education issues and lobbying. Prior to National Journal, Krigman cut her teeth in Beltway journalism as an editorial intern at the Center for Responsive Politics. Her government-related experience extends far beyond that, however. Krigman spent two years as a staff and research assistant at the Brookings Institution and has experience working at the State Department both domestically and overseas. She hails from Boston and received her bachelor of arts from the University of Wisconsin-Madison. Her writing has appeared in the Los Angeles Times, The Atlantic, the Brookings Institution, The Nation and the Examiner, among other publications.
The Broadband Breakfast Club is a "widely attended event" under House of Representatives Rule 25, clause 5(a)(4)(A).
-----
For individuals outside of Washington, or those whose schedule doesn't permit attendance in person, archived webcasts of the Broadband Breakfast Club are available for free on BroadbandBreakfast.com.
The Broadband Breakfast Club seeks sponsorship of our events from interested companies and organizations.  For details on sponsorship opportunities, please contact Sylvia Syracuse at 646-262-4630 or sylvia@broadbandcensus.com. The Broadband Breakfast Club is produced by Broadband Census News LLC. 
Follow us on Twitter at www.twitter.com/broadbandcensus
______________________________________________________________
The Broadband Breakfast Club is Sponsored By:




When & Where

Clyde's of Gallery Place
707 7th St NW
Washington, DC 20001


Tuesday, October 16, 2012 from 8:00 AM to 10:00 AM (EDT)
Add to my calendar
Organizer
Broadband Breakfast Club
BroadbandBreakfast.com is an internet policy news and events service devoted to breaking news on Broadband policy issues including Broadband Stimulus, Wireless, the National Broadband Plan, Universal Service, and more. Our trenchant articles are free at BroadbandBreakfast.com.

To complement our news service, BroadbandBreakfast.com also hosts monthly "Breakfast Club" events and other special events.
Our Broadband Breakfast Club series meets monthly on the THIRD Tuesday of the month (except for August and December).
Events are held at Clyde's of Gallery Place, 707 7th St. NW, Washington, DC. Metro Stop: Chinatown/Gallery Place.
Events are open to the public and held from 8 am - 10 am, with full Continental and American breakfasts served from 8 am - 8:30 am.
To subscribe to our news service go to BroadbandBreakfast.com.
To register for our next event click on
http://broadbandbreakfast.eventbrite.com
To view our past and future events see 
http://broadbandbreakfastseries.eventbrite.com
To view our event videos see
http://broadbandbreakfast.com/category/broadband-tv/
The Broadband Breakfast Club is Sponsored By:



Reforming the Universal Service Fund: What's Changing?