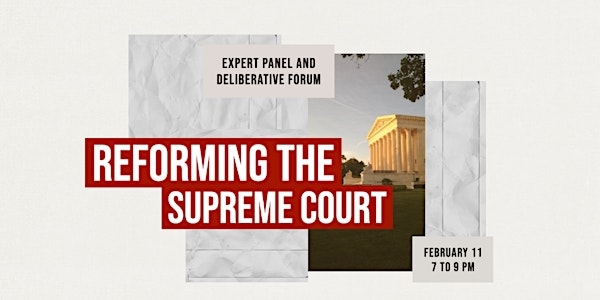 Reforming the Supreme Court
Join the Deliberative Citizenship Initiative and Davidson College Department of Political Science for "Reforming the Supreme Court"
By Deliberative Citizenship Initiative
Date and time
Thursday, February 11, 2021 · 4 - 6pm PST
About this event
The Deliberative Citizenship Initiative and Davidson College Department of Political Science are excited to co-host a guest panel and deliberative forum on "Reforming the Supreme Court."
The United States Supreme Court has recently come under increased public scrutiny due to its headline-making involvement in politics and policy. Scholars, policymakers and citizens across the political spectrum are evaluating and debating ideas for reforming the Supreme Court in a modern era. These ideas range from expanding the number of justices to instituting term limits on their time in office to reducing the court's power as an institution. Others argue that as a co-equal branch of government, the Supreme Court should continue operating as it has been because any changes risk further damage to its legitimacy.
Members of the Davidson College campus and the wider community are invited to engage with these ideas on February 11th from 7 to 9 pm. Participants will first hear from a panel of Supreme Court experts to learn more about different ideas for reforming the Court (see their bios below for more details). Then participants will join facilitated small groups in breakout rooms to deliberate on the merits and tradeoffs associated with these reform proposals. This is a fantastic opportunity to learn from scholars, listen to the perspectives of others, and share your own ideas about reforming the Supreme Court.
Expert Panelist Bios
1. Judith Resnik, the Arthur Liman Professor of Law at Yale Law School, will introduce the broader context and dynamics of judicial reform. Professor Resnik's scholarship, including books such as Representing Justice, focuses on democratic governments' relationships to their population in an interdependent world. Her work on judicial power includes Congressional testimony, litigation, and articles published in the University of Pennsylvania Law Review, Cardozo Law Review, and on CNN.com. The Founding Director of the Arthur Liman Center of Public Interest, she teaches courses on federalism, courts, prisons, equality, and citizenship.
2. Ryan Doerfler, Professor of Law at the University of Chicago Law School, will discuss strategies that "disempower" the court, such as jurisdiction stripping and supermajority requirements, that he and Samuel Moen have written about in The Atlantic and the California Law Review. Professor Doerfler served as a clerk for Chief Judge Sandra Lynch of the US Court of Appeals for the First Circuit, and his courses and research focus on the federal courts, legislation and administrative law, statutory and constitutional interpretation, and connections between philosophy, language and the law.
3. Kent Greenfield, Professor of Law and Dean's Distinguished Scholar at Boston College Law School, will introduce the idea of a new Constitutional Court that he recently advocated for in The New York Times. Professor Greenfield clerked for Supreme Court Justice David Souter, founded the Forum for Academic and Institutional Rights (FAIR) and is the principal author of two Supreme Court volumes of Moore's Federal Practice. His courses, scholarship and books (including The Failure of Corporate Law) focus on corporate governance, constitutional law, the Supreme Court, and speech and religion.
4. James Lindgren, Professor of Law at Northwestern School of Law, will describe the parameters and benefits of requiring new 18-year term limits for Supreme Court justices that he and co-author Steve Calabresi have written about in the Harvard Journal of Law and Public Policy, New York Times, and elsewhere. With Ross Stolzenberg, he has also published on strategic retirements by Supreme Court Justices in Demography. Professor Lindgren's courses and research center on judicial behavior, empirical legal research, estates and trusts, criminal law, diversity, legal history and legal ethics.
For more information, please contact the DCI at dci@davidson.edu. We look forward to seeing you at this event!