Description
Faith Orthodox Presbyterian Church in Garland, Texas, is pleased to host Dr. Richard B. Gaffin (Emeritus Professor of Biblical and Systematic Theology at Westminster Theological Seminary in Philadelphia, PA) for our 2015 Reformation Day Conference.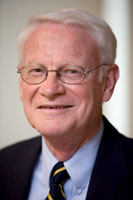 Dr. Gaffin will be speaking on the subject of "Pentecost and the Work of the Holy Spirit Today."
The author of Perspectives on Pentecost:New Testament Teaching on the Gifts of the Holy Spirit (1979, P&R Publishing) will clarify the truth of God's Word regarding the relationship between the Holy Spirit and the Gospel of Jesus Christ, the nature of the gifts which the sovereign Spirit distributes to believers, and what it means for the Holy Spirit to intercede for us when we don't know what to pray for as we ought.
Reformation Day Conference Schedule
Friday 10/30 7:00 PM-- "Pentecost and the Gospel"
Saturday 10/31 9:30 AM -- "Pentecost and the Gifts of the Spirit"
10:30 AM -- Break
11:00 AM -- "Pentecost and the Intercession of the Spirit"