Reflexiones de un Gringo Viejo: Cambios, Crisis y Continuidad

Thursday, August 6, 2015 from 5:00 PM to 7:00 PM (CDT)
Event Details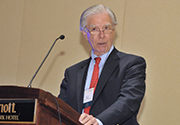 "Reflexiones de un Gringo Viejo: Cambios, Crisis y Continuidad"
Speaker: Peter H. Smith, Profesor de Ciencias Políticas, UC San Diego
Date: Thursday, Aug. 6, 2015
Time: 5 – 7 p.m.
Location: Centro de Cultura Casa Lamm
Open to: Public, talk will be in Spanish
En esta plática el profesor Smith hablará de los hilos conductores de su carrera, de los logros y límites de sus  trabajos, y del estado actual del estudio de México y su relación con el Coloso del Norte.  
---
Bio
Durante más de medio siglo de actividad acadadémica, Peter Smith ha prestado más tiempo y esfuerzo al estudio de México que a cualquier otra nación de América Latina.  Su obra maestra era el libro Laberintos del poder (1979 en inglés, 1981-82 en español).  Luego sirvió como co-director ejecutivo (con Rosario Green) de la Comisión Bilateral sobre el Futuro de la Relación México-Estados Unidos, un proyecto con gran alcance público que se culminó con la publicación bilingue del libro México y Estados Unidos: el desafío de la interdependencia y de cinco tomos académicos de ensayos analíticos por especialistas conocidos (1988-89).  Desde entonces ha realizado una serie de trabajos que ubican la realidad mexicana el contextos amplios y comparativos, entre ellos "Mexican Democracy in Comparative Perspective" (2011) y el volúmen Mexico and the United States: The Politics of Partnership, coordinado con Andrew Selee (2013).  En ese mismo año recibió el premio Kalman Silvert de la Latin American Studies Association por sus aportes vitalicios a la profesión.

---
Contact Greg Mallinger with questions.
When & Where

Centro de Cultura Casa Lamm
Álvaro Obregón 99
Colonia Roma
Mexico City
Mexico

Thursday, August 6, 2015 from 5:00 PM to 7:00 PM (CDT)
Add to my calendar
Organizer
The Center for U.S.-Mexican Studies is based at UC San Diego's School of Global Policy and Strategy (GPS) and is a policy research institute. Since 1979, it has been a go-to source for serious academic research on Mexico and U.S.-Mexico relations, informing the creation, implementation and evaluation of public policy. More about USMEX.