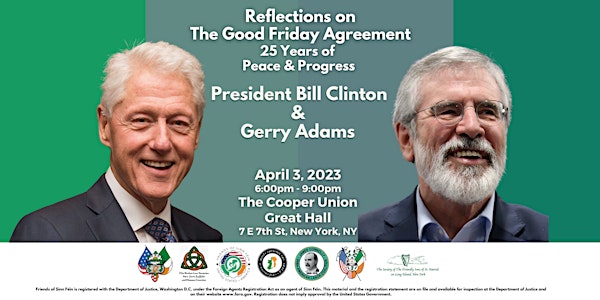 Reflections on The Good Friday Agreement: 25 Years of Peace & Progress
Join us for an evening with President Bill Clinton and Gerry Adams.
By A collaboration of seven Irish American organizations.
Date and time
Monday, April 3 · 6 - 9pm EDT
Location
The Great Hall at Cooper Union 7 East 7th Street New York, NY 10003
About this event
This year marks the 25th anniversary of the Good Friday Agreement.
Irish America is proud of the role they played to secure and safeguard the Good Friday Agreement.
Peace in Ireland is the greatest American foreign policy success of the last 50 years. President Clinton was central to promoting a peaceful resolution of conflict from the granting of a visa for Gerry Adams and the appointment of a Special Envoy to a hands-on role in securing and protecting the Good Friday Agreement. Since leaving office, President Clinton has remained an advocate for peace and the success of the Good Friday Agreement.
Gerry Adams was the President of Sinn Féin from 1983 to 2018. A commentator once said, "there would have been a conflict without Gerry Adams. There would never have been a Good Friday Agreement without him." He began to explore peace talks with John Hume in the late eighties. Alongside Sinn Féin negotiator Martin McGuinness and others, they convinced the IRA to call ceasefires, support the Good Friday Agreement, and eventually end their campaign. Sinn Féin is now the largest party in Ireland North and South.
This event is an opportunity to hear directly from two key figures who shaped the Good Friday Agreement. It is also an opportunity for Irish America to look to the future and the potential of the next 25 years.
Note: Visitors must show security proof of vaccination or a negative PCR test by a third party (not home test) within three days of their visit to campus or a negative rapid test result taken by a third party (not home test) on the day of the visit to campus.