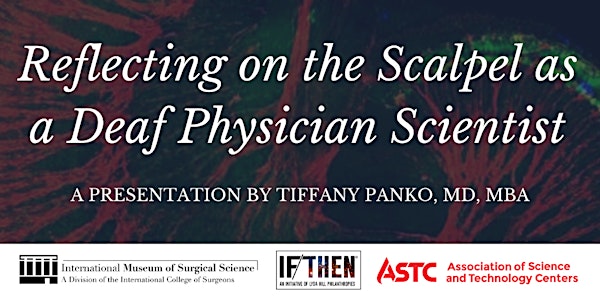 Reflecting on the Scalpel as a Deaf Physician Scientist with Tiffany Panko
Reflecting on the Scalpel as a Deaf Physician Scientist: A Presentation by Dr. Tiffany Panko
About this event
Dr. Tiffany Panko will talk about her experiences inside and outside of the operating room, and how her journey through the worlds of research, public health, and medicine led her to her passion in reproductive justice as the scientist she is today. She will also discuss the impact of audism on the medical field in regards to health disparities in the deaf community, struggles to gain deaf representation in medicine, and the divisive role of the scalpel in the cochlear implant controversy. At the end of this talk, viewers will have a better understanding of the importance of medical and public health professionals that look like their deaf patients and how to be hearing allies to the deaf community.
This FREE virtual event is made possible in part by a grant from the Association of Science and Technology Centers (ASTC) and IF/THEN ®, an initiative of Lyda Hill Philanthropies. ASTC and Lyda Hill Philanthropies have awarded IF/THEN ® Gender Equity Grants to 26 science and technology centers and museums. This newly launched grant program offers science centers funding for projects aimed at increasing the representation of women and gender minorities in STEM. This presentation will take place on Zoom. You must RSVP to receive the link.
As an early-career researcher freshly out of her postdoc and in her role as director of the Deaf Health Laboratory, a laboratory in the Research Center on Culture and Language at Rochester Institute of Technology's National Technical Institute of the Deaf, Dr. Tiffany Panko is passionate about reproductive justice, especially for women like herself, who are Deaf and use American Sign Language. A native of Rochester, NY, she was born to Deaf parents and like them, she stayed in the area after college. She gives back to the Rochester community whenever she can, coordinating health talks or bringing home-made treats to the office. From her time as a Research Assistant in the Deaf Studies Lab to working as a Health Project Coordinator at the National Center for Deaf Health Research, Tiffany has extensive experience in public health. Tiffany holds a Bachelor of Applied Arts and Sciences degree and an MBA from the Rochester Institute of Technology. She earned her Doctor of Medicine degree from the University of Rochester. When she isn't working, she is doing yoga, cheering for the Green Bay Packers, or experimenting in the kitchen.
FAQ
How do I attend this presentation?
This is a free virtual presentation that will take place on Zoom. You must RSVP in order to receive the link.
Is this presentation appropriate for all ages?
Yes.
Questions?
Please feel free to email miranda@imss.org.