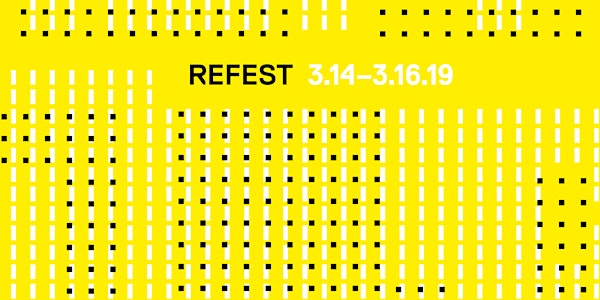 Refest Los Angeles 2019
When and where
Location
Multiple Locations - See Description Downtown, Los Angeles, CA 90007
Description
Refest Los Angeles 2019
CultureHub's annual festival brings artists, activists, and technologists together to envision our role in re-shaping the future. Through exhibitions, performances, and conversations, Refest 2019 explores how we create, resist, and redefine gender within an evolving technological landscape.
Check out the bi-coastal event's full list of artists here https://www.culturehub.org/refest-2019.




REFEST Los Angeles 2019
Festival Schedule
No Mouse Found
CultureHub LA
1933 S Broadway
Los Angeles, CA 90007
RSVPs for this event has been closed.
There may be additional seats available on the day of the performance at the door.
NO MOUSE FOUND is an animal body exercise by Scarlett Kim & Peter Mark. Using Sartre's No Exit as scaffolding and danger-room, they stage a heist against their physical and virtual selves as a strategy to shed their humanness and approach mousehood.
Peter Mark is a Brazilian American theatre artist who develops multimedia, multilingual performances. Currently working on the "Western Canon" of theatre, he creates 3D renderings, gif-collages, and object landscapes as a response to the text, sculpting a live performance within the layers of media. He has an MFA in Acting from the California Institute of the Arts.
Scarlett Kim is a Korean theatre director and artist who casts versions of herself and others to rehearse life in physical and mediated spacetimes. Scarlett uses performance as survival ritual, intimate exchange, and act of revolution. She works in LA and around the globe, often collaborating with The Mortuary, Dead Practice, and CultureHub LA. MFA, Directing @CalArts.



Friday 3/15
Exhibition open 6-10 pm

Salon at NAVEL
NAVEL
1611 S Hope St
Los Angeles, CA 90007
Hosted by NAVEL, CultureHub LA's Salon at Refest explores innovative strategies in participatory performance that serve as vehicle for social change. This pop-up exhibition at NAVEL's Downtown LA space showcases interactive installations, performances, and experiences by Los Angeles artists across disciplines as well as artists from CultureHub's global community.
No RSVP is required for Salon at NAVEL. The exhibition is open to the public 6-10pm. Please see below for a schedule of timed events.
6:00pm | Group Exhibition Opens
7:00pm | Interactive Games with UCLA Game Lab
8:00pm | Performances
9:00pm | Interactive Games with UCLA Game Lab
Participating Artists:
Adeline Ducker
Alex Rickett
Amanda Ho
Anshul Pendse
Caroline Yoo
Cordelia Istel
Dahn Gim
David Elliott
Eddo Stern
Elizabeth Leister
Emotional.Store (Bailey Hikawa + Scotty Wagner)
Gerard Delmàs
Hayeon Jo
Hsinyu Lin
Hye Jeoung Choi
Ingeborg Govaart
Jen Agosta
Ji Sun Park
Jon Haddock
John Brumley
Kristin McWharter
Lea Schönfelder
Lilyan Kris
Luna Jeong
Mengyu Chen
Mi You
Michal Sela-Amit
Miller Klitsner
Nick Crockett
Peter Mark + Scarlett Kim
Sara Lyons
Seung Yong Noh
Sieun Lee
Sofia Staab-Gulbenkian
Sol Namkung
Soeun Kim
Steven Amrhein
Steven Ha
Tyler Stefanich
Weidi Zhang
Xin Xin
Yeji Kim
Participating Institutions:
Seoul Arts
UCLA Game Lab
UCSB TransLAB
USC Suzanne Dworak-Peck School of Social Work
*Hosted by NAVEL
Based in Los Angeles, NAVEL is a test site for community-driven projects, critical equitable practices, collaborative learning and kinship. Through a range of events, performances, exhibitions, screenings, talks, and working groups, NAVEL creates a space where individuals come together to share the knowledge, skills, and volition necessary to find novel ways to organize, distribute resources, impact and bridge communities.
Nomadic Narratives
Bendix Buildling (heidi duckler dance)
1206 Maple Ave Ste 1100B
Los Angeles, CA 90015-2627
RSVP for this event has been closed.
Space is at capacity and there will not be additional seats at the door.

Nomadic Narratives maps spatially-oriented stories from women performance artists onto the architectural facade of the DTLA Bendix Building rooftop. Documentary videos of nomadic experiences intersect with heidi duckler dance's live dance performance and Large Shiva, a live improvisational orchestra, creating a kinetic collage that reflects the relentless, dynamic energy of Los Angeles.
heidi duckler dance
heidi duckler dance creates place-based performances that transform non-traditional spaces, providing learning opportunities and engaging diverse communities, in the belief that the arts can change our vision of the world and of ourselves.
Large Shiva is a Los Angeles based orchestra of unconventional instrumentation led by composer/multi-instrumentalist Justin Bardales. The group performs repertoire written and directed by Bardales with experimentation as a focus. No one single performance by this group is ever the same twice and the music is genre defying as it will incorporate aspects of jazz, world music concepts, chance music, contemporary classical, free improvisation and beyond.

*Collaboration with heidi duckler dance and Large Shiva
Funded by: