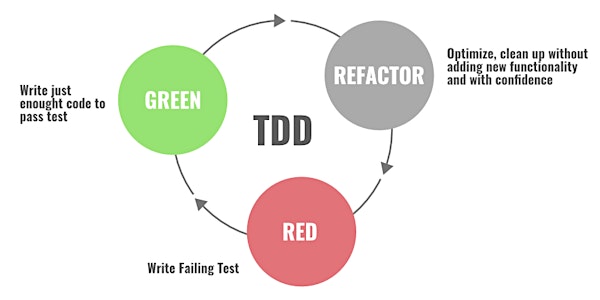 Refactoring Test Code
Let's have a look at some ways to refactor "test" code!
When and where
Location
Improving 10111 Richmond Avenue ## 100 Houston, TX 77042
About this event
Can't attend in person? Join the meeting virtually by clicking on this link! We'll start the streaming presentation at 7 PM.
We'll have pizza at 6:30 for those attending in-person!
Most developers hear about "Red->Green->Refactor" as part of the TDD process. Some never get to the "refactor" part. Some only refactor the "production" code, but not the test code, after all, that's "just test code". Tests become cluttered, hard to maintain, and are abandoned.
In this talk, let's have a look at some ways to refactor "test" code (C#, JavaScript/TypeScript, unit/integration/end-to-end…), so that they become easier to read and even create opportunities for better collaboration with non-technical people.
About the speaker
Claudio Lassala is Technical Director at Improving Houston. I've been developing software since the mid '90s (FoxPro, .NET, Ruby on Rails).
Previously, I've worked for several years developing .NET applications, presented several lectures at Microsoft events such as PDC Brazil, TechEd Europe, and various other Microsoft seminars, as well as several conferences and user groups across North America, Europe and Brazil.
I've earned the the Microsoft MVP Award from 2001 through 2012 (for Visual FoxPro in 2001-2002, and then for C#). I' have articles published in several magazines, such as MSDN Brazil Magazine and CoDe Magazine.I've started the Virtual Brown Bag meetings in 2009.I can be found on Twitter, LinkedIn, Facebook.When not building software, I'm probably working on my music, riding my motorcycle at the track, or hanging out with my family (not necessarily in that order).
Sponsored by Improving
Improving is a complete IT services firm, offering training, consulting, recruiting, and project services. Our innovative solutions and processes have helped hundreds of clients across the globe realize their tactical and strategic business objectives. As a result, our 1,000 employees have accumulated extensive technology and management experience in several industries, including financial services, energy, travel, retail, government, and several others.
Our culture encourages both the inspiration and motivation to achieve amazing things. We are constantly striving to live out our values of Excellence, Dedication, and Involvement through the foundation of trust.