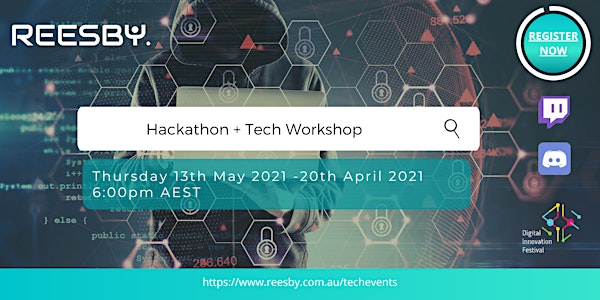 Reesby Hackathon + Tech Workshop
Join the Reesby Hackathon + Tech Workshop!
About this event
Reesby are bringing you the hottest global Hackathon event of 2021.
Register yourself or your group now.🎟
💡 The HR Tech Ideas Hackathon
In a team of 3-7, build your idea (An AI Algorithm, An app, Website, device or anything really!), pitch it, and win prizes. We will provide you with mentors, workshops, and plenty of fun activities throughout the hackathon to keep you engaged.
📍 ⏰ When / Where
7 day event from 6pm Thurs Ma 13th to 6pm AEST Thursday April 20th 9pm AEST. The event will be *virtually* hosted using a combination of Twitch and Discord. Twitch will be used to live stream the event opening and closing ceremonies. Discord will be used for the team, mentor and general communication.
EVENT DATE/LOCATION
Fully online
Global Event
Starts 13th May and runs for 1 week.
Who Should Register:
Beginners, Students, Experts
Technologists, Cybersecurity Specialists, Enthusiastics, Programmers/Engineers, Marketing and Innovation Specialists
PRIZES:
Giveaways $400 value prize bundle
Runners Up: $1k value prize bundle
Major Prize: $1.5K value prize bundle
Diamond Prize💎 $5,000 cash prize
Rarely won, the Diamond Prize is reserved for exceptional ideas/submissions/products. This prize is only won once every 3 years on average.
Register today!
🌟 Judging Criteria
Polish, Design and Execution
What will the project look like? Is it intuitive, attractive, and accessible? And most importantly , does the project's features work?
👨🏼‍💻Technical Difficulty
Does the hack look technically intriguing or challenging? Is it simply putting a pretty frontend on an existing API or does it do something more?
📊Originality and Creativity
How distinctive is the hack? Will it solve a new problem, or new perspective to an existing problem?
**🤝 What is the max team size?**
Teams must be comprised of 3-7 members.
🔍 **I don't have a team for the REESBY HACKATHON...**
Don't worry, we have that covered. Simply join the REESBY DISCORD CHANNEL and post a message in #team-finder channel. If you're looking for a team, mention your interests and skills! If you're looking to fill up your team, mention what you're looking for.
**👶 I have never been to a hackathon and I am a beginner at coding. Can I still join?**
Absolutely! Hackathons are an excellent way to learn new skills, and there will be mentors on-site to help you along the way to help you build the best possible idea within 48 hours.
**💡 Are we allowed to work on our idea beforehand?**
You are not allowed to start any development work on your project before REESBY HACKATHON. All development work - code, images, graphics, sounds - must be sourced or developed during the 48 hours. However, you can research any ideas and concepts before the competition begins.