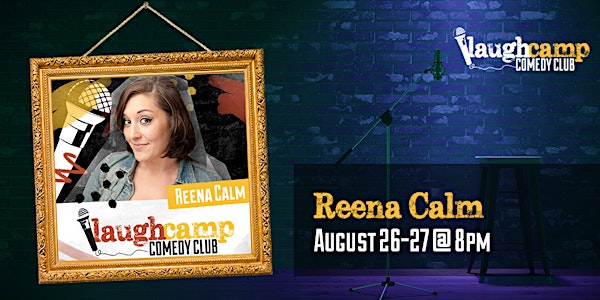 Reena Calm with James Kurdziel 8pm Fri & Sat(Friday guest Marty Fidelman)
Friday August 26 & Saturday Aug 27, 8pm
When and where
Location
Camp Bar Twin Cities 490 Robert Street North Saint Paul, MN 55101
About this event
Friday, Aug 26 & Saturday, Aug 27, 8pm
Reena Calm
Reena Calm is a pun-slinger who tours all over the country, living out of her tricked-out Prius. She started her particular brand of #CALMEDY in Chicago and left on a mission to make people laugh in all 50 States. Nothing can stop her just kidding there was a pandemic. She's happy to be vaxxed and back to work as a showbiz hobo, and the only woman in America living on the road full time as a professional stand up comedian. You can find her book Once A Pun A Time: Legend Of A Sighs Queen on Amazon. She's been on Doug Loves Movies, was a Comic of the Week on The Jackie & Laurie Show, opened for Arsenio Hall, and has probably headlined some bar near you, or at least slept in a nearby parking lot. Follow her on Instagram @reenacalm for pictures of her travels.
James Kurdziel
James Kurdziel is an American comedian, writer and performer from Buffalo, New York and currently based in Minneapolis, Minnesota. His comedy career began as he wrote and produced for the ratings dominant Shredd & Ragan show on 103.3 The Edge in his hometown. He stage career began as he hosted a weekly showcase at the Legendary Comix Café', where he went through all of the highs and lows of learning how to be a comedian. He continues to contribute to morning radio shows and writes comedy content for more than 50 radio stations. After 10 years of comedy, Kurdziel has garnered regional and national attention while working with Bill Burr (Chappelle's Show), Colin Quinn (SNL, Tough Crowd), Greg Giraldo (Last Comic Standing), Greg Fitzsimmons (VH1), Jim Norton (HBO, Opie & Anthony) and Mike Birbiglia (Comedy Central) to name just a few. Kurdziel's topics range from family and relationships to religion and politics. His style isunique and he's often praised for his attitude and originality.
Marty Fidelman (Friday Only)
Originally from St. Paul, Marty Fidelman has been living in Los Angeles for years. A comedy junkie, he has performed and produced standup comedy shows and charity events. Long time licensed comedy traffic school instructor, he has also written jokes for athletes and celebrities. Formerly hosted "Sex Appeal With Marty" seen on Century Cable Television.