Reel Recovery's 10th Anniversary Celebration!

Sunday, November 3, 2013 from 5:30 PM to 8:30 PM (MST)
Event Details
Reel Recovery invites you to join us
for appitizers, wine, live music and fun
for our 10th Anniversary Celebration!
 Participate in our Live and Silent Auctions.

This Year's Event Hosted By Jim Benemann.  
Tickets: $65 per person.
Come learn how your pledge and financial support can make a difference
in the lives of men battling cancer.
Purchase your tickets above or email us at info@reelrecovery.org
or call us at 1-800-699-4490
Can't attend?  Please, consider making a donation at: www.reelrecovery.org 
"I discovered that while fly-fishing, I was in another place.  In this place there was no cancer, no pain and no fear."
Retreat Participant
 "Thank you for helping me see there's a light at the end of this tunnel.  I will never forget these few days."
Retreat Participant
"
When & Where

The Creek Seafood Grill (formerly Pesce Fresco)
6600 South Quebec Street
Centennial, CO 80112


Sunday, November 3, 2013 from 5:30 PM to 8:30 PM (MST)
Add to my calendar
Organizer
Reel Recovery
Reel Recovery was founded in 2003 by a group of avid fly-fishers, inspired by their fishing buddy's ongoing battle with brain cancer. Witnessing first-hand the beneficial impact fly-fishing provided their friend, they created Reel Recovery to provide the same opportunity for other men battling the disease. Combining expert fly-fishing instruction with directed "courageous conversations", the organization provides men with all forms of cancer a unique opportunity to share their stories, learn a new skill, form lasting friendships and gain renewed hope as they confront the challenges of cancer.
In Dedication
"Your greatest gift is what you give of yourself." - Stewart Brown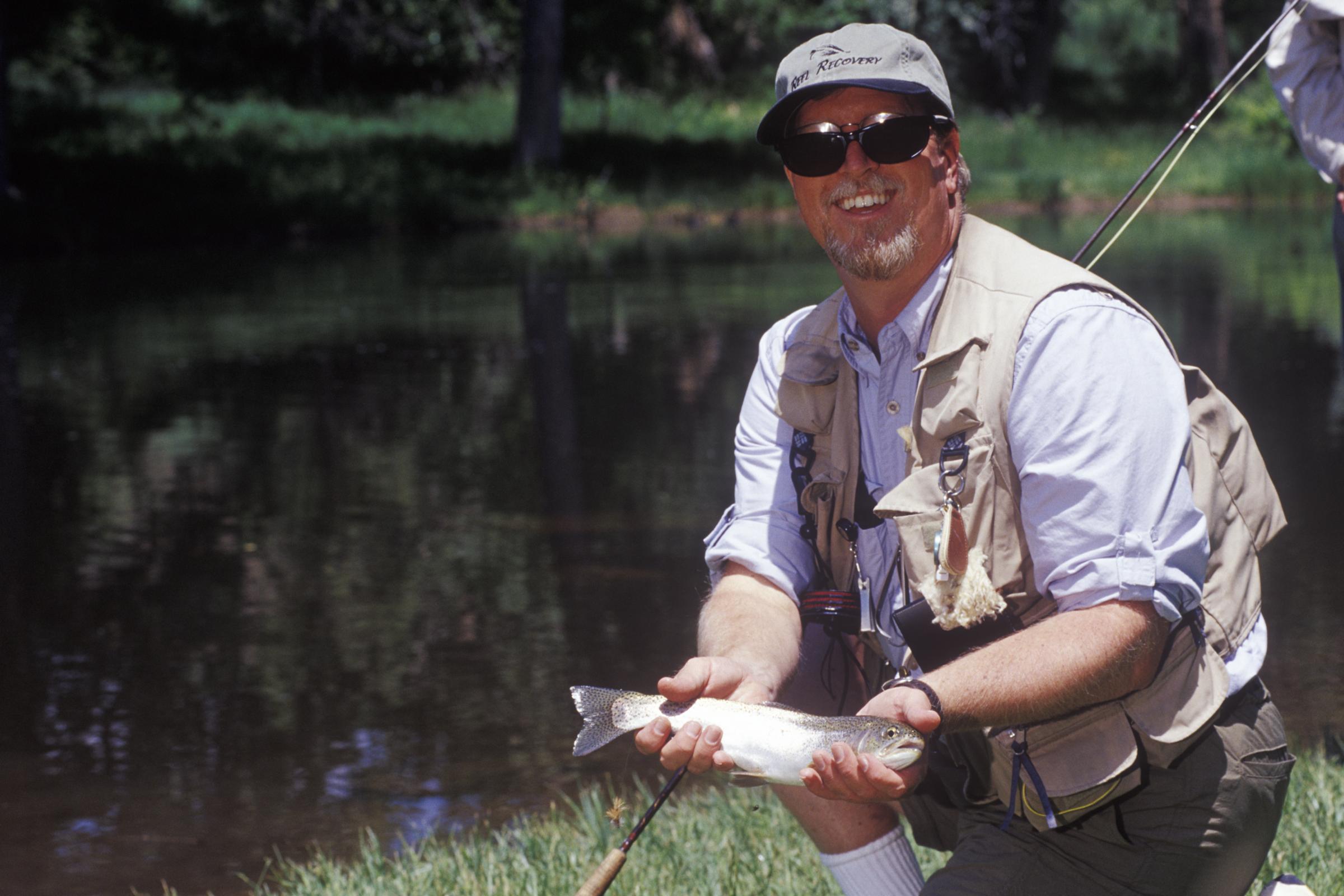 Stewart Brown made this comment to the group of men gathered at the first ever Reel Recovery retreat in Loveland, CO, just three days before he was to go into surgery on his brain tumor. That was Stu, always thinking of others, even as he faced his own greatest challenge.
It was Stu's determination to give to others that formed the cornerstone of Reel Recovery. An avid fly-fisher, Stu spent many hours during the three years after his cancer diagnosis in the peaceful beauty of Colorado waters. He dedicated his final months to the creation of Reel Recovery, so other men facing similar battles could experience the healing serenity that fly-fishing had offered him.
Inspired by his vision, passion and courage, a group of men joined with Stu to establish Reel Recovery in May, 2003. Though his health was beginning to deteriorate, Stu was able to attend the first Retreat in June, along with his son Tyson, who served as volunteer staff. The two were able to share moments of joy, pain, fear and love as they fished together and shared their stories with the rest of the group.
In Stu's last weeks, in failing health, he summoned his strength to meet with world-champion cyclist and cancer survivor Lance Armstrong. Stu was determined to share with Lance his vision of Reel Recovery and the importance of this program to future cancer survivors. Stu's inspiring courage was met with a generous hand in return; the Lance Armstrong Foundation provided Reel Recovery with a generous three-year grant, ensuring that Stu's legacy would live on through Reel Recovery for many years to come.
Reel Recovery is dedicated to Stewart Brown.
Reel Recovery's 10th Anniversary Celebration!