Description
REEL IN THE CLOSET
In honor of LGBTQ History month, CAMP Rehoboth, PFLAG and the Rehoboth Beach Film Society are proud to bring you "Reel in the Closet".
About the film: "Reel in the Closet" is a feature-length documentary that reveals LGBTQ life through hundreds of never-before-seen home movies dating back to the 1930s. Working primarily with the GLBT Historical Society for material, the filmmakers (Stu Maddux/Joe Applebaum) raised funds for the archive to digitally transfer, for the first time, many of the reels in the Hal O'Neal, Crawford Barton and other collections. Until that point in 2015, the collections had been processed but many of the reels unviewed. The documentary reveals the best moments of these home movies.
Tuesday, October 24, 2017 at 7 p.m.
Your $5 ticket fee is non-refundable.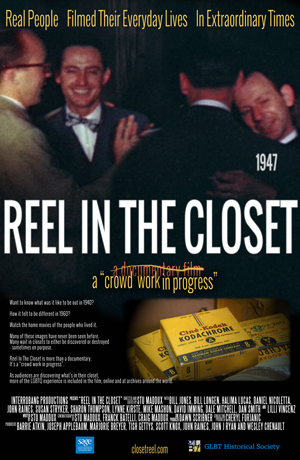 Date and Time
Location
Refund Policy