Reel California - Film Screening from the Youth in Yosemite Short Film Contest

Saturday, November 15, 2014 from 1:00 PM to 3:00 PM (PST)
Event Details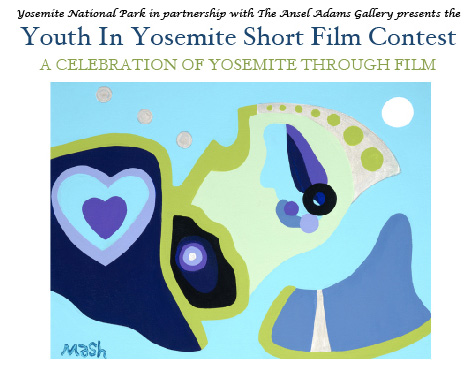 Join us for a screening of films from the Youth in Yosemite Short Film Contest! The films will be shown and there will be a discussion that will focus on how the project came about, how it partnered with the Range of Light Film Festival and Steve Bumgardner, as well as highlight the amazing outcomes. Each of the films will be introduced with who the filmmaker was, their age and community/country. One of the filmmakers, Patrick Webster will be in attendance to chat about his film and the process.
1:00pm: Introductions and Welcome from Ranger Shauna Potocky
1:10pm: Introduce Celebrating Nature Category
1:15pm: Screening 3rd place: Picturing Yosemite
             Screening 2nd Place: Through Ansel's Eye's
             Screening 1st Place: Within the Valley
2:00pm: Introduce Meaning of Yosemite Category and honorable mentions
             Screening Honorable Mention: Yosemite is a place of joy, a place of family, a place to get inspired
             Screening Honorable Mention: Yosemite my home
             Screening Honorable Mention, best collaborative submission: Greely Hill Kids Find Hidden History
             Screening Honorable Mention: Sharing the Visitor Story: Yosemite is Our Home
2:15pm: Introduce 3rd, 2nd, and 1st Place, Meaning of Yosemite Category
             Screening 3rd Place: Alone I Might
             Screening 2nd Place: A Story in Yosemite
             Screening 1st Place: Life Cycle
2:30pm: Discussion of film contest program: funding, goals, outreach, successes, and next steps. If any filmmakers can attend they will answer questions.
2:45pm End of Program

PARKING
The following parking garages are available nearby:
Fifth & Mission Parking Garage, Fifth and Mission Sts.
Museum Parc Garage, 300 Third Street
Moscone Center Garage, 225 Third Street
Hearst Parking Center, 45 Third Street
55 Hawthorne Garage, 55 Hawthorne Street
St. Francis Place Garage, 1 St. Francis and Third Sts.
Jessie Square Parking Garage, 3rd Street at Stevenson
Organizer
Our mission is to inspire and empower Californians to make the past a meaningful part of their contemporary lives.
The California Historical Society holds one of the richest collections of primary and secondary materials in the state on the social, cultural, economic, and political development of California.
The Gallery provides public access to the collection through changing exhibitions, Tuesday through Sunday, 11:00 to 5:00 p.m.
The North Baker Research Library provides public access to the collection, Wednesday through Friday, 1:00 to 5:00 p.m.
Reel California - Film Screening from the Youth in Yosemite Short Film Contest