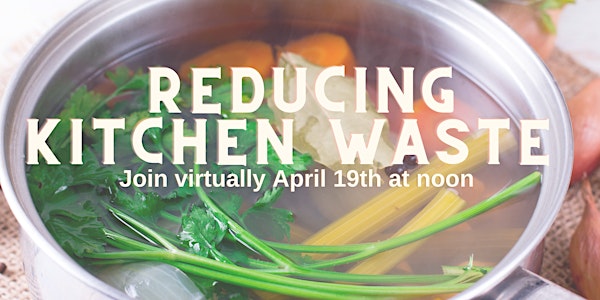 Reducing Kitchen Waste- Earth Day Series
Celebrate Earth Day in the kitchen! Learn to reduce your kitchen waste by joining us on April 19th at noon.
About this event
Earth Day is April 22nd and NC Cooperative Extension is celebrating by providing a series of earth day workshops. Show your support for Mother Earth by joining us on April 19th at 12 pm virtually to learn how you can reduce your kitchen waste.
We will discuss ways to cut down on waste from planning and purchasing to eating and storing. Then we will show you what to do with your kitchen scraps, whether it is to compost them or save them for another purpose. We will finish class with a demonstration of how to make vegetable stock with your kitchen scraps.
This class will be recorded and available to view at your convenience. All information provided during class will be available to view and download on the Online Event Site.
For more information or accommodations for persons with disabilities please contact Olivia Patchel at 252-232-2261, email olivia_patchel@ncsu.edu no later than five business days before the event.