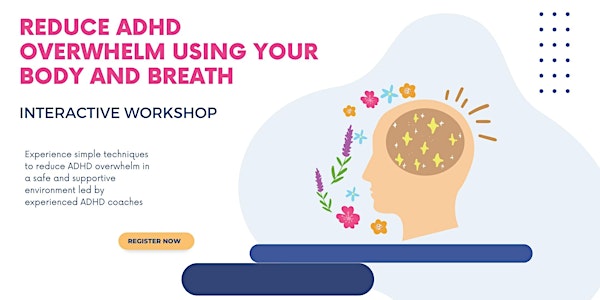 Reduce ADHD Overwhelm: Xmas Edition
Join ADHD coaches Kaye Heyes and Denisa Sanikova to learn about and practise techniques to reduce overwhelm by using your body and breath.
About this event
We are specialist ADHD coaches, Kaye Heyes and Denisa Sanikova, who support clients with ADHD to transform their lives and reach their potential.
Feeling sense of overwhelm is very common with ADHD. With the hectic festive season approaching really fast the overwhelm might become stonger and more frequent, however there are simple tools and techniques that can help and we would love to share them with you. You will learn how easy it is to change your state and reduce overwhelm through the power of your breath and connecting with your body through grounding techniques.
As trained coaches with a positive psychology background and lived experience of ADHD, we will hold a safe space for you to explore your practice and process emotions that may come up for you.
We will give a brief overview of our upcoming 2-month programme Unleash the power of your ADHD mind at the end of this workshop and we will stay on the call if you have any questions.
Unleash the Power of your ADHD Mind
This is a taster workshop for our January cohort of Unleash the power of your ADHD mind: a transformative programme combining workshops, group coaching and 1:1 coaching.
Unleash the power of your ADHD mind uniquely combines:
Five fortnightly group workshops followed by a group coaching session
Two individual coaching sessions, arranged around your schedule
Your own unique strengths report and an action plan to take away
The chance to continue being part of the learning group
We are running two separate groups: one for women only (mornings) and one mixed group (evenings).
About Us
Denisa and Kaye developed ADHD Minds based on what they wish they had known about ADHD when they were diagnosed, combined with their research in positive psychology and coaching psychology.
They want to share their good fortune at having experienced the life-changing difference coaching can make for people with ADHD. As well as a passion for coaching, they also share a love of learning, creativity, dancing and the sea.
Denisa is an EMCC-registered coach and mentor, accredited healer and professional dancer. While studying MSc in Applied Positive Psychology and Coaching Psychology she dedicated her Master's thesis to the study of divergent minds. She discovered how unique and misunderstood these minds are in the current world and developed her business with a tailored approach to accommodate the unique thinking style of creatives, entrepreneurs and ADHDers. During this time, at the age of 32 she was also diagnosed with ADHD and although she had suspected it for a long time, the acceptance of it has changed her life.
Kaye is a senior member of ACCPH, an EMCC-registered coach, mentor, NLP Master Practitioner, nutritional therapist and laughter yoga facilitator. During the pandemic, she was diagnosed with ADHD and dyspraxia at the age of 51 and suddenly her life made sense! She had previously founded Happier You during the pandemic in recognition of the impact of COVID and the lockdowns on people's mental health issues and now she serves the ADHD community as part of her offer. Both Kaye's children are neurodivergent (ASD, dyslexia and ADHD) and she is a keen sea swimmer, poet, gig-goer and cat-owner.
Join our Facebook page to ask questions, meet us and attend one of our Facebook Live sessions.
If you're not able to attend one of our workshops before this cohort starts, we are happy to meet you online for a 15 minute discussion. Please contact us at unleash@adhdminds.co.uk to arrange a suitable time.