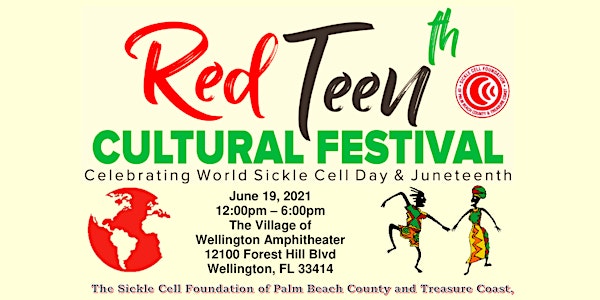 Redteenth Cultural Festival
Location
Village of Wellington Amphitheater
12100 Forest Hill Boulevard
Wellington, FL 33414
The Sickle Cell Foundation of Palm Beach is hosting Redteenth Cultural Festival held on Saturday, June 19, 2021.
About this event
The Sickle Cell Foundation of Palm Beach County & Treasure Coast Inc. is organizing an event in observance of World Sickle Cell Day which is acknowledged annually on Juneteenth. We have affectionately named this event "Redteenth", to encompass World Sickle Cell Day and Juneteenth in one spectacular event.
The Sickle Cell Foundation will host the inaugural Redteenth Cultural Festival on Saturday, June 19th from 12:00pm to 6:00 pm at the beautiful, open air, Village of Wellington Amphitheater. The purpose of this event is to raise awareness and public support for the individuals, families and communities affected by Sickle Cell Disease and its related conditions.
Our organization's mission is to improve the quality of life for persons with Sickle Cell Disease/Trait and members of their family and to educate the public about this devastating hereditary blood disorder.
We are excited to announce this year's Festival program will include musical performance, Spoken Word, art & crafts for kids and good clean fun for the whole family to enjoy.
Vendor opportunities available contact Sickle Cell Foundation of PBC @ 561-833-3113 or online at www.sicklecellpbc.org