Reds, Whites & Brews 2019 - Fundraiser for Indian Trails Camp Scholarship P...
Description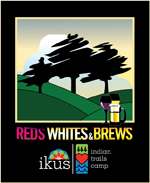 Join us for Reds, Whites & Brews, our annual spring fundraiser to benefit the Indian Trails Camp scholarship program. Reds, Whites & Brews will take place on Thursday, May 16 from 6pm to 10pm at the Downtown Market in Grand Rapids.
Funds raised through our auction will go to the camper scholarship fund, giving individuals with financial need the opportunity to experience the joy of camp.

Included in the evening will be fine wine & microbrew tastings curated by The Crushed Grape, live music from Brena, hors d'oeuvres, and a chance to bid on some great auction items. You will also have the opportunity to support our organization through Mission Moments.

This year, we'll be honoring the Rotary Club of Grand Rapids with the IKUS Life Enrichment Award.
Please join us in celebrating 67 years of providing enriched life experiences through recreation, advocacy, and meaningful relationships for individuals with disabilities!